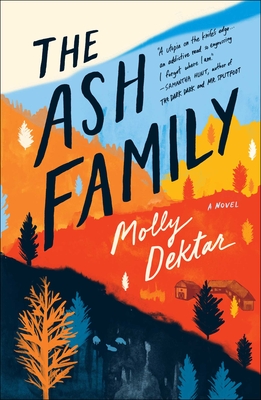 The Ash Family
A Novel
Hardcover

* Individual store prices may vary.
Other Editions of This Title:
Digital Audiobook (4/8/2019)
Compact Disc (4/9/2019)
Paperback (4/7/2020)
Description
When a young woman leaves her family—and the civilized world—to join an off-the-grid community headed by an enigmatic leader, she discovers that belonging comes with a deadly cost, in this lush and searing debut novel.

At nineteen, Berie encounters a seductive and mysterious man at a bus station near her home in North Carolina. Shut off from the people around her, she finds herself compelled by his promise of a new life. He ferries her into a place of order and chaos: the Ash Family farm. There, she joins an intentional community living off the fertile land of the mountains, bound together by high ideals and through relationships she can't untangle. Berie—now renamed Harmony—renounces her old life and settles into her new one on the farm. She begins to make friends. And then they start to disappear.

Thrilling and profound, The Ash Family explores what we will sacrifice in the search for happiness, and the beautiful and grotesque power of the human spirit as it seeks its ultimate place of belonging.
Praise For The Ash Family: A Novel…
"[A] stunning début...Dektar has a gift for describing the wonders of the natural world, and sensitively inhabits a young cultist's fragile state."—NEW YORKER

"[A] lyrical debut...Dektar's deft construction of the Ash Family's world and their environmentalist values brings a meaningful new story to the canon of cult narratives. Perfect for fans of Philip Roth's American Pastoral (1997) and the film Martha, Marcy, May, Marlene." —BOOKLIST (Starred Review)

"The novel shines in its thoughtful portrayal of cult members' (likely) complicated feelings: devotion, love, fear, desperation, and purpose. An affecting, clear-eyed debut."—KIRKUS REVIEWS

"This debut novel is nothing short of compelling . . . a captivating and haunting tale."—NEW YORK JOURNAL OF BOOKS

"If Wild Wild Country was your number one Netflix show of 2018, then you'll love the story of Berie—a 19-year-old who finds belonging in an off-the-grid (and dangerous) collective instead of her freshman dorm."—GLAMOUR

"Heart-wrenching…the novel's strength lies in its ability to elicit a sense of panic: Berie's desperation to define her "definite self" is both pitiful and terrifyingly relatable."—THE HARVARD CRIMSON

"Although it's tempting to rush through this near-thriller, The Ash Family is the kind of novel that should be read slowly. Yes, it's propulsive and ridden with moments of tension, but savoring on the layered secrets found inside the unraveling Ash Family's farm is the real treat here."—CHICAGO REVIEW OF BOOKS

"Molly Dektar's creepy, brilliant debut novel, The Ash Family has not a whiff of the supernatural about it. Yet it is a top-notch horror story, made even more unsettling by the fact that nothing about what it unravels is particularly far-fetched."—MINNEAPOLIS STAR-TRIBUNE

"In The Ash Family, the brilliant Molly Dektar explores and explodes the lines between ally and enemy, between collaboration and sabotage, between blessing and threat. Dektar evokes the irresistible beauty of the wilderness, and then exposes its ravaging harshness. This mesmerizing, terrifying book asks the hard questions: What should humankind do in the face of environmental catastrophe? Where does the individual end and the communal begin? A powerful tale by a powerful new writer."—HELEN PHILLIPS, author of Some Possible Solutions and The Beautiful Bureaucrat

"The Ash Family floored me. With stirring insight, nuanced emotion, and prose as beautiful as poetry, this magnificent novel delves into essential questions of need and desire, love and family, success and sacrifice. Molly Dektar is a wholly original writer, and we need her vision and voice more than ever."—BRET JOHNSTON, author of Remember Me Like This

"In her excellent debut, Dektar probes life in a cult with a masterful hand, excavating the troubled mind of a young woman who joins what she thinks is a modern-day commune…Dektar's eloquent, often poetic prose draws readers into this disturbing, powerful novel."—PUBLISHERS WEEKLY

"The Ash Family delivered me into a utopia on the knife's edge—the glory of living holistically in North Carolina's majestic wild lands, is cut with a toxic mix of narcissism and magnificently bruised characters. Dektar's unstoppable tale of a country beyond is an addictive read so engrossing I forget where I am. I forget who I am, a surrender so sweet in her able hands."—SAMANTHA HUNT, Author of The Dark and Mr. Splitfoot

"The Ash Family is a hauntingly beautiful and captivating novel, one that peers deep into our search for meaning, purpose, family and love in what may seem like a broken and dangerous world, a story written with such startling grace and clarity it's hard to imagine ever looking at the natural world the same way again."—DINAW MENGESTU, author of How to Read the Air

"The Ash Family is a suspenseful and atmospheric exploration of escape, idealism, and community, a captivating ode to the quest for something more. Molly Dektar writes with great nimbleness and insight, and her debut novel marks the arrival of a wonderful new talent."—LAURA VAN DEN BERG, author of The Third Hotel


"With the magic of a born storyteller, Molly Dektar tunnels into questions of desire, obedience and freedom. The Ash Family is as sharp as it is wise."
— Ramona Ausubel, author of Sons and Daughters of Ease and Plenty

"Excellent...[Dektar's] carefully considered prose makes the reader tumble into this book like a well and emerge breathless...This trip off the grid is a pleasure to take."
— The Arts Fuse

"Dektar's powerful tale of the human desire for purpose and acceptance takes many twists and turns on a roller-coaster ride to the thrilling, unpredictable conclusion."
— Library Journal
Simon & Schuster, 9781501144868, 352pp.
Publication Date: April 9, 2019
About the Author
Molly Dektar is from North Carolina and lives in Brooklyn. She is a graduate of Brooklyn College's MFA program and Harvard College. She is the recipient of the Dakin Fellowship and the Brooklyn College Scholarship for Fiction. At Harvard, she was the recipient of the Louis Begley Fiction Prize. The Ash Family is her first novel.
or
Not Currently Available for Direct Purchase