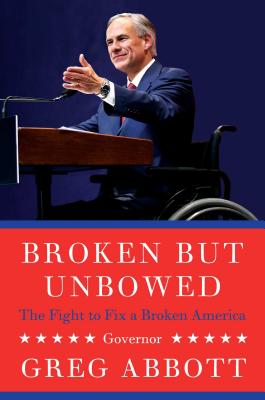 Broken But Unbowed
The Fight to Fix a Broken America
Hardcover

* Individual store prices may vary.
Other Editions of This Title:
Digital Audiobook (5/16/2016)
Paperback (2/21/2017)
Description
Texas governor and rising star in the Republican Party—one of the first prominent politicians to govern from a wheelchair since Franklin D. Roosevelt—Governor Greg Abbott pens his deeply personal and inspiring life story and proposes a plan to restore America to greatness in what Newt Gingrich calls a "bold and compelling" read.

Texas Governor Greg Abbott lost his ability to walk when a huge oak tree crashed down on his back, fracturing vertebrae into his spinal cord, leaving him forever paralyzed. At twenty-six years old, he felt that the future he had dreamed of was gone.

But he soon realized that our lives are not defined by our challenges, but by how we respond to them. He went on to overcome his paralytic limitations to become the longest-serving attorney general in Texas history and now governor, all while in a wheelchair.

Greg Abbott waged a record number of legal challenges against the federal government that has come unhinged from the Constitution. He also led legal battles to defend the Second Amendment, the Tenth Amendment, and religious liberty. He personally appeared before the U.S. Supreme Court to defend the Ten Commandments monument on the Texas Capitol Grounds—and won.

Through these fights he realized that his personal story held an important parallel to America's current challenges. The Constitution that forms the foundation of our country has been broken, but the people of this nation remain determined to achieve American greatness. Abbott explains that it is up to us to restore America to its rightful luster and power in the world, emerging triumphant from our stumbles.

In Broken but Unbowed, Governor Abbott describes firsthand what it was like to be on the battlefield in the historic fights that have refined the Constitution and the lessons he's learned along the way, offering solutions that will bring us back a government that lives up to the American Dream.
Praise For Broken But Unbowed: The Fight to Fix a Broken America…
"Broken But Unbowed takes direct aim at the constitutional imbalances that exist in our system and identifies solutions to rein in the federal government. Taking on and overcoming insurmountable challenges is not new for Greg Abbott, and his plan to restore the Constitution is bold, compelling, and worth a read."
— Newt Gingrich, Former Speaker of the House

"The Constitution was created to guide and bind our country, to hold authorities to their duties and responsibilities, yet the Founders' vision is being trampled upon by a federal government and judicial system run amok. Greg Abbott's Broken But Unbowed provides a refreshing look at how We the People can take back our government, and return power to where the Founders intended it to be."
— Bill Bennett, #1 New York Times bestselling author of The Book of Virtues

"My good friend Governor Greg Abbott has dedicated his career to preserving America's liberties by fighting for and defending our Constitution. Like all Americans, Greg has faced difficult challenges, but it's only strengthened his resolve. If we want to take our country back, we need to listen to leaders like Greg. Broken But Unbowed provides a blueprint for how we can begin to fix our nation and return our country to the vision our Founding Fathers intended."
— Chuck Norris, New York Times bestselling author of Black Belt Patriotism

"Governor Abbott is a visionary. He sees a stronger, safer, and more free Texas with his courageous call for a convention of the states--an idea whose time has come. Abbott embodies the courage, tenacity and foresight of our founding fathers and the heroism of the men at the Alamo. Come and get it--Broken But Unbowed will inspire you to greater heights in your own life and to a greater call for action within your own state and the United States of America."
— Jennie Turner, Washington Times columnist
Threshold Editions, 9781501144899, 288pp.
Publication Date: May 17, 2016
About the Author
Governor Greg Abbott is a native Texan, born in Wichita Falls and raised in Duncanville. After graduating from the University of Texas with a B.B.A. in Finance, he received his law degree from Vanderbilt University. Shortly after graduating from law school, he was partly paralyzed when struck by a falling tree while jogging. Despite his life-changing accident, he went on to become a justice on the Texas Supreme Court, Texas attorney general, and now governor of Texas. Governor Abbott is an avid sportsman and hunter. He and his wife, Cecilia, have been married for thirty-four years. She is a former schoolteacher and principal and the first Hispanic First Lady of Texas. They live in Austin. Their daughter, Audrey, attends college.
or
Not Currently Available for Direct Purchase