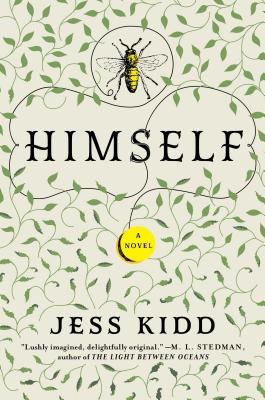 Himself
A Novel
Hardcover

* Individual store prices may vary.
Other Editions of This Title:
Digital Audiobook (3/13/2017)
Paperback (10/10/2017)
Hardcover, Large Print (7/5/2017)
Description
"[A] fast-paced yarn that nimbly soars above the Irish crime fiction genre Kidd clearly knows very well." —New York Times Book Review

"[A] supernaturally skillful debut." —Vanity Fair

"A delicious, gratifying and ageless story." —New York Journal of Books

Abandoned on the steps of an orphanage as an infant, Dublin charmer Mahony assumed all his life that his mother had simply given him up. But when he receives a tip one night at the bar suggesting that foul play may have led to the disappearance of his mother, he decides to return to the rural Irish village where he was born to learn what really happened twenty-six years earlier.

From the moment he sets foot in Mulderrig, Mahony's presence turns the village upside down. His uncannily familiar face and outsider's ways cause a stir among the locals, who receive him with a mixture of curiosity (the men), excitement (the women), and suspicion (the pious). It seems that his mother, Orla Sweeney, had left quite an impression on this little town—dearly beloved to some, a scourge and a menace to others. But who would have had reason to get rid of her for good?

Determined to find answers, Mahony solicits the help of brash pot-stirrer and retired actress Mrs. Cauley, and the two concoct an ingenious plan to get the town talking, aided and abetted by a cast of eccentric characters, some from beyond the grave. What begins as a personal mission gradually becomes a quiet revolution: a young man and his town uniting against corruption of power, against those who seek to freeze their small worlds in time, to quash the sinister tides of progress and modernity come hell or high water. But what those people seem to forget is that Mahony has the dead on his side....

Centering on a small town rife with secrets and propelled by a twisting-and-turning plot, Himself is a gem of a book, a darkly comic mystery, and a beautiful tribute to the magic of language, legacy, and storytelling.
Praise For Himself: A Novel…
"[A] fast-paced yarn that nimbly soars above the Irish crime fiction genre Kidd clearly knows very well."
— New York Times Book Review

"Over in Dublin, Jess Kidd's Himself is her supernaturally skillful debut. Irish eyes are glowing."
— Vanity Fair

"For the love of all that's right and true in the world, you've got to read Jess Kidd's debut Himself (Atria), a fabulously imaginative, darkly comic Irish tale set 'in the arse-end of beyond' in a village called Mulderigg. Reading this picaresque novel is like nursing a pint in a pub while a seanchaí, a traditional storyteller, trills the air with magic and mystery and a local modulates the narrative with irreverent commentary from a stool in the corner...In Mahony, the author has created a literary descendant of Henry Fielding's "Tom Jones" (also a foundling with parental issues), and in Mulderigg she's imagined a literary neighborhood akin to Gabriel Garcia Marquez's Macondo, a place populated with eccentric characters, living and dead. The plot races to an ending of Biblical proportions (as most Irish tales do) and it'll bring tears to your sorry eyes and joy to your hardened heart."
— Milwaukee Journal Sentinel

"[A] whimsical mystery… That's the pleasure of Himself — the way the novel's plot, with its delicate language and soft Irish lilt, wanders like lush green vines, never seeming to travel in straight lines. A villageful of characters emerge, all of them having a deft way with a line... The mystery here is how the living and the dead live side by side, and the joy is the music with which Kidd brings all of the characters to life."
— The Seattle Times

"Himself is Jess Kidd's confident, engaging debut novel. It has a captivating ensemble cast, great jolts of humor and danger, hair-raising plot twists and just enough darkness to make the magic feel true. A thoroughly enjoyable read."
— Minneapolis Star Tribune

"Debut novelist Jess Kidd is so sure-handed that this reader didn't blink an eye about that dead girl, or any of the other dead characters loitering about the town's streets, homes, and stores… [A]n ancient, long-retired actress, holed up in the guesthouse where he's staying, may be the most memorable fictional character I've met in years. She's fully original and fearless, and her machinations with both Mahoney and the local priest are laugh-out-loud funny… Kidd's memorable page-turner features a unique voice, a concoction brewed of magical realism and dark humor… It would be a pity to miss reading this fine, funny and entertaining story,"
— Historical Novels Review

"Himself is a classic, feeding the reader through a multisensory smorgasbord of Irish euphemisms…The snappy dialogue in Himself is delightful and a strong asset to Kidd's flawless storytelling. The story breathes metaphors into sweet descriptive prose, pulling at heartstrings and bursting with humor…Foul play, fantasy, and a glimmer of romance wrapped up in a suspense-filled ending, makes Himself a delicious, gratifying and ageless story."
— New York Journal of Books

"Mysterious and lyrical… Moving between Mahony's present and the village's past, Himself is spun like a fairy tale and paced like a mystery told around a slowly fading campfire. Kidd is brilliant at setting the scene and painting it vividly with a twisted, comic voice… In Himself, the author revels in the magical and supernatural, deftly and often humorously melding superstition and folklore with real personal tragedy."
— BookPage

"[Full of] glorious characters, worthy successors to those of Dickens and Dylan Thomas...Jess Kidd is an author who shows a poet's way with words and rhythm in her evocation of Mulderrig...[with] a plot of which Agatha Christie would have been proud...[a] beautifully paced, sometimes funny, sometimes sad and ultimately heart-warming book."
— Electric Literature

"In her exceptional debut novel, Kidd explores the dark corners of the human mind in small-town 1970s Ireland, creating a haunting story that moves between the supernatural and the mundane. A murder mystery on the surface, the story digs past the traditional whodunit structure to paint a rich portrait of village life... While the plot hurtles along at a rapid pace, leading inexorably to the heart-pounding final conflict, Kidd injects ample doses of macabre humor and lyrical description in this memorable story from a strange, bold new voice."
— Publishers Weekly (starred)

"Debut novelist Kidd paints a darkly magical tale of a man who revisits his birthplace of Mulderrig, a small coastal town in Ireland, to investigate the mysterious circumstances of his mother's death 26 years earlier...Joining Mahony on his quest for answers are three women who add even more color to this richly drawn mystery about a town with more than its share of secrets...Told in a unique voice with complex characters, the paranormal mystery will keep readers guessing whodunit until the very end -- all while falling in love with the quirky cast. A darkly comic tale that is skilfully and lyrically told."
— Kirkus

"Every page of Kidd's who-done-it novel is filled with magic, spirit, peppery characters, and ghosts of the village dead, including their pets, who are visible only to some...Kidd mixes the darkest capacities of these villagers with carefully observed whimsy and fantasy. Readers who enjoy a dollop of whiskey in their tea will feel right at home in Mulderrig."
— Booklist

"A highly unusual tale set in a highly unusual Irish village full of dark secrets and engaging characters (not all of them still alive). Lushly imagined, delightfully original and very, very funny, it hurtles along from the very first page. A hugely enjoyable read. I can't wait for more from Jess Kidd."
— M.L. Stedman, bestselling author of The Light Between Oceans

"I love this book. It's a magic realist murder mystery set in rural Ireland, in which the dead play as important a part as the living. It's one of those books that has you smiling as you read, and that you plan to read again very soon."
— Louis de Bernières, bestselling author of Corelli's Mandolin

"Jess Kidd is a genius. Her prose sparkles with wit, savagery and startling originality. I loved it."
— Tasha Kavanagh, author of Things We Have In Common

"Diabolical deeds, ferociously kept secrets, black humour and magical realism abound in Jess Kidd's richly textured, thronging debut...The legions of murmuring, plaintive deceased are what most command our attention in the novel...both noirish crime thriller and rollicking comedy...Kidd has imagination to die for and a real command of plot and character."
— The Guardian

"An imaginative, witty study of small communities and their secrets."
— Financial Times

"This striking literary debut is a darkly comic tale of murder, intrigue, haunting and illegitimacy . . . wickedly funny."
— Daily Express

"Kidd's brilliantly bold debut mixes up murder and mayhem with the eerily supernatural. It's a tender, violent and funny story told in prose that is lyrical, lush and hugely imaginative. Utterly unputdownable."
— Sunday Express Magazine

"Page-turning and memorable . . . An exuberant rollercoaster of a read."
— Irish Examiner

When he discovers that his mother may not have given him up, but that foul play may have led to her disappearance, lovable car thief and Dublin charmer Mahony returns to the rural Irish Village where he was born to find out what really happened 26 years ago and, setting the town on its ear, enlists the help of a brash anarchist and retired theater actress to solve this mystery."
— Delaware Gazette

A PW Pick: Books of the Week
— Publishers Weekly

"Himself, Jess Kidd's debut novel, has an intricate, twisting, turning plot that weaves Irish mythology, magical realism and ghosts into a whodunit that is anything but typical of its genre… As Mahony's search for the truth unfolds, Himself draws on elements of Irish folklore in ways that make Kidd's novel feel both whimsical and ominous… Kidd combines these elements of magic and mystery with moments of wry humor and heartfelt emotion. A tribute to the classic Irish art of storytelling, Himself is a delight from start to finish."
— Shelf Awareness

"[A]n utterly charming darkly comic wonder of Irish magic realism. The ghosts in this small village are ever-present, but they keep their intrusions minimal, sweet, funny, and, at times, useful… The writing is captivating."
— Psychology Today
Atria Books, 9781501145179, 384pp.
Publication Date: March 14, 2017
About the Author
Jess Kidd is the award-winning author of Himself, Mr. Flood's Last Resort, and Things in Jars. Learn more at JessKidd.com.
or
Not Currently Available for Direct Purchase