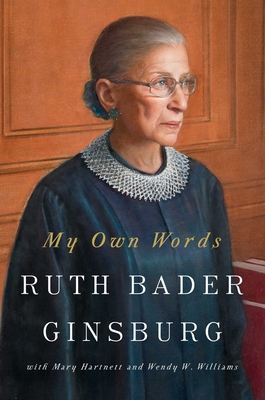 My Own Words
Hardcover

* Individual store prices may vary.
Other Editions of This Title:
Digital Audiobook (10/3/2016)
Paperback (8/7/2018)
CD-Audio (10/4/2016)
Library Binding, Large Print (7/1/2017)
Description
The New York Times bestselling book from Supreme Court Justice Ruth Bader Ginsburg—"a comprehensive look inside her brilliantly analytical, entertainingly wry mind, revealing the fascinating life of one of our generation's most influential voices in both law and public opinion" (Harper's Bazaar).

My Own Words "showcases Ruth Ginsburg's astonishing intellectual range" (The New Republic). In this collection Justice Ginsburg discusses gender equality, the workings of the Supreme Court, being Jewish, law and lawyers in opera, and the value of looking beyond US shores when interpreting the US Constitution. Throughout her life Justice Ginsburg has been (and continues to be) a prolific writer and public speaker. This book's sampling is selected by Justice Ginsburg and her authorized biographers Mary Hartnett and Wendy W. Williams, who introduce each chapter and provide biographical context and quotes gleaned from hundreds of interviews they have conducted.

Witty, engaging, serious, and playful, My Own Words is a fascinating glimpse into the life of one of America's most influential women and "a tonic to the current national discourse" (The Washington Post).
Praise For My Own Words…
"Ginsburg has used her words to promote equality and stem discrimination as well as to express gratitude and to celebrate others who did so before and with her. . . . exceedingly readable, thanks to Ginsburg's characteristically precise and unembellished prose."
— Newsweek

"At the heart of My Own Words is an abiding commitment to civility, to institutional norms, to the infinite possibilities of dialogue and cooperation, and to the now-dubious notion that protecting outsiders and others is a core American value. . . . Above all, always in her own methodical way, what shines through these essays is Ruth Bader Ginsburg, feminist, who truly could not conceive of a world without meaningful gender parity in the 1970s . . . as a collection of thoughtful writing about perseverance and community and the law, it is a tonic to the current national discourse."
— The Washington Post

"A comprehensive look inside her brilliantly analytical, entertainingly wry mind, revealing the fascinating life of one of our generation's most influential voices in both law and public opinion."
— Harper's Bazaar

"A sort of greatest hits album....devotees will no doubt be delighted to have some 300 pages of Ginsburg all in one place."
— Associated Press

"The Notorious RBG makes it even harder to ponder her eventual absence with a look at gender inequality, the Supreme Court's inner workings, and the too-little-remarked-upon intersections of law and opera."
— New York Magazine

"What emerges is not a portrait of a take-no-prisoners advocate but a strategic legal plotter who understands how to bring her audience around to her point of view."
— USA Today

"The selection showcases her astonishing intellectual range, from law and lawyers in opera, to tributes to Louis Brandeis, William Rehnquist, and Gloria Steinem, to the significance and form of dissenting opinions. The book also includes a number of revealing speeches Ginsburg has given about her historical heroines . . . Hartnett and Williams's brief biographical introductions to each section show how much Ginsburg has heeded it."
— The New Republic

"Readers will gain unprecedented insight into the inner workings of the Supreme Court and garner unparalleled appreciation for one of its finest minds."
— Booklist

"A collection of her writings that will offer even more. . . . Justice Ginsburg's impact not only on the legal profession but also on young women contemplating such a career path is undeniable."
— Library Journal

"Much recommended as a Christmas gift for smart, ambitious nieces. And nephews, too."
— The Guardian

"[My Own Words] reveals a more personal side of the unlikely icon who has inspired operas, tattoos, T-shirts and millions of young women who never knew that the law was once reserved for male lawyers."
— CNN.COM

"An excellent introduction to this Renaissance woman . . . cogent, well-reasoned, and accessible . . . Even those who have followed the octogenarian jurist over her long and distinguished tenure on the Supreme Court will find plenty of less expected items to relish . . . At a time of bitter political partisanship, her respect and affection for colleagues with different views, as displayed in posthumous tributes to fellow justices Rehnquist and Scalia, are very welcome. The variety of subjects is impressive, and Ginsburg's gift for concision enables her to discuss them in enough detail to engage interest while leaving the reader wanting more."
— Publishers Weekly

"Not surprisingly, she serves as an exemplar, and her work toward gender equality is well represented in this superb book. . . . required reading . . . invaluable."
— Library Journal (starred review)

"No sitting Supreme Court justice has the adoring fan base Ruth Bader Ginsburg has. . . . the amicus briefs, and, later, bench announcements included here are recognizably impressive, even to civilians, in their lucidity, calm persuasiveness, and avoidance of jargon on one side and distracting captiousness on the other. The more informal writings in My Own Words share those qualities while adding charm."
— Bookforum
Simon & Schuster, 9781501145247, 400pp.
Publication Date: October 4, 2016
About the Author
Born in 1933, Ruth Bader Ginsburg attended the Harvard and Columbia University Law Schools, and taught law at Rutgers and Columbia. During the 1970s, while teaching at Columbia, she was instrumental in launching the ACLU's Women's Rights Project, and became the leading advocate in the Supreme Court for gender equality. She was appointed by President Jimmy Carter to the US Court of Appeals for the DC Circuit in 1980 and to the US Supreme Court by President Bill Clinton in 1993. In 2009, Forbes named Ginsburg among the 100 Most Powerful Women. Glamour named her one of their 1993 Women of the Year and in 2012 presented her with their Lifetime Achievement Award. In 2015,Time listed her as an Icon in the Time 100, and in 2016 Fortune named her one of the World's Greatest Leaders.

Mary Hartnett is an Adjunct Professor at Georgetown Law, focusing on international women's human rights.

Wendy W. Williams is Professor Emerita at Georgetown Law, best known for her work in the area of gender and law, especially concerning issues of work and family.
Coverage from NPR