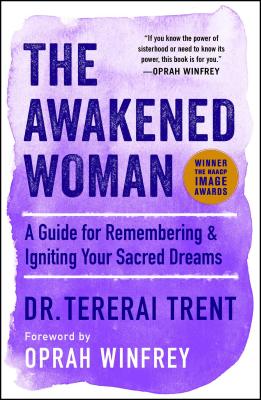 The Awakened Woman
A Guide for Remembering & Igniting Your Sacred Dreams
Paperback

* Individual store prices may vary.
Other Editions of This Title:
Digital Audiobook (10/2/2017)
Hardcover (10/3/2017)
Description
Winner of a 2017 NAACP Image Award for Outstanding Literary Work, this moving manifesto "empowers women to access a fearlessness that will enable community progress" (Essence). Through one incredible woman's journey from a small Zimbabwe village to becoming one of the world's most recognizable voices in women's empowerment and education, this book "can help any woman achieve her full potential" (Kirkus Reviews).

Before Tererai Trent landed on Oprah's stage as her "favorite guest of all time," she was a woman with a forgotten dream. As a young girl in a cattle-herding village in Zimbabwe, she dreamed of receiving an education but instead was married young and by eighteen, without a high school graduation, she was already a mother of three. Tererai encountered a visiting American woman who assured her that anything was possible, reawakening her sacred dream.

Tererai planted her dreams deep in the earth and prayed they would grow. They did, and now not only has she earned her PhD but she has also built schools for girls in Zimbabwe, with funding from Oprah. The Awakened Woman: A Guide for Remembering & Igniting Your Sacred Dreams is her accessible, intimate, and evocative guide that teaches nine essential lessons to encourage all women to reexamine their dreams and uncover the power hidden within them—power that can recreate our world for the better.

Tererai points out that there is a massive, untapped, global resource in women who have, for one reason or another, set aside their wisdom, their skills, and their dreams in order to take care of the personal business of their lives. Not only is this a type of invisible suffering experienced by countless women, this rich resource is a secret weapon for improving our world. Women have the capacity to inspire, to create, to transform—and Tererai's call to action "shines as a beacon of hope to women everywhere" (Danica McKellar, actress and New York Times bestselling author).
Praise For The Awakened Woman: A Guide for Remembering & Igniting Your Sacred Dreams…
"The Awakened Woman empowers women to access a fearlessness that will enable community progress."
— Essence

"Remarkable."
— O, the Oprah Magazine

"A soul-shaking and potentially life-altering read filled with stories, guidance, and rituals to help readers realize their sacred dreams."
— LA Yoga

"Any time anyone tells you that a dream is impossible, any time you're discouraged by impossible challenges, just mutter this mantra: Tererai Trent."
— Nicholas Kristof, Pulitzer Prize winning journalist and #1 nationally bestselling author of Half the Sky

"Against the gripping backdrop of Dr. Trent's beginnings in war-torn, patriarchal Zimbabwe, The Awakened Woman shines as a beacon of hope to women everywhere. She invites the reader to sit around a sacred fire of sisterhood with her, guiding us on a powerful personal journey, and stoking the embers within us all to reclaim our voices to heal our souls – and the heart of the world."
— Danica McKellar, actress and New York Times bestselling author of Kiss My Math

"In The Awakened Woman, Tererai Trent weaves her riveting story with that of other women to inspire us to dream as boldly as she dared to, then holds our hands and walks us through each crucial practical step to achieve those dreams. Tererai calls us to remember the foundation of who we are and reminding us of the rituals that ground us. This powerful interactive book is a perfect gift for your girlfriend, your daughter (or yourself!) when you want to say: BE YOU. BE BOLD. BE CREATIVE. YOUR LIFE MATTERS. And what could be more important than that?"
— Lisa Bloom, civil rights lawyer and New York Times bestselling author of Think, Swagger and Suspicion Nation

"I am amazed at how eloquently Dr. Trent has shared her story of trials and triumph. It has inspired me to live out my truth and encourage my sisters to do the same. I believe we all need to be awakened from the past that keeps us held back from living the greatness inside of us."
— Patrice Register, CEO of PLR Services, LLC

"A mesmerizing and inspiring story of an amazing woman's remarkable journey. It was more than a coincidence that two strong, passionate young women from opposite sides of the world met briefly in a southern African village, exchanged life-changing words, unwittingly documented the encounter with a photo, and years later crossed paths again in the U.S. bonding as sister activists and cherished friends for life, and this is just one of the jaw-dropping stories told throughout Tererai's journey to becoming Dr. Trent."
— Jo Luck, Former President & CEO of Heifer International, 2010 World Food Prize Laureate

"Provocative. Illuminating. Delightful. In The Awakened Woman, Zimbabwean-born author Dr. Tererai Trent creates a bridge between unlikely worlds—weaving precious wisdom of Africa with modern-day research, she enlightens women on how to be midwives to their own sacred dreams. Her passionate insight presented through the lens of her amazing life's journey makes this book a unique and rare treasure."
— Melissa Cara Rigoli, creative designer & musician

"The power of her new book, The Awakened Woman, is in its wisdom, its simple advice for all women. To recognize and hone the tools we're given. To let go of fear. To use our femininity. To walk away from others' presumptions and follow our own hearts. To build our collective "sisterhood." To believe in ourselves.

Never has there been a more critical time for women to lift each other up, learn from each other, explore new ideas, and take leadership in world order. The Awakened Woman is truly a life-changing guide for every woman looking to explore her best self and give meaning to her life. It is both a "how-to" manual and a deeply moving memoir; as timely as it is timeless. No one but Tererai could have written it, and it has changed my life forever."
— Terry Hernandez, executive director of The Chrysalis Foundation

"Trent's energy and conviction are evident throughout the book, and her story is invigorating, revitalizing, motivating, and encouraging...An empowering story coupled with easy-to-navigate steps that can help any woman achieve her full potential."
— Kirkus Reviews

"The Awakened Woman is a call to action for humanity. Tererai taps into deep wisdom reminding us that our sacred sisters can help us to bring forth our dormant dreams. It's only when we come together, awakened, that we can truly live our purpose."
— Vicki Saunders, founder of SheEO

"Compelling, insightful, gracious, loving—Tererai lights a candle for the world and inspires us all to light ours!"
— Theresa Gattung, leading New Zealand business personality, author, philanthropist
Atria/Enliven Books, 9781501145674, 288pp.
Publication Date: July 31, 2018
About the Author
Dr. Tererai Trent is one of the most internationally acclaimed voices for women's empowerment and quality education. Hailed by Oprah Winfrey as her "all-time favorite guest," Dr. Trent is an inspiring and dynamic scholar, educator, humanitarian, motivational speaker, author, and the founder of Tererai International. She has appeared on The Oprah Winfrey Show, SuperSoul Sessions, CNN-Voice of Africa, CNBC, and has spoken at the United Nations, TEDx, and the Women in the World Summit, among others. She received her PhD in Interdisciplinary Evaluation from Western Michigan University and holds Master's degrees in Public Health and Plant Pathology.