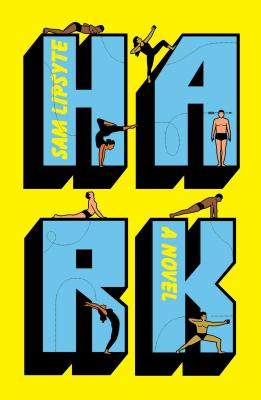 Hark
Hardcover

* Individual store prices may vary.
Other Editions of This Title:
Digital Audiobook (1/14/2019)
Paperback (1/21/2020)
Compact Disc (1/15/2019)
Compact Disc (1/15/2019)
Description
A brilliant send-up of our contemporary culture from Sam Lipsyte, the critically acclaimed author of Home Land, centered around an unwitting mindfulness guru and the phenomenon he initiates.

In an America convulsed by political upheaval, cultural discord, environmental collapse, and spiritual confusion, many folks are searching for peace, salvation, and—perhaps most immediately—just a little damn focus. Enter Hark Morner, an unwitting guru whose technique of "Mental Archery"—a combination of mindfulness, mythology, fake history, yoga, and, well, archery—is set to captivate the masses and raise him to near-messiah status. It's a role he never asked for, and one he is woefully underprepared to take on. But his inner-circle of modern pilgrims have other plans, as do some suddenly powerful fringe players, including a renegade Ivy League ethicist, a gentle Swedish kidnapper, a crossbow-hunting veteran of jungle drug wars, a social media tycoon with an empire on the skids, and a mysteriously influential (but undeniably slimy) catfish.

In this social satire of the highest order, Sam Lipsyte, the New York Times bestseller and master of the form, reaches new peaks of daring in a novel that revels in contemporary absurdity and the wild poetry of everyday language while exploring the emotional truths of his characters. Hark is a smart, incisive look at men, women, and children seeking meaning and dignity in a chaotic, ridiculous, and often dangerous world.
Praise For Hark…
PRAISE FOR HARK BY SAM LIPSYTE

"Extremely funny... brilliantly alive"—NEW YORK TIMES BOOK REVIEW

"Lipsyte is marvelous at inspiring equal parts sympathy and scorn....his sentences are as sharp as ever."—WASHINGTON POST

"The lauded satirist's caustic send-up centers on a cabal of hucksters – among them a hapless husband whose marriage is 'locked in low-key, quotidian apocalypse'—working to turn a phony self-help guru into a moneymaking messiah. Every line feels as thrillingly charged as a live wire."—O MAGAZINE

"Fans of Lipsyte — also behind Venus Drive and the great Home Land — will pick up traces of his best work. He's particularly good in the abstract in Hark, building out his premise and shaping a god complex for an 'end of men' world. ... This feels like a step forward for the Trump-era satire."—ENTERTAINMENT WEEKLY

"Very funny."—LOS ANGELES TIMES

"Recommended reading."—VANITY FAIR

"Lipsyte writes nose to sentence, like a truffle hound. Jokes emerge from shifting letters, the keel of a clause....Lipsyte's language maintains a flexibility, a resilience, that feels quite necessary in a time of oversimplification and duplicity. The novel's two themes, faith and fraud, are both rooted in rhetoric, in the massage of the message. Same with 2019. In Hark's final pages, as the story takes on messianic velocity, Lipsyte turns somber. The laughter stops, and the novel becomes, if not profound, then at least elegiac—which is perhaps satire's bullseye."—BOMB

"From his debut, Venus Drive (2000), a collection populated by a string of outsiders and misfits (a tormented summer camper, a small-time coke dealer, a peep-show habitué and his comatose sister), to the near-future dystopia of Hark (2019), his fourth novel, the Lipsyte-verse is fueled by failed or failing relationships and the comically agonized involutions of liberal self-consciousness. His work is as endlessly self-correcting and ­unstable as Dostoyevsky's Notes from Underground, told with a compression and exacting attention to language that follows Stanley Elkin, Gordon Lish, and Barry Hannah. Lipsyte maps a world where the old-fashioned, middle-class American dream has been vaporized by rising inequality and greed, though his characters know full well—and won't hesitate to let you know that they know, with the hangdog brio at the heart of his work—that the dream was never more than a corrupt, exclusionary sham from the beginning."—THE PARIS REVIEW

"The first thing to be said about the book is that Sam has never been sharper or funnier. It is my habit when reading a bound galley for review to dog ear pages where passages that made me laugh or that seem worth quoting strike me. My galley of Hark is so comprehensively dog eared that the whole thing resembles a dog's ear. The second thing to be said is that Hark presents Sam's most socially expansive portrait and diagnosis of American life....Lipstye's satire in Hark has never been more cutting or timely....There are also many parallels to be found in the way Nathanael West handles the volatile mixture of credulity and rage in the people he calls "the disappointed" in his indelible The Day of the Locust. In this as in so many other ways Sam Lipsyte is West's truest successor among our living American novelists. I can offer no higher compliment."—THE MILLIONS

"Witty...His satirical potshots, sprayed toward vast arenas of contemporary life, are consistently on target."—NEWSDAY

"An excellent satire."—NEW YORK POST

"Hark is a tartly effective sendup of 21st-century America. Mining comedy and pathos from economic inequality, shifting social mores and basic human yearnings, Lipsyte ably skewers our fads and phony gods....Awfully funny." —MINNEAPOLIS STAR TRIBUNE

"Lipsyte (The Fun Parts) pillories the mindfulness movement in this acerbic and surprisingly moving novel of a hesitant guru and his self-involved inner circle... This is a searing exploration of desperate hopes, and Lipsyte's potent blend of spot-on satire, menacing bit players, and deadpan humor will delight readers."—PUBLISHERS WEEKLY

"As usual, Lipsyte's command of language is sublime."—KIRKUS REVIEWS

"Lipsyte…offers high-velocity moments in which bleakness and humor, the quotidian and the apocalyptic all gloriously converge."—BOOKLIST

[A] trenchant satire about the quest for meaning and the lengths to which some people will go to achieve it."—BOOKPAGE

"Madcap and full of love, laughter and unexpected beauty (not to mention the world's greatest bone marrow smuggling scheme), if Hark doesn't make you stalk Sam Lipsyte and try to break up his marriage, then you are not human." —Gary Shteyngart, author of Super Sad True Love Story

"Wonderfully moving and beautifully musical, Lipsyte has penned a dastardly hysterical take on modern day rhetoric and the eternal ridiculousness of it all. More than a 'must read,' Hark is a 'must believe!'" —Paul Beatty, author of The Sellout

Praise for Sam Lipsyte

"If you've heard anything about Sam Lipsyte, you've probably heard that he's funny. Scabrously, deliriously, piss-yourself funny (his characters would no doubt find a dirtier, and funnier, way of putting it), drawing audible snorts even from the kind of people, such as the people in his novels, who are way too cool to laugh out loud . . . Lipsyte's prose arrows fly with gloriously weird spin, tracing punch-drunk curlicues before hitting their marks--or landing in some weird alternate." —Jennifer Schuessler, The New York Review of Books

"So let's read Lipsyte and rejoice; let's celebrate the laugh-producing Milo Burkes who are all too rarely brought to us by brave and bitter men--let's celebrate the canny, well-educated yet perpetually failing furtive Internet onanists, the dark, half-crippled, doughnut-gobbling man-apes of the literary world, who cast their lumpen shadows across the rest of us. These are the kind of unlikeable, lovable protagonists we miss; these are the self-loathing, mediocre secret geniuses who can set our people free." —Lydia Millet, The New York Times Book Review

"It's customary for radically sardonic, corrosively funny writers to put in time as mere cult icons, but enough already: everybody should read Sam Lipsyte." —TIME

"The riffs on fatherhood, work, and sex in Sam Lipsyte's unsparingly comic novel The Ask explode like a string of firecrackers--so funny you might lose an eye." —Vanity Fair

"One of the greatest black-humorists alive, Lipsyte has gone unnoticed for far too long. With his third novel, about the painfully hilarious adventures of a failed painter in a dead-end job, he should finally get the acclaim he deserves." —Details

"There's probably not a living American writer who has so comprehensively mined the comic possibilities of that particular anguished, hapless combination of the overeducated and the underachieving as Sam Lipsyte. Against all odds, his heroes refuse to succeed, and they and we are rewarded with the endlessly entertaining spectacle of their nonstop humiliation." —Jim Shepard, Bookforum

"Lipsyte can't be matched...A literary rock star." —The New York Times
Simon & Schuster, 9781501146060, 304pp.
Publication Date: January 15, 2019
About the Author
Sam Lipsyte is the author of the story collections Venus Drive and The Fun Parts and four novels: Hark, The Ask (a New York Times Notable Book), The Subject Steve, and Home Land, which was a New York Times Notable Book and received the Believer Book Award. His fiction has appeared in The New Yorker, The Paris Review, and Best American Short Stories, among other places. The recipient of a Guggenheim fellowship, he lives in New York City and teaches at Columbia University.
or
Not Currently Available for Direct Purchase