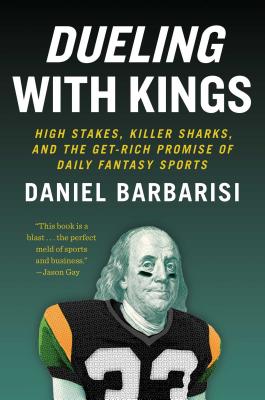 Dueling with Kings (Hardcover)
High Stakes, Killer Sharks, and the Get-Rich Promise of Daily Fantasy Sports
Atria Books, 9781501146176, 368pp.
Publication Date: March 7, 2017
Other Editions of This Title:
Digital Audiobook (3/6/2017)
Paperback (3/6/2018)
* Individual store prices may vary.
Description
"Hilarious behind-the-scenes look at the characters, compulsions, and chaos inside the fantasy sports gold rush." –Jason Gay, author of Little Victories

As Bringing Down the House did for card counters and Positively Fifth Street did for poker players, Daniel Barbarisi does for Daily Fantasy Sports fans in this leap down the rabbit hole of America's latest obsession.

Daniel Barbarisi quits his job as the New York Yankees beat writer for The Wall Street Journal and begins a quest: to join the top one percent of Daily Fantasy Sports ("DFS") players, the so-called "sharks," and figure out whether DFS is on the level—while maybe cashing in along the way.

DFS is fantasy sports on steroids. It's the domain of bitter rivals FanDuel and DraftKings, online juggernauts who turned a legal loophole into a billion-dollar industry by allowing sports fans bet piles of cash constructing fantasy teams.

Yet as Barbarisi quickly realized, what should have been a fun companion to casual sports viewing was instead a ferocious environment infested with sharks, a top tier of pros wielding complex algorithms, drafting hundreds of lineups, and wagering six figures daily as they bludgeon unsuspecting amateur "fish." Barbarisi embeds himself inside the world of DFS, befriending and joining its rogue's gallery as he tries to beat them at their own game.

In a work equal parts adventure and rigorously reported investigation, Barbarisi wades into this chaotic industry at the very moment its existence is threatened by lawmakers sick of its Wild West atmosphere and pushy advertising. All their money made FanDuel and DraftKings seem invincible; but, as Barbarisi reports, they made plenty of dubious—perhaps even scandalous—moves as they vied for market supremacy.

In Dueling with Kings, Barbarisi uncovers the tumultuous inside story of DFS, all while capturing its peculiar cast of characters, from wide-eyed newly minted millionaires, to sun-starved math geeks, to bros living an endless frat party of keggers and Playboy Bunnies. Can he outwit them all and make it to the top?
About the Author
Daniel Barbarisi is a longtime sports and news journalist, having published over five thousand pieces in publications such as The Wall Street Journal, The Boston Globe, and The Providence Journal, and appeared on hundreds of radio and TV programs over the course of his career. Most recently, he was on staff at The Wall Street Journal, serving as the Yankees beat reporter. He and his wife reside in Boston, Massachusetts. Dueling with Kings is his first book.
Praise For Dueling with Kings: High Stakes, Killer Sharks, and the Get-Rich Promise of Daily Fantasy Sports…
"In Dueling with Kings, Daniel Barbarisi pulls back the curtain on Daily Fantasy Sports, an utterly fascinating world mysterious even to many avid sports fans. The gripping story of DraftKings and FanDuel and those who play fantasy games nightly reads like a classic thriller, featuring one surprising turn after another – but the crazy part is, it's all true. Barbarisi not only takes a deep dive, but also swims with the sharks . . . and lives to tell about it!"--Ken Rosenthal, Fox Sports

"Daniel Barbarisi is one of the best young talents working in sports journalism today; his work is always penetrating and inventive. Now, in Dueling with Kings, he brings his narrative flair and understanding of characters to a subject that benefits from his keen eye."—Gay Talese

"This book is a blast. Daniel Barbarisi's Dueling with Kings is an engrossing and often hilarious behind-the-scenes look at the characters, compulsions and chaos inside the fantasy sports gold rush. It's the perfect meld of a sports and business book, engagingly written like a fun, page-turning novel."­—Jason Gay, The Wall Street Journal sports columnist

"Finally, someone explains daily fantasy sports. Daniel Barbarisi lived in the belly of the beast and emerged with this compelling story. It's where No Cheering in the Press Box meets The Wolf of Wall Street. Before you pick your sport and pick your players . . . pick up this book." —Dan Shaughnessy, The Boston Globe sports columnist
or
Not Currently Available for Direct Purchase