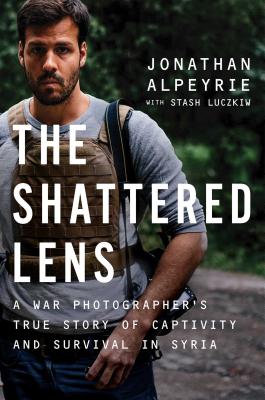 The Shattered Lens (Hardcover)
A War Photographer's True Story of Captivity and Survival in Syria
Atria Books, 9781501146503, 272pp.
Publication Date: October 10, 2017
* Individual store prices may vary.
Description
Discover a gripping and harrowing tale of war and torture from the man who lived it in this powerful memoir by the celebrated war journalist who not only documented over a dozen conflict zones worldwide but was also captured and held hostage by Syrian rebels in 2013.

Capturing history was Jonathan Alpeyrie's job but he never expected to become a news story himself. For a decade, the French‑American photojournalist had weaved in and out of over a dozen conflict zones. He photographed civilians being chased out of their homes, military trucks roving over bullet‑torn battlefields, and too many bodies to count. But on April 29, 2013, during his third assignment to Syria, Alpeyrie was betrayed by his fixer and handed over to a band of Syrian rebels.

For eighty‑one days he was bound, blindfolded, and beaten. Not too far away, President Bashar al‑Assad's forces and those in opposition continued their bitter and bloody civil war. Over the course of his captivity, Alpeyrie kept his spirits up and strove to see, without his camera lenses, the humanity in his captors. He took part in their activities, taught them how to swim, prayed with them, and tried learning their language and culture. He also discovered a dormant faith within himself, one that strengthened him throughout the ordeal.

The Shattered Lens is the firsthand account of a photojournalist who has always answered the next adrenaline‑pumping assignment. Yet, during his headline‑making kidnapping, he was left to consider the value and risks of his career, ponder the violent conflicts he had seen, and put the historical events over which we have no control into perspective.
Praise For The Shattered Lens: A War Photographer's True Story of Captivity and Survival in Syria…
"A gripping and a personal view of war by someone who has been there."

"A chilling tale about how [Alpeyrie] managed to win the fragile esteem of his captors while simultaneously keeping his fried nerves from completely shorting out, as well as his personal take on armed conflict and global jihad. A gripping account of life in captivity and humankind's ongoing relationship to war."

"A keen photojournalist's eye serves Alpeyrie well as he painstakingly recounts his capture in 2013 by rebels during Syria's civil war . . . Throughout, he offers frank discussions about the illusion of freedom and the lure of violence, and offers a touching appreciation for the parental love and support he receives . . . In this harrowing story, Alpeyrie offers insights that deserve attention."

"For all his suffering, Alpeyrie expresses, in words and color photographs, the compassion of a global citizen seeing beyond his personal terror and into the nuances of human interactions."

"A thrilling memoir."

"The Shattered Lens sometimes reads like a thriller. There are times your heart feels like it's in your throat… But it is photojournalists like Alpeyrie that give us a glimpse into the true horrors of war. And as they risk their lives every day to accomplish very dangerous tasks, they can be considered both courageous and brilliant by bringing the chaos to the world at large, which would otherwise be hidden."