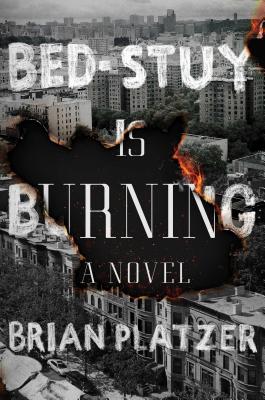 Bed-Stuy Is Burning (Hardcover)
A Novel
Atria Books, 9781501146954, 336pp.
Publication Date: July 11, 2017
Other Editions of This Title:
Paperback (7/17/2018)
MP3 CD (7/11/2017)
Compact Disc (7/11/2017)
Compact Disc (7/11/2017)
* Individual store prices may vary.
Description
"Platzer's take on race, religion, class, and politics—all the subjects you're not supposed to discuss—is sure to get people talking." —Vanity Fair

Do the Right Thing meets The Bonfire of the Vanities, in this "thrilling debut novel about marriage, gentrification, parenthood, race, and the dangerous bargains we make with ourselves" (Ann Packer, New York Times bestselling author) set over the course of one cataclysmic day when riots erupt in a rapidly gentrifying Brooklyn neighborhood.

Aaron, a disgraced rabbi turned Wall Street banker, and Amelia, his journalist girlfriend, live with their newborn in Bedford-Stuyvesant, one of the most dynamic and historically volatile neighborhoods in New York City. The infusion of upwardly mobile professionals into Bed-Stuy's historic brownstones belies the tension simmering on the streets below. But after a cop shoots a boy in a nearby park, conflict escalates to rioting—with Aaron and his family at its center.

Pulled into the riot's vortex are Antoinette, devout nanny to Aaron and Amelia's son; Jupiter, the single father who lives on their block with his son, Derek; Daniel, Aaron's unhinged tenant in their basement unit; and Sara, a smart local girl, broiling with confusion and rage. As the day unfolds, these diverse characters are forced to reckon with who they are and what truly matters to them.

With "the mordant wit of Franzen, the dazzling smarts of Roth, and the compassion of Tolstoy" (Rafael Yglesias, author of A Happy Marriage), Platzer conjures a sharp-eyed, fast-paced, and empathetically rendered narrative about a changing neighborhood and its residents, as they struggle to raise children, establish careers, and find love, fulfillment, and meaning. Bed-Stuy Is Burning offers a window into an array of complex lives and deftly wrestles with the most pressing issues of our time with unflinching focus, wisdom, and hope.
About the Author
Brian Platzer has an MFA from the Johns Hopkins Writing Seminars, and a BA from Columbia University. His writing has appeared often in The New Yorker's "Shouts and Murmurs" and McSweeney's "Internet Tendency," as well as in The New York Times, The New Republic, Salon, and elsewhere. He lives with his wife and two young sons in Bed-Stuy, Brooklyn, and teaches middle school English in Manhattan. He is the author of the novels Bed-Stuy Is Burning and The Body Politic.
Praise For Bed-Stuy Is Burning: A Novel…
"Platzer's take on race, religion, class, and politics—all the subjects you're not supposed to discuss—is sure to get people talking."
— Vanity Fair

"Riveting, full of cliffhanger chapter endings and surprise twists… Mr. Platzer deftly swivels among the clashing points of view, and the climax, in which Aaron returns to disperse the crowd with an improvised sermon, is powerfully done."
— Wall Street Journal

"Heart pounding and relentless…Bed-Stuy is Burning offers a suspenseful, well written, and empathetic story filled with wit, wisdom, and hard truths….An engaging, timely, and provocative read."
— Jewish Book Council

"Brian Platzer's first novel captures a violent day in the uneasy life of a gentrifying Brooklyn neighborhood where the fragility of love, parenthood, class and race is put to the test. A bad day in Bed-Stuy is a vivid microcosm of the United States, but the hope Platzer suggests with his characters' healthy unmasking offers optimism for the whole country's days ahead."
— Shelf Awareness

"A debut novel about class conflict, race and gentrification. Reminiscent of Bonfire of the Vanities."
— New York Post

"The city is burning indeed in New Yorker contributor Platzer's debut novel, sometimes with fire and sometimes with much-compounded shame… Expertly paced, eminently readable, and a promising start."
— Kirkus

"Platzer, a writer and educator who lives in Bed-Stuy, is aiming high here, addressing race-related violence, the Black Lives Matter movement, gentrification, and other volatile topics. He succeeds in presenting multiple perspectives of dramatic yet familiar situations."
— Booklist

"[A] dramatic first novel… the prose is energetic, and Platzer is obviously committed to exploring these contemporary urban issues."
— Library Journal

"Platzer clearly knows his turf. A Bed-Stuy resident himself, he convincingly sketches out how thin the neighborhood's peaceful veneer is."
— Minneapolis Star Tribune

"Brian Platzer's first novel is a savvy, heartfelt and utterly engaging examination of gentrification, love, race, ambition, money, parenthood and even faith. A Bonfire of the Vanities for millennials, it is a marvelous, and daring, debut."
— Alice McDermott, National Book Award winning author of Charming Billy

"Platzer writes insightfully about political isues while providing a panoramic take on New York that embraces the city's enormous complexity. This deeply moral book avoids easy conclusions and courts that ambiguity that is the hallmark of all great fiction."
— Matthew Thomas

"Brian Platzer has written a thrilling debut novel about marriage, gentrification, parenthood, race, and the dangerous bargains we make with ourselves. At once a heart-stopping portrayal of a day of violence and a deeply realized portrait of the five people at its center, Bed-Stuy is Burning marks the arrival of a tremendously accomplished young writer. I can't wait to see what he does next."
— Ann Packer, New York Times bestselling author

"In Bed-Stuy is Burning, Brian Platzer's funny, socially acute intelligence combines with his empathetic heart to reveal how faith, violence and real estate speculation shape contemporary life. It is the debut of a fully mature literary voice that has the mordant wit of Franzen, the dazzling smarts of Roth, and the compassion of Tolstoy."
— Rafael Yglesias, author of A Happy Marriage

"Thirty years ago Tom Wolfe tackled New York excess with The Bonfire of the Vanities, and now Brian Platzer strikes his own match with Bed-Stuy Is Burning, the results just as timely and bright. Instead of Manhattan in the Eighties, Platzer turns his sharp eye onto present day Brooklyn: the simmering tensions of race and privilege, of cultural appropriation and identity politics, and of course real estate. The story gives voice to multiple characters in search of their American home – even police commissioner William Bratton has a supporting role – and Platzer has the confident novelistic chops to find the beating heart of humanity in everyone's struggle and striving. Bed-Stuy Is Burning is a wonderful debut. I look forward to whatever Brian Platzer might light up next."
— David Gilbert, author of & Sons

"If you're looking for the novel everyone will be talking about … Bed-Stuy Is Burning by Brian Platzer."
— The Purist

"A triumphant story…Bed-Stuy is Burning, with its diverse voices and sincere depiction of the fight for social equality, is a mighty fine debut from a writer to watch."
— Electric Literature

"An engaging, provocative read [with] a brilliant false ending that complicates the story's outcome…The unexpected second ending brings a sense of balance to the book, concluding Bed-Stuy Is Burning with fitting ambiguity."
— Paste

"[Lean], powerfully-constructed . . . The unassuming bloodlessness of all this is the most daring thing Platzer does in his debut, and he does it so often and so smoothly that you're sailing along at page 100 or so before you realize that virtually all of the interesting people being so brightly and engagingly described are themselves faintly revolting. And in many ways the most revolting character in the book is gentrification itself, creeping everywhere, soldiered by people just like Aaron, who pat themselves on the back for willingly surrounding themselves with people who don't look like themselves, especially if it gets them a nice return on their initial investment. There's a breathless cleanliness in Platzer's depiction of how thoroughly disconnected the world of Aaron and Amelia is from the world of young Derek, a world boiling with rage at the stepped-up 'stop and frisk' policies of the omnipresent police."
— Steve Donoghue, Open Letters Monthly

"[An] engaging first novel… As the story unfolds in a cinematic style, themes of self-reflection, repentance and new beginnings emerge. This is a novel of New York's streets, set in Brooklyn, at the intersection of race, culture, class, religion and real estate."
— Jewish Week

"Platzer's characters are robust. His story is about more than big social issues. It is about the masks people wear to hide insecurities--masks that are stripped off in the face of violent confrontation. A bad day in Bed-Stuy is a vivid microcosm of the United States, but the hope Platzer suggests with his characters' healthy unmasking offers optimism for the whole country's days ahead."
— Shelf Awareness
or
Not Currently Available for Direct Purchase