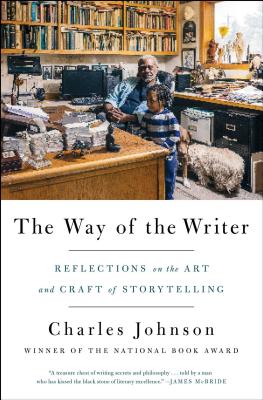 The Way of the Writer
Reflections on the Art and Craft of Storytelling
Paperback

* Individual store prices may vary.
Other Editions of This Title:
Digital Audiobook (4/17/2017)
Compact Disc (4/18/2017)
Hardcover (12/6/2016)
MP3 CD (4/18/2017)
Description
From Charles Johnson—a National Book Award winner, Professor Emeritus at University of Washington, and one of America's preeminent scholars on literature and race—comes an instructive, inspiring guide to the craft and art of writing.

An award-winning novelist, philosopher, essayist, screenwriter, professor, and cartoonist, Charles Johnson has devoted his life to creative pursuit. His 1990 National Book Award-winning novel Middle Passage is a modern classic, revered as much for its daring plot as its philosophical underpinnings. For thirty-three years, Johnson taught and mentored students in the art and craft of creative writing. The Way of the Writer is his record of those years, and the coda to a kaleidoscopic, boundary-shattering career.

Organized into six accessible, easy-to-navigate sections, The Way of the Writer is both a literary reflection on the creative impulse and a utilitarian guide to the writing process. Johnson shares his lessons and exercises from the classroom, starting with word choice, sentence structure, and narrative voice, and delving into the mechanics of scene, dialogue, plot and storytelling before exploring the larger questions at stake for the serious writer. What separates literature from industrial fiction? What lies at the heart of the creative impulse? How does one navigate the literary world? And how are philosophy and fiction concomitant?

Luminous, inspiring, and imminently accessible, The Way of the Writer is a revelatory glimpse into the mind of the writer and an essential guide for anyone with a story to tell.
Praise For The Way of the Writer: Reflections on the Art and Craft of Storytelling…
"Charles Johnson has given us a book that will hopefully place a gentle but firm hand on the shoulder of every writer. Here are short essays offering advice, writing life insight and encouragement to anyone wishing to master the art of storytelling. Johnson's book is a reminder that good writing consists of more than sleeping with the dictionary. It requires a major commitment to the love of language."-- E. Ethelbert Miller, award-winning poet and 2016 recipient of the Association of Writers & Writing Programs George Garrett Award for Outstanding Community Service in Literature

"Charles Johnson here provides—as his subtitle promises—'reflections on the art and craft of storytelling.' It's a welcome addition to the small shelf of useful books on the way of the writer and one that belongs with those of his mentor, John Gardner. Here the writer links the personal with the professional in ways that both inspire and instruct. Use this book (a) to deepen your familiarity with the work of a distinguished author, (b) to understand how serious practitioners address their art and (c) to improve your own."--Nicholas Delbanco, author of The Years

"Those of us who put pen to paper for a living have known of Charles Johnson for a very long time. He is one of America's greatest literary treasures. He is a skilled wordsmith, superb craftsman, master of understatement, philosopher, cartoonist, and deeply talented novelist whose 1991 novel Middle Passage, (which won the National Book Award for fiction) predates the current surfeit of Underground Railroad novels by a good two decades. Like the great Ralph Ellison to whom he is often compared, he will forever cast a long shadow over us who follow in his wake. Here he graciously opens up the treasure chest of writing secrets and philosophy for those of us who seek to kneel at the tree of learning, told by a man who has kissed the black stone of literary excellence."—James McBride, National Book Award-winning author of The Good Lord Bird and The Color of Water

"If you're looking to learn to tell stories in written form, look no further. This book is as accessible as it is profound, lively, practical, and full of earned wisdom. I was a student of Charles Johnson's, and can vouch for the power and value of his teaching. There are plenty of craft books available out there, but this is the only one I know of that is--and I don't think I'm exaggerating--indispensable."--David Guterson, author of Snow Falling on Cedars

"This is a book for many readers. If you are an aspiring writer, the path that Dr. Johnson sets out is a clear guide to your destination—whether you become a best-selling novelist or a top non-fiction writer or not. You will find a compass in this book that will direct you towards a real way that will fulfill your efforts. There is much practical advice and worldview wisdom here that will sustain you in your journey. Those who are on a different path (as readers) will also find fulfillment here. Dr. Johnson sets out original and illuminating guides on how to confront literary fiction—especially philosophical fiction. These reflections advance critical theory toward literature that is, itself, philosophy. This is a must-buy for both of these travelers. The destination will more than reward the price of the ticket."--Michael Boylan, Professor of Philosophy, Marymount University and author of Naked Reverse: A Novel

"An honest, engaging, and wonderfully inspiring book for both writers and teachers. Charles Johnson's deep intelligence, joyful rigor and refreshing iconoclasm are evident in every subject he covers here. Philosophical and practical, The Way of the Writer is sure to become a classic in the mold of John Gardner's excellent books on writing."--Dana Spiotta, author of Innocents and Others

"A meditation on the meaning of literature and practical guide to the art and craft of writing fiction."--Library Journal

"Charles Johnson has a long-standing reputation as one of the world's greatest fiction writers. Now in this brilliant new book, The Way of the Writer, he offers us an eclectic meditation on the storyteller's craft that is by turns memoir, instructional guide, literary critique, and philosophical treatise. Every reader will be deeply enriched by the book."—Jeffery Renard Allen, author of Song of the Shank and Rails Under My Back

"All writers will welcome the useful tips and exercises, but the book will also appeal to readers interested in literature and the creative process. Johnson's wonderful prose will engage readers to think more deeply about how to tell a story and consider the truth-telling power of the arts."--Library Journal STARRED review

"Throughout, Johnson's voice is generous and warm, even while he is cautioning writers to be their own ruthless editors. A useful writing guide from an experienced practitioner."—Kirkus Reviews

"National Book Award winner Johnson (Middle Passage, 1990) has taught creative writing for over 30 years and now shares his well-refined thoughts on how best to develop literary taste and technique.... Every aspect of this writing manual, which is laced with memoir, illustrates Johnson's seriousness of purpose about literature and his laser focus on the thousands of small choices that shape a written work. The result is a book that will be appreciated by aspiring writers and everyone who shares Johnson's delight in the power of words."--Booklist

"A meditation on the daily routines and mental habits of a writer...the book radiates warmth...a writer's true education might start in institutions, it seems, but for Johnson it is more a lineage of good, memorable talk."--New York Times

"Eloquent, inspiring and wise, The Way of the Writer is a testament to the methods and advice the author espouses, and even if you aren't an aspiring novelist, Johnson's book is a fascinating glimpse into the mind of one of our finest writers."--Seattle Times

"Writers who haven't had the opportunity to study with Dr. Charles Johnson during the past 40 years are now in luck. The novelist, essayist, cartoonist, and philosopher has collected the creative lessons he's learned along the way in a new practical and semi-autobiographical guide."--Tricycle

"An instructive, inspiring guide to the craft and art of writing."--Chicago Review of Books
Scribner, 9781501147227, 256pp.
Publication Date: December 6, 2016
About the Author
Charles Johnson is a novelist, essayist, literary scholar, philosopher, cartoonist, screenwriter, and professor emeritus at the University of Washington in Seattle. A MacArthur fellow, his fiction includes Night Hawks, Dr. King's Refrigerator, Dreamer, Faith and the Good Thing, and Middle Passage, for which he won the National Book Award. In 2002 he received the Arts and Letters Award in Literature from the American Academy of Arts and Letters. He lives in Seattle.