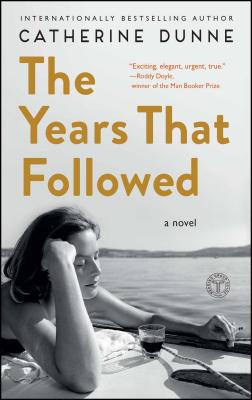 The Years That Followed (Paperback)
A Novel
Atria Books, 9781501147241, 352pp.
Publication Date: July 11, 2017
Other Editions of This Title:
Hardcover (10/11/2016)
Compact Disc (7/11/2017)
Pre-Recorded Audio Player (10/11/2016)
MP3 CD (10/11/2016)
Compact Disc (10/11/2016)
Compact Disc (10/11/2016)
* Individual store prices may vary.
Description
Acclaimed international bestseller Catherine Dunne's thrilling US debut is the story of two wronged women bent on revenge at all costs, and "a page-turner that's both poignant and satisfying" (Booklist).

Revenge is sweeter than regret…

Dublin. Calista is young, beautiful, and headstrong. When she falls in love with the charming, older Alexandros and moves to his native Cyprus, she could never imagine that her whirlwind courtship would lead to a dark and violent marriage. But Calista learns to survive. She knows she will find peace when she can finally seek retribution.

Madrid. Pilar grew up with very little means in rural Spain and finally escaped to a new life. Determined to leave poverty behind her, she plunges into a life of working hard and saving money. Enchanted by an older man, Pilar revels in their romance, her freedom, and accruing success. She's on the road to achieving her dreams. Yet there is one thing that she is still searching for, the one thing she knows will make her truly happy.

Sweeping across the lush European backdrops of Spain, Greece, and Ireland, The Years That Followed is a gripping, modern telling of a classic story. As two wronged women plot for revenge, their intricately crafted schemes send shockwaves through their families that will echo for many generations to come.
About the Author
Catherine Dunne is the author of nine novels including The Things We Know Now, which won the Giovanni Boccaccio International Prize for Fiction in 2013 and was shortlisted for the Novel of the Year at the Irish Book Awards. She was recently long-listed for the inaugural Laureate for Irish Fiction Award 2015. Her work has been translated into several languages. She lives in Dublin.
Praise For The Years That Followed: A Novel…
Irish novelist Dunne makes her U.S. debut with this intricate saga...Dunne reveals the brutal power of the seduction[and] the redemptive qualities of children (and the devastation that comes with their loss) factor into all the lives in this tale. Calista and Pilar are wonderful characters to watch develop as they weather this theme and as they work to define and enrich themselves against steep, cruel odds. Lived-in, hard-earned feminism swirled with a noir tone and dark turns makes for a great read.

"Exciting, elegant, urgent, true – Catherine Dunne's writing is all of these things, and a lot more. She really is one of Ireland's best novelists."
— Roddy Doyle (Winner of the Man Booker Prize)

"Catherine Dunne knows, like no other writer, how to illuminate the intimate, daily, domestic lives of ordinary women and their families."
— Isabella Bossi Fedrigotti

Previous praise for Catherine Dunne:

"Dunne has written a page turner: compelling, edgy, fast paced."—Irish Times

"It is a triumph of the ordinary. When it comes to an end, you feel you've lost your best friend."— Irish Independent

"A compulsive page-turner…[written in] her by now trademark elegant and intelligent prose."— The Irish Times

"Replete with her storytelling skills. . .Dunne's writing is captivating."—Irish Independent

"Catherine Dunne has a great talent for making the minutiae of life fascinating and for exploring the emotional background of her characters with great finesse."—Sunday Tribune

"Catherine Dunne writes about ordinary people, but in her novels their lives are extraordinary."—Sunday Tribune

"Dunne has a clever knack of turning ordinary lives into compelling fiction."—Irish Post


"Highlights the exceptional and unfathomable depths of what we nonchalantly dismiss as the ordinary, the normal, the everyday. In the deft hands of Dunne, the ordinary becomes story-worthy."— Irish Times

"Dunne writes compellingly about obsessive love, showing how apparently normal states of mind can shade into madness."—The Times



"A flawless novel."—The Express

"A hugely gratifying book; something to feed the spirit again and again."—Irish Independent

Irish novelist Dunne makes her U.S. debut with this intricate saga...Dunne reveals the brutal power of the seduction[and] the redemptive qualities of children (and the devastation that comes with their loss) factor into all the lives in this tale. Calista and Pilar are wonderful characters to watch develop as they weather this theme and as they work to define and enrich themselves against steep, cruel odds. Lived-in, hard-earned feminism swirled with a noir tone and dark turns makes for a great read.

"Exciting, elegant, urgent, true – Catherine Dunne's writing is all of these things, and a lot more. She really is one of Ireland's best novelists."
— Roddy Doyle (Winner of the Man Booker Prize)

"Catherine Dunne knows, like no other writer, how to illuminate the intimate, daily, domestic lives of ordinary women and their families."
— Isabella Bossi Fedrigotti

Previous praise for Catherine Dunne:

"Dunne has written a page turner: compelling, edgy, fast paced."—Irish Times

"It is a triumph of the ordinary. When it comes to an end, you feel you've lost your best friend."— Irish Independent

"A compulsive page-turner…[written in] her by now trademark elegant and intelligent prose."— The Irish Times

"Replete with her storytelling skills. . .Dunne's writing is captivating."—Irish Independent

"Catherine Dunne has a great talent for making the minutiae of life fascinating and for exploring the emotional background of her characters with great finesse."—Sunday Tribune

"Catherine Dunne writes about ordinary people, but in her novels their lives are extraordinary."—Sunday Tribune

"Dunne has a clever knack of turning ordinary lives into compelling fiction."—Irish Post


"Highlights the exceptional and unfathomable depths of what we nonchalantly dismiss as the ordinary, the normal, the everyday. In the deft hands of Dunne, the ordinary becomes story-worthy."— Irish Times

"Dunne writes compellingly about obsessive love, showing how apparently normal states of mind can shade into madness."—The Times



"A flawless novel."—The Express

"A hugely gratifying book; something to feed the spirit again and again."—Irish Independent

"[A] page-turner that's both poignant and satisfying."

"Both women are nuanced, sympathetic characters whose lives and loves are well developed throughout this darkly compelling story."



"Riveting, psychologically astute . . . [a] fine novel [with] depth and weight."