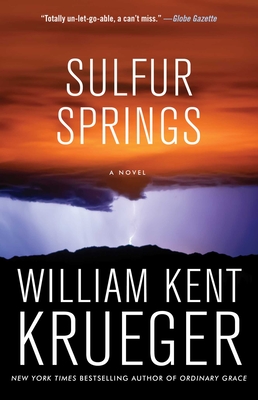 Sulfur Springs
A Novel (Cork O'Connor Mystery Series #16)
Paperback

* Individual store prices may vary.
Other Editions of This Title:
Hardcover, Large Print (9/20/2017)
Hardcover (8/22/2017)
Description
New York Times bestselling author William Kent Krueger showcases his talent "creating strong characters, building drama and conflict, braiding in Indian legend and spirituality, and spinning a good yarn" (Minneapolis Star Tribune) in this a vivid and pulse-pounding thriller that follows Cork O'Connor's search for a missing man amid the fraught tensions at the border between Arizona and Mexico.

On the Fourth of July, just as fireworks are about to go off in Aurora, Minnesota, Cork O'Connor and his new bride Rainy Bisonette receive a desperate phone call from Rainy's son, Peter. The connection is terrible but before the line goes dead, they hear Peter confess to the murder of someone named Rodriquez.

The following morning, Cork and Rainy fly to southern Arizona, where Peter has been working as a counselor in a well-known drug rehab center. When they arrive, they learn that Peter was fired six months earlier and hasn't been heard from since. So they head to the little desert town of Sulfur Springs where Peter has been receiving his mail. But no one in Sulfur Springs seems to know him. They do, however, seem to recognize the name Rodriguez. Apparently, the Rodriguez family is one of the cartels controlling everything illegal that crosses the border from Mexico.

As they gather scraps of information about Peter, Cork and Rainy are warned time and again that there is a war going on along the border. "Trust no one in Coronado County," is the most common piece of advice they receive, and Cork doesn't have to be told twice. To him, Arizona is alien country. The relentless heat, the absence of water and big trees and shade all feel nightmarish to him, as does his growing sense that Rainy might know more about what's going on than she's willing to admit in this fresh, exhilarating, and white-knuckle mystery starring one of the greatest heroes of fiction.
Praise For Sulfur Springs: A Novel (Cork O'Connor Mystery Series #16)…
Praise for Sulfur Springs:

"Totally un-let-go-able, a can't miss for fans and a new obsession for new readers."
— Globe Gazette

"A blistering Wild West mystery."
— Minneapolis Star Tribune

"Remarkable...masterful...book from an author who never disappoints."
— Book Reporter

"Realistic and believable…Cork O'Connor is a worthy protagonist."
— New York Journal of Books

Praise for Manitou Canyon:

"Explores the tension between belief and truth, between protecting a sacred place and embracing technological progress, between having empathy for a cause and taking action to defend it...Krueger has crafted a gripping thriller...steeped in the mythology of American Indian tribes of Minnesota...[a] deeply spiritual novel. Read it with your heart."
— Minneapolis Star Tribune

"A mystery made up of several shiver-inducing levers . . . [with] a plot that keeps tightening around O'Connor and the granddaughter—and the reader's nerves. A first-rate addition to this series."
— Booklist

"A gripping thriller."
— Milwaukee-Wisconsin Journal Sentinel

Praise for Windigo Island:

"A punch-to-the-gut blend of detective story and investigative fiction.... Krueger has written an investigative novel as blistering and crucial in its indictments of contemporary evil as The Jungle."
— Booklist (starred review)

"Krueger paints a vivid picture of the sordid cycle of poverty, abuse, alcoholism, and runaway (or throwaway) children on the reservation, and reminds us of the evil of men all too willing to exploit the innocent."
— Publishers Weekly (starred review)

"Krueger at his page-turning best — but this time with a higher purpose."
— Duluth News Tribune

Praise for Tamarack County:

"...a winter's tale that will both break and warm the reader's heart.... Krueger's evident empathy for the Ojibwe and their traditions and values blends seamlessly with horrific violence played out against O'Connor's struggles to heal his family's wounds—and his own."
— Publishers Weekly (starred review)

"Krueger is in fine form in this superb, highly atmospheric tale, deftly capturing a wide range of emotions and conflicts between assorted characters. . .you're in for a real treat."
— Lansing Journal (Michigan)
Atria Books, 9781501147432, 320pp.
Publication Date: June 5, 2018
About the Author
William Kent Krueger is the New York Times bestselling author of This Tender Land, Ordinary Grace (winner of the Edgar Award for best novel), as well as eighteen acclaimed books in the Cork O'Connor mystery series, including Desolation Mountain and Sulfur Springs. He lives in the Twin Cities with his family. Learn more at WilliamKentKrueger.com.