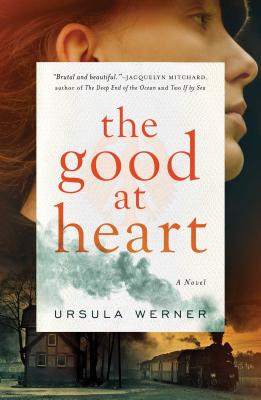 The Good at Heart (Hardcover)
A Novel
Atria Books, 9781501147579, 320pp.
Publication Date: February 21, 2017
Other Editions of This Title:
Digital Audiobook (2/20/2017)
Paperback (2/27/2018)
* Individual store prices may vary.
Description
Based on the author's discoveries about her great-grandfather, this stunning debut novel takes place over three days when World War II comes to the doorstep of an ordinary German family living in an idyllic, rural village near the Swiss border.

When World War II breaks out, Edith and Oskar Eberhardt move their family—their daughter, Marina; son-in-law, Franz; and their granddaughters—out of Berlin and into a small house in the quiet town of Blumental, near Switzerland. A member of Hitler's cabinet, Oskar is gone most of the time, and Franz begins fighting in the war, so the women of the house are left to their quiet lives in the picturesque village.

But life in Blumental isn't as idyllic as it appears. An egotistical Nazi captain terrorizes the citizens he's assigned to protect. Neighbors spy on each other. Some mysteriously disappear. Marina has a lover who also has close ties to her family and the government. Thinking none of them share her hatred of the Reich, she joins a Protestant priest smuggling Jewish refugees over the nearby Swiss border. The latest "package" is two Polish girls who've lost the rest of their family, and against her better judgment, Marina finds she must hide them in the Eberhardt's cellar. Everything is set to go smoothly until Oskar comes home with the news that the Führer will be visiting the area for a concert, and he will be making a house call on the Eberhardts.

Based on the author's discoveries about her great-grandfather, this extraordinary debut, full of love, tragedy, and suspense, is a sensitive portrait of a family torn between doing their duty for their country and doing what's right for their country, and especially for those they love.
About the Author
Ursula Werner is a writer and attorney currently living in Washington, DC, with her family. Born in Germany and raised in South Florida, she has practiced law while continuing her creative writing, publishing two books of poetry, In the Silence of the Woodruff (2006) and Rapunzel Revisited (2010). The Good at Heart is her first novel.
Praise For The Good at Heart: A Novel…
"In this delightfully written debut, the Eberhardt women, Edith and Marina, work tirelessly to protect their children from war in the bucolic German countryside. But nothing can protect them from the fact that they are Nazis. With Grandpa Oskar about to bring the Fuhrer to visit, tension rises and there will be a price to pay for the denial, the guilt and the sometimes impossible choice between family and morality."
— Helen Simonson, author of Major Pettigrew's Last Stand and The Summer Before the War

"Its title recalling the poignant diary entry Anne Frank left behind as her family was lead to the death camps, The Good at Heart is a brutal and beautiful story that answers ancient questions about what "good Germans" were thinking as their country descended into madness. Poet Ursula Werner packs her debut novel with jaw-clenching suspense and unexpected tenderness, and an ending that would break the heart of a stone."
— Jacquelyn Mitchard, author of The Deep End of the Ocean and Two If by Sea

"With The Good at Heart, Ursula Werner has written a book that lionizes the human experience. Hopeful and tragic, poignant and inspiring, it's a story made all the more compelling because it springs from the truth. A thrilling tale of ordinary people facing epic choices in a world gone mad."
— David R. Gilham, author of City of Women

"With skillful eloquence, Ursula Werner weaves a compelling tale of ordinary people living in extraordinarily complex and character-defining times. Poignant and moving, this World War II story paints a fresh perspective on what we are willing to surrender for the greater good."
— Susan Meissner, author of Secrets of a Charmed Life

"Inspired by discoveries about her own great-grandfather, Werner's first novel powerfully portrays the inner struggles of ordinary people moved to do extraordinary things in the name of family, God, and country."
— Booklist

"The author does a wonderful job of presenting the moral dilemmas the family faced as a whole, and as individuals, as well as the conflicts of belief between family members....Many were 'good at heart'--caught up in an evil from which they could not escape without deadly consequences."
— Historical Novels Review
or
Not Currently Available for Direct Purchase