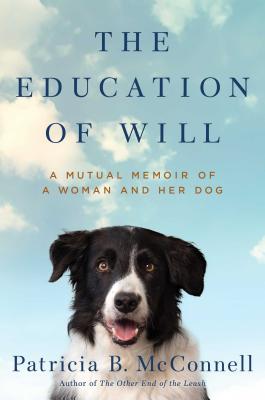 The Education of Will
A Mutual Memoir of a Woman and Her Dog
Hardcover

* Individual store prices may vary.
Other Editions of This Title:
Digital Audiobook (2/20/2017)
Paperback (2/27/2018)
Hardcover, Large Print (4/19/2017)
Description
In this powerful, soul-searching memoir, beautifully written in the vein of A Pack of Two and Wild, animal behaviorist Dr. Patricia McConnell recounts for the first time the compelling story of her dark past, memories of which are triggered by a troubled dog named Will.

World-renowned as a source of science and soul, Patricia McConnell combines brilliant insights into canine behavior—gained from her work with aggressive and fearful dogs—with heartwarming stories of her own dogs and their life on the farm. Now, she reveals that it wasn't just the dogs who had serious problems. For decades Dr. McConnell secretly grappled with her own guilt and fear, which were rooted in the harrowing traumas of her youth.

Patricia is forced to face her past by her love for a young Border Collie named Will, whose frequent, unpredictable outbreaks of fear and fury shake Patricia to her core. In order to save Will from this dangerous behavior, she must find her own will to heal, and along the way learn that will power by itself is not enough.

Interweaving enlightening stories of her clients' dogs with tales of her deepening bond with Will, Patricia recounts her fight to reclaim her life. Hopeful and inspiring, the redemptive message of her journey is that, while trauma changes our brains and the past casts a long shadow, healing, for both people and dogs, is possible through hard work, compassion, and mutual devotion.
Praise For The Education of Will: A Mutual Memoir of a Woman and Her Dog…
"In addition to information sure to appeal to dog lovers, the author provides a compassionate account of the reclamation of her life from abuse and shame. An uplifting story of hope about how both dogs and humans need "a sense that they are not helpless victims.""
— Kirkus

"This powerful memoir twines the lives of an extraordinary dog and an extraordinary woman. Their courageous, compelling story will profoundly deepen your understanding of people and animals, fear and shame, love and listening."
— Sy Montgomery, author of THE SOUL OF AN OCTOPUS

"This inspirational memoir is, above all, a book about redemption. McConnell faces her own history of trauma as she tries to understand and heal her fearful, reactive border collie, Willie. Replete with McConnell's fascinating and often humorous insights about working with wonderful and sometimes wounded dogs, this is much more than a book about training dogs. The Education of Will engages in an intimate and challenging conversation with the reader: about saving yourself, saving others, and allowing others to save you. It is original, powerful, heartwrenching in its honesty — and filled with a comforting, gentle grace."
— Cat Warren, author of What the Dog Knows

"Patricia McConnell may be the finest popularizer of the science of animal behavior we have today, and for many dog owners, myself included, she's long been a wise and witty guiding light. With The Education of Will, her intensely personal and frankly brave memoir, she examines her own traumatic history with characteristic insight, honesty, and intellectual tenacity. The result is a fascinating portrait of the deepest of connections being forged between one woman and one dog — and just how high the stakes are for both. Patricia McConnell is a treasure, and we're very lucky indeed that she wrote this story."
— David Wroblewski, author of THE STORY OF EDGAR SAWTELLE

"The Education of Will delves deep into the minds of people and dogs, and into the effects of trauma, showing that healing is possible. McConnell gives a voice to those who can't speak in words and provides hope for fearful animals everywhere."
— Temple Grandin, author of Animals Make Us Human and Animals in Translation

"An unflinching look at trauma and how one woman grows beyond it—beside a wondrous, troubled spark of a dog who needs her help and helps her know herself. Wisdom earned in the hardest places, dog and human, carries with it a message of hope. The Education of Will is riveting from the first page to the last and will reach many readers who long to put all kinds of burdens down."
— Susannah Charleson, author of Scent of the Missing and The Possibility Dogs

"McConnell has written an inspiring and courageous book about the mysteries of the love between humans and dogs and how that love can bring healing and forgiveness after trauma. Anyone who has ever loved a pet—especially a dog—will discover new and powerful insights into how that bond can lead to liberation, even from even our most hidden and crippling shames. The Education of Will brought me to tears and laughter, amazement and admiration. McConnell has dramatically advanced the growing body of literature that explores post-traumatic stress syndrome and how our life force—and that of our beloved dogs—leads us to truth-telling and a reconnection with ourselves and society."
— Nancy V. Raine, author of After Silence

"In The Education of Will, Patricia McConnell writes with unflinching honesty, vulnerability, and warmth. She wraps her reader in the highs and lows of a life lived beautifully, through gut-wrenching traumas, hard-won victories, unexpected romances, and tear-jerking setbacks. Through it all, McConnell depicts the natural world (and of course, dogs) with masterful reverence and passion. A tremendously winning memoir."

— NICKOLAS BUTLER, author of Shotgun Lovesongs, Beneath the Bonfire, and The Hearts of Men

Praise for The Other End of the Leash

"Patricia McConnell has written the You Just Don't Understand of the human-canine relationship. . . . This humorous, well-written book tells us what to do and what to avoid based on years of studying dogs and their primate owners."
— Frans de Waal, Ph.D., author of Are We Smart Enough to Know How Smart Animals Are?

"This book is more than a story of a bad dog turned better, and it is more than a recitation of how dogs can help people. McConnell achieves something simple, honest, and beautiful in a book about a troubled woman and her troubled dog."
— Booklist Magazine

"It takes bravery to share such deeply personal and traumatic details from her life. Readers, even those who know McConnell's work well, will be struck by how vulnerable she makes herself and how personal this book is."
— TheBark.com

"[McConnell's] openness and bravery benefit both species. Centering on themes of trauma, recovery, shame, fear, setbacks, and healing, The Education of Will is captivating, a page-turner in fact."
— Scientific American

"Opposable thumbs and all paws up for McConnell's newest book, The Education of Will. This is not a training book, although in a way it is as the reader will gain insight as to what it takes to work with dogs that present fear or aggression."
— Seattle PI

"The book is a fascinating read with enough dog and human examples, personal experiences, and animal behavior to satisfy every type of reader."
— Smart Dog University

"Human and border collie lead each other to peace... An animal behaviorist's memoir parallels her healing from multiple traumas as she patiently leads her beloved border collie to overcome his fears."
— Shelf Awareness
Atria Books, 9781501150159, 288pp.
Publication Date: February 21, 2017
About the Author
Patricia McConnell, PhD, CAAB is an Ethologist and Certified Applied Animal Behaviorist who has consulted with cat and dog lovers for over twenty years. Her nationally syndicated radio show, Calling All Pets, has played in more than 110 cities for fourteen years. She is the behavior columnist for The Bark magazine and a Consulting Editor for the Journal of Comparative Psychology. She has retired from her position as Adjunct Associate Professor in Zoology at the University of Wisconsin-Madison. She is the author of ten books on training and behavioral problems, as well as the critically acclaimed books, The Other End of the Leash: Why We Do What We Do Around Dogs, For the Love of a Dog: Understanding Emotion in You and Your Best Friend, and Tales of Two Species.
or
Not Currently Available for Direct Purchase