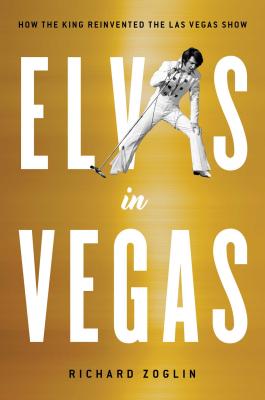 Elvis in Vegas
How the King Reinvented the Las Vegas Show
Hardcover

* Individual store prices may vary.
Other Editions of This Title:
Digital Audiobook (7/22/2019)
Paperback (11/10/2020)
Compact Disc (7/23/2019)
Description
The story of how Las Vegas saved Elvis and Elvis saved Las Vegas in the greatest musical comeback of all time.

The conventional wisdom is that Las Vegas is what destroyed Elvis Presley, launching him on a downward spiral of drugs, boredom, erratic stage behavior, and eventually his fatal overdose. But in Elvis in Vegas, Richard Zoglin takes an alternate view, arguing that Vegas is where the King of Rock and Roll resurrected his career, reinvented himself as a performer, and created the most exciting show in Vegas history.

Elvis's 1969 opening night in Vegas was his first time back on a live stage in more than eight years. His career had gone sour—bad movies, and mediocre pop songs that no longer made the charts. He'd been dismissed by most critics as over the hill. But in Vegas he played the biggest showroom in the biggest hotel in the city, drawing more people for his four-week engagement than any other show in Vegas history. His performance got rave reviews, "Suspicious Minds" gave him his first number-one hit in seven years, and Elvis became Vegas's biggest star. Over the next seven years, he performed more than 600 shows there, and sold out every one.

Las Vegas was changed too. The intimate night-club-style shows of the Rat Pack, who made Vegas the nation's premier live-entertainment center in the 1950s and '60s, catered largely to well-heeled older gamblers. Elvis brought a new kind of experience: an over-the-top, rock-concert-like extravaganza. He set a new bar for Vegas performers, with the biggest salary, the biggest musical production, and the biggest promotion campaign the city had ever seen. In doing so, he opened the door to a new generation of pop/rock performers, and brought a new audience to Vegas—a mass audience from Middle America that Vegas depends on for its success to this day.

A classic comeback tale set against the backdrop of Las Vegas's golden age, Richard Zoglin's Elvis in Vegas is a feel-good story for the ages.
Praise For Elvis in Vegas: How the King Reinvented the Las Vegas Show…
"A smart and zippy account of the watershed moment when the King of Rock 'n' Roll came to Sin City to reclaim his squandered talent... Mr. Zoglin is in his element."
— Wall Street Journal

"Zoglin's smart and entertaining book… combines genuine affection for its subject with a keen sense of show-biz history and a lively style... [Elvis in Vegas] has snap and verve... This is outstanding pop-culture history."
— Newsday

"Las Vegas is among the most American places in America, Elvis Presley was among the most American Americans ever, and the era chronicled here was the giddiest stretch of the American Century by far. Thank you, Richard Zoglin, for this brilliantly imagined, deftly written, perfectly delicious book about our perfectly weird country."
— Kurt Andersen, New York Times bestselling author of Fantasyland

"Zoglin is such a slick pop writer that his prose goes down like rainwater."
— Booklist

"If you love Vegas-era Elvis — and who does not? — you will love this book. It's packed with juicy stories — about The King, of course, but also about Frank and Dean and Sammy, Wayne Newton, Liberace, Sonny and Cher, Barbara Streisand, Howard Hughes, the mob and dozens of other outsized characters who played roles in the incredible transformation of a sleepy desert town into the glitziest city on Earth."
— Dave Barry, New York Times bestselling author of Lessons from Lucy

"[A] fascinating tale of how the king got his groove back and Las Vegas refreshed its own image... Blending new interviews with top-drawer research focusing on how Las Vegas evolved as the pleasure capital, Zoglin produces a gem of pop culture history."
— Associated Press

"Zoglin perfectly captures a seismic moment in 1969 when Elvis tore the roof off the International Hotel and ended the reign of the Rat Pack. This is the story of a spectacular head-on collision."
— Conan O'Brien

"A fascinating history of Vegas as 'gambling capital, celebrity playground, mob hangout, entertainment Valhalla,' with cameos by everyone from Abbott and Costello to the Rat Pack, whose boozing excess is chronicled in detail."
— Rolling Stone

"Pizzazzy… [Zoglin] is among the best showbiz chroniclers… Elvis in Vegas is the story of American industry, but also a canny look at the price of commercial glory."
— Shelf Awareness

"Zoglin sets up what he calls 'the greatest comeback in music history' with the precision of a patiently plotted thriller."
— Memphis Flyer

"We know that Elvis' 1969 Las Vegas comeback began his life's twilight—but from the purple haze of Nevada's western desert, Zoglin recaptures the horizon-filling blast of that spectacular sunset... Zoglin's book does what he wanted—it brings readers all the way back to that last cresting surge in Elvis' mighty career."
— Daily Beast

"Illuminating and absorbing."
— People

"You can tell Mr. Zoglin is extremely passionate about his two main subjects, Elvis and Vegas, and the meaning of their intersection... He delivers the story with great care, the same way Elvis and Sinatra did with a song."
— East Hampton Star

"One of pop culture's best historians argues that Presley's 1969 comeback helped Las Vegas make the transition from its ring-a-ding-ding showbiz roots to the rock era."
Milwaukee Journal Sentinel
Simon & Schuster, 9781501151194, 304pp.
Publication Date: July 23, 2019
About the Author
Richard Zoglin is a contributor to Time magazine and the author of Hope: Entertainer of the Century, Comedy at the Edge: How Stand-up in the 1970s Changed America, and Elvis in Vegas: How the King Reinvented the Las Vegas Show. A native of Kansas City, Zoglin currently lives in New York City.
or
Not Currently Available for Direct Purchase