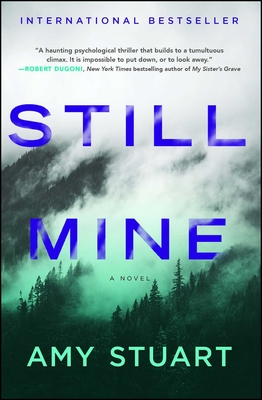 Still Mine
Paperback

* Individual store prices may vary.
Other Editions of This Title:
Mass Market (10/29/2019)
MP3 CD (12/27/2016)
Compact Disc (12/27/2016)
Description
A taut psychological thriller in the vein of The Good Girl by Mary Kubica.

Clare is on the run.

From her past, from her husband, and from her own secrets. When she turns up alone in the remote mining town of Blackmore asking about Shayna Fowles, the local girl who disappeared, everyone wants to know who Clare really is and what she's hiding. As it turns out, she's hiding a lot, including what ties her to Shayna in the first place. But everyone in this place is hiding something—from Jared, Shayna's secretive ex-husband, to Charlie, the charming small-town drug pusher, to Derek, Shayna's overly involved family doctor, to Louise and Wilfred, her distraught parents.

Did Shayna flee? Was she killed? Is it possible she's still alive?

As Clare uncovers the mysteries around Shayna's disappearance, she must confront her own demons, moving us deeper and deeper into the labyrinth of lies and making us question what it is she's really running from. Twisting and electrifying, this is a get-under-your-skin thriller that will make you question what it means to lose yourself and find yourself in the most unlikely places.
Praise For Still Mine…
"Stuart is a sensitive writer who has given Clare a painful past and just enough backbone to bear it."
— New York Times

"[A] dark and deliciously disturbing debut . . . Stuart's perceptive look at addiction, abuse, and obsession will resonate with fans of psychological thrillers."
— Publishers Weekly

"A haunting psychological thriller that builds to a tumultuous climax. It is impossible to put down, or to look away."
— Robert Dugoni, New York Times bestselling author of My Sister's Grave

"Still Mine delivers all the nail-biting moments of a fast-paced thriller and filters them through the eyes of girl-with-a-past Clare O'Dey: deeply flawed yet instantly recognizable, O'Dey is a noir detective hero for a postmodern age. Author Amy Stuart sends one missing woman out to look for another one, and the result is chilling. You'll find yourself turning the pages faster and faster."
— Elisabeth de Mariaffi, author of The Devil You Know

"A haunting treasure of a book that burrowed its way into my psyche as I read it.… Not since The Silent Wife have I been rendered so powerlessly riveted by a psychological thriller. I can't wait to read what Stuart writes next."
— Marissa Stapley, author of Mating for Life

"The cliffhanger will have you continuing to bite your nails until there's a sequel."
— RT Book Reviews

"Twisty and swift, Amy Stuart's Still Mine is a darkly entertaining mystery machine. But what will really surprise you is the emotional foundation on which it has been built."
— Andrew Pyper, bestselling author of The Demonologist and The Damned

"An intricately woven thriller.... You'll want desperately to solve the mystery not only of the missing Shayna, but of Clare O'Dey, Amy Stuart's heartbreaking heroine, on the run from the darkest forces both within and without—and you'll have a hard time forgetting the everytown of Blackstone and its scheming, desperate inhabitants.... A vivid and haunting debut."
— Holly LeCraw, author of The Swimming Pool

"A gripping page-turner, with a plot that takes hold of you and drags you through the story at breakneck speed. The characters are compelling, the setting chilling and the suspense ever-present. Add to that, Stuart has an ability to tap into the dark psychology behind addiction and abuse, and to bring these complex struggles to life in a way that stays with you for days."
— Toronto Star

"From its evocative opening to its heart-pounding conclusion, Still Mine is a gripping mystery that I felt desperate to solve. Amy Stuart paints a vivid picture of the stark mountain town, Blackmore, and the cast of shadowy characters who inhabit it. A tense and absorbing read."
— Lucy Clarke, author of The Blue

"An impressive debut, rooted in character rather than trope, in fundamental understanding rather than rote puzzle-solving."
— The Globe and Mail

"Stuart has created a likeable heroine, complete with some pretty serious flaws. Between Clare and the other characters of Blackmore, the story is both haunting and compelling."
— Vancouver Sun

"The rabbit hole goes deep in this one, and it's easy to lose hours on it."
— WomansDay.com
Gallery Books, 9781501151231, 320pp.
Publication Date: August 16, 2016
About the Author
Amy Stuart is the #1 bestselling author of three novels, Still Mine, Still Water, and Still Here. Shortlisted for the Arthur Ellis Best First Novel Award and winner of the 2011 Writers' Union of Canada Short Prose Competition, Amy is the founder of Writerscape, an online community for hopeful and emerging writers. Amy lives in Toronto with her husband and their three sons. Connect with her on her website AmyStuart.ca and on Twitter @AmyFStuart.