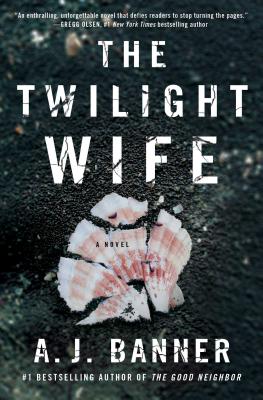 The Twilight Wife (Paperback)
A Psychological Thriller by the Author of The Good Neighbor
Gallery Books, 9781501152115, 304pp.
Publication Date: December 27, 2016
Other Editions of This Title:
Digital Audiobook (12/26/2016)
* Individual store prices may vary.
Description
A USA TODAY AND PUBLISHERS WEEKLY BESTSELLER!

From the bestselling author of The Good Neighbor and After Nightfall, comes a dazzling new novel of psychological suspense in the vein of The Woman in the Window and The Wife Between Us that questions just how much we can trust the people around us.

Thirty-four-year-old marine biologist Kyra Winthrop remembers nothing about the diving accident that left her with a complex form of memory loss. With only brief flashes of the last few years of her life, her world has narrowed to a few close friendships on the island where she lives with her devoted husband, Jacob.

But all is not what it seems. Kyra begins to have visions—or are they memories?—of a rocky marriage, broken promises, and cryptic relationships with the island residents, whom she believes to be her friends.

As Kyra races to uncover her past, the truth becomes a terrifying nightmare. A twisty, immersive thriller, The Twilight Wife will keep readers enthralled through the final, shocking twist.
About the Author
Born in India and raised in North America, A. J. Banner received degrees from the University of California, Berkeley. Her first novel of psychological suspense, The Good Neighbor, was the #1 Kindle bestseller for thirty-four days and was named by Harper's Bazaar as a book that could be the next Gone Girl. She lives in the Pacific Northwest with her husband and five rescued cats.
Praise For The Twilight Wife: A Psychological Thriller by the Author of The Good Neighbor…
Praise for THE TWILIGHT WIFE:

"An enthralling, unforgettable novel that defies readers to stop turning the pages."
— Gregg Olsen, #1 New York Times bestselling author

"With spellbinding narration and brilliant pacing, The Twilight Wife is not to be missed. A. J. Banner is a truly gifted storyteller!"
— Wendy Walker, USA Today bestselling author of All Is Not Forgotten

"[A] harrowing plot that reveals memory to be both unreliable and impossible to fully wash away. . . . Kyra is a believable, empathetic protagonist, and Banner's ability to maintain tension while teasing out the truth of her hazy past will keep readers engaged."
— Publishers Weekly

"AJ Banner's The Twilight Wife is an intensely suspenseful, diamond-sharp romantic thriller about a woman who has lost her memory and the wild, painful path back to her true self. Every page is packed with both peril and exquisite writing, and the novel reads like a wholly unique cross between Somewhere in Time and Memento. You won't be able to put it down!"
— David Bell, author of Since She Went Away

"After a diving accident, a woman's memory returns in cryptic and terrifying flashes in A. J. Banner's latest thriller. Filled with buried secrets and unexpected turns, The Twilight Wife is a twisty, edge-of-your-seat story that's impossible to put down."
— Kimberly Belle, author of The Marriage Lie

"Banner captures the anxiety of a lost memory and haunted past in this taut psychological thriller, beautifully set on a remote island in the Pacific Northwest."
— D.M. Pulley, author of The Dead Key and The Buried Book

"Suspense and mystery simmer on every page of A.J. Banner's latest novel, The Twilight Wife. With a wonderfully clever plot; a sympathetic and skillfully drawn point-of-view character; a powerful sense of place; and rich prose that is, at times, almost hauntingly evocative; The Twilight Wife is everything readers could hope for, whether they are looking for psychological suspense, mystery, or simply a beautifully-told story. A real treat."
— James Hankins, Amazon #1 bestselling author of The Prettiest One

"A haunting tale about one woman's struggle to remember the past, the husband she is supposed to love, and the accident that changed everything. This mesmerizing fast-paced psychological thriller is full of chilling twists and turns. I couldn't put it down!"
— Karen Katchur, author of The Secrets of Lake Road and The Sisters of Blue Mountain

Previous praise for THE GOOD NEIGHBOR (named by Harper's Bazaar as a book that could be the next Gone Girl):

"A riveting psychological thriller with twists and turns I didn't see coming. The ending will blow you away. Set aside your day. You won't be able to put The Good Neighbor down."
— Robert Dugoni, Amazon #1 and New York Times bestselling author of My Sister's Grave

"Thrilling."
— First for Women Magazine

"In The Good Neighbor A. J. Banner plays on many of our greatest fears—that the person we've placed our greatest trust in isn't who we think they are. A fast-paced psychological thriller with a fantastic twist at the end. Not to be missed."
— Catherine McKenzie, bestselling author of Hidden and Smoke

"…packed with mystery and suspense…the final destination is a total surprise. Well done."
— The New York Journal of Books

"Breathtaking and suspenseful…unique and highly entertaining."
— Fresh Fiction