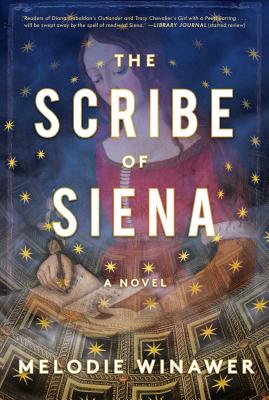 The Scribe of Siena
A Novel
Hardcover

* Individual store prices may vary.
Other Editions of This Title:
Digital Audiobook (5/15/2017)
Paperback (1/2/2018)
Description
"Like Outlander with an Italian accent." —Real Simple

"A detailed historical novel, a multifaceted mystery, and a moving tale of improbable love." —Publishers Weekly, starred review

A NEW YORK POST MUST-READ BOOK

Readers of Diana Gabaldon's Outlander and Tracy Chevalier's Girl with a Pearl Earring…will be swept away by the spell of medieval Siena" (Library Journal, starred review) in this transporting love story and gripping historical mystery.

Accomplished neurosurgeon Beatrice Trovato knows that her deep empathy for her patients is starting to impede her work. So when her beloved brother passes away, she welcomes the unexpected trip to the Tuscan city of Siena to resolve his estate, even as she wrestles with grief. But as she delves deeper into her brother's affairs, she discovers intrigue she never imagined—a 700-year-old conspiracy to decimate the city.

As Beatrice explores the evidence further, she uncovers the journal and paintings of the fourteenth-century artist Gabriele Accorsi. But when she finds a startling image of her own face, she is suddenly transported to the year 1347. She awakens in a Siena unfamiliar to her, one that will soon be hit by the Plague.

Yet when Beatrice meets Accorsi, something unexpected happens: she falls in love—not only with Gabriele, but also with the beauty and cadence of medieval life. As the Plague and the ruthless hands behind its trajectory threaten not only her survival but also Siena's very existence, Beatrice must decide in which century she belongs.

The Scribe of Siena is the captivating story of a brilliant woman's passionate affair with a time and a place that captures her in an impossibly romantic and dangerous trap—testing the strength of fate and the bonds of love.
Praise For The Scribe of Siena: A Novel…
"Will remind historical fiction readers of Diana Gabaldon's Outlander and Tracy Chevalier's The Girl with the Pearl Earring. Lovers of meticulously researched historical fiction and time-travel narratives will be swept away by the spell of medieval Siena."
— Library Journal, starred review

"Winawer's debut is a detailed historical novel, a multifaceted mystery, and a moving tale of improbable love….Winawer has created a prodigious, vibrant tale of past and present that transports readers and fills in the historical gaps. This is a marvelous work of research and invention."
— Publishers Weekly, starred review

"An engrossing historical epic. Winawer's wide-ranging, romantic story moves apace, yet it has considerable meat on its structural bones, with plentiful details on fourteenth-century Sienese daily life, customs, art, and travel."
— Booklist

"[A] vivid, compelling debut novel….Winawer renders her story in compelling detail, in Beatrice's whip-smart, observant, often sarcastic voice. Supporting characters in both eras—Ben's neighbor Donata in the present day; the sharp-eyed nun Suor Umiltá in 1347; Gabriele and his family—are also vivid and endearing. The conspiracy is vital as a plot device, but the more resonant theme is Beatrice's deep love for both her centuries and her heartfelt struggle to decide where she belongs."
— Shelf Awareness

"The realities of day-to-day existence in 1340s Europe are so viscerally represented that readers will readily accept the fanciful premise."
— Kirkus Reviews

"A stunning work of historical fiction, Melodie Winawer's debut novel [is a] story of love, science, politics, and time-travel is worth every last word."
— Bustle

"In Melodie Winawer's The Scribe of Siena, neurosurgeon Beatrice Trovato finds herself mysteriously transported to 14th-century Italy. There she uncovers a plot to destroy the city of Siena. With the Black Plague on its way to ravage Europe, will she make it out in time? And does she want to? After all, she's fallen in love with medieval life—and a handsome painter. Like Outlander with an Italian accent."
— Real Simple

"The Scribe of Siena is one part historical mystery and one part love story with a captivating dose of art mixed in for good measure. If that weren't enough, it all comes together in that most evocative of settings: Siena, Italy. Winawer's smart debut is a joy to read!"
— Meg Waite Clayton, New York Times bestselling author of THE WEDNESDAY SISTERS and THE RACE FOR PARIS
Gallery Books, 9781501152252, 464pp.
Publication Date: May 16, 2017
About the Author
Melodie Winawer is a physician-scientist and Associate Professor of Neurology at Columbia University. A graduate of Yale University, the University of Pennsylvania, and Columbia University with degrees in biological psychology, medicine, and epidemiology, she has published over fifty nonfiction articles and book chapters. She sees patients and conducts research. She is fluent in French and Spanish, literate in Latin, has a passable knowledge of Italian, and is trying to learn Greek. The most common question she is asked about her writing is "How do you find the time?" There are many times when she feels it's actually impossible, but enthusiasm and green tea keep her going. Melodie lives with her spouse and their three children, splitting her time between Brooklyn, New York, and Ludlow, Vermont. She is the author of The Scribe of Siena and Anticipation.
or
Not Currently Available for Direct Purchase