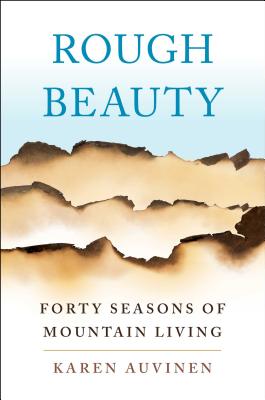 Rough Beauty (Hardcover)
Forty Seasons of Mountain Living
Scribner, 9781501152283, 320pp.
Publication Date: June 5, 2018
* Individual store prices may vary.
Description
10 Best Books of June—Christian Science Monitor

In the bestselling tradition of Cheryl Strayed's Wild and Helen MacDonald's H Is for Hawk, a stunning, inspirational memoir from an award-winning poet who ventures into the wilderness to seek answers to life's big questions and finds her way back after losing everything she thought she needed.

During a difficult time, Karen Auvinen flees to a primitive cabin in the Rockies to live in solitude as a writer and to embrace all the beauty and brutality nature has to offer. When a fire incinerates every word she has ever written and all of her possessions—except for her beloved dog Elvis, her truck, and a few singed artifacts—Karen embarks on a heroic journey to reconcile her desire to be alone with her need for community.

In the evocative spirit of works by Annie Dillard, Gretel Ehrlich, and Mary Oliver, Karen's rich and compulsively readable memoir is as much an inward as it is an outward pilgrimage. Her pursuit of solace and salvation by shedding trivial ties and living in close harmony with nature, along with her account of finding community and love, is sure to resonate with all of us who long for meaning and deeper connection. Rough Beauty is a luminous, lyric exploration of and homage to her forty seasons in the mountains, embracing the unpredictability and grace of living intimately with the forces of nature while making peace with her own wildness.
About the Author
Karen Auvinen is a poet, mountain woman, lifelong westerner, writer, and the author of the memoir Rough Beauty: Forty Seasons of Mountain Living. Her body of work, which examines what it means to live deeply and voluptuously, has appeared in The New York Times, Real Simple, LitHub, and Westword, as well as numerous literary journals. A former Artist-in-Residence for the State of Colorado, Karen is the winner of two Academy of American Poets awards and has been nominated for several Pushcart Prizes in fiction. She earned her MA in poetry from the University of Colorado—Boulder, under the mentorship of Lucia Berlin, and went on to earn her PhD in fiction writing from the University of Wisconsin—Milwaukee. Currently, she teaches film, popular culture, and storytelling at the University of Colorado—Boulder.
Praise For Rough Beauty: Forty Seasons of Mountain Living…
"In her new memoir, award-winning poet Karen Auvinen recounts her struggle to rebuild her life after a devastating fire left her in a remote mountain community with nothing but the opportunity to begin again. Auvinen's candor as she wrestles with her impulsion to grow and to fight against outgrown or unreasonable restraints reveals admirable courage."
—Christian Science Monitor

"The heart of this memoir is [Auvinen's] relationship with her rescue dog, Elvis, a Husky mix with a penchant for wandering. As Elvis nears the end of his life, Auvinen finds a new (human) relationship and her own happy ending."
—BookPage

"Outstanding ... The author has served a long apprenticeship—sensing life's patterns, becoming embedded in a human community, learning to give and receive love—and the result is a beautiful story of resilience perfect for readers of Terry Tempest Williams."
—Kirkus, starred review

"Beautiful, contemplative ... This breathtaking memoir honors the wildness of the Rockies and shows readers how they might come to rely on their animal companions."
—Publishers Weekly, starred review

"[A] moving memoir ... "In [Auvinen's] skilled words, an encounter with a bear becomes a profound moment to treasure, and the loneliness of winter, with its anticipation of spring, is rendered both beautiful and desolate. Tender and sincere, Rough Beauty is a lovely tribute to inner strength."
—Booklist

"Rough Beauty indeed. The passages about fire knocked my hat off. Terrifying yet lovely. Karen Auvinen is an American maverick. Vital, wild, and true."
—Luis Alberto Urrea, author of The House of Broken Angels, The Devil's Highway, and Queen of America

"This beautiful and elemental book is an invitation into a life of nature and ritual. Karen Auvinen sinks into the seasons, watching the world turn from her isolated mountain home, battling loneliness and her own stubborn self, but through contact with the natural world—including the neighborhood bear—achieving moments of illumination and profound truth.There are many books about seasons in the wilderness but this is one about a life in it. Rough Beauty has the power to change lives. It stands as an antidote to the hurried way we rush through our days."
—David Gessner, New York Times bestselling author of All the Wild That Remains: Edward Abbey, Wallace Stegner and the American West

"Rough Beauty shimmers with the risks and rewards of living on the edge of an unforgiving natural world which, like an angry god, wields destruction in the form of fire and flood, but also offers healing and rebirth for the strong of heart."
—Mary Clearman Blew, author of All But the Waltz and This Is Not the Ivy League

"Karen Auvinen had chartered a fiercely independent course through her adult life with her dog Elvis at her side. But when tragedy strikes, she is forced to navigate the world beyond the rocks and ridges of the wild Colorado mountains she calls home and accept the kindness of friends and strangers alike. Auvinen has the heart of a poet and pioneer grit, and Rough Beauty is a wrenchingly evocative memoir. It is a story of loss, but it is also a story of transformation, of finding shards of hope among the ashes and moving forward with gratitude and grace and courage."
—James Campbell, author of Braving It and The Final Frontiersman