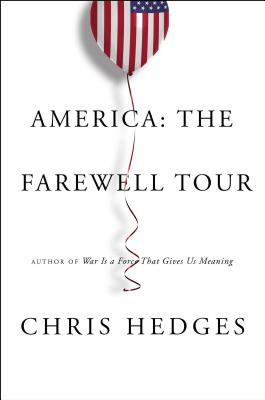 America
The Farewell Tour
Hardcover

* Individual store prices may vary.
Other Editions of This Title:
Digital Audiobook (8/20/2018)
Paperback (8/27/2019)
Compact Disc (8/21/2018)
Description
Chris Hedges's profound and provocative examination of America in crisis is "an exceedingly…provocative book, certain to arouse controversy, but offering a point of view that needs to be heard" (Booklist), about how bitter hopelessness and malaise have resulted in a culture of sadism and hate.

America, says Pulitzer Prize­–winning reporter Chris Hedges, is convulsed by an array of pathologies that have arisen out of profound hopelessness, a bitter despair, and a civil society that has ceased to function. The opioid crisis; the retreat into gambling to cope with economic distress; the pornification of culture; the rise of magical thinking; the celebration of sadism, hate, and plagues of suicides are the physical manifestations of a society that is being ravaged by corporate pillage and a failed democracy. As our society unravels, we also face global upheaval caused by catastrophic climate change. All these ills presage a frightening reconfiguration of the nation and the planet.

Donald Trump rode this disenchantment to power. In his "forceful and direct" (Publishers Weekly) America: The Farewell Tour, Hedges argues that neither political party, now captured by corporate power, addresses the systemic problem. Until our corporate coup d'état is reversed these diseases will grow and ravage the country. "With a trademark blend of…sharply observed detail, Hedges writes a requiem for the American dream" (Kirkus Reviews) and seeks to jolt us out of our complacency while there is still time.
Praise For America: The Farewell Tour…
"Chris Hedges wants us to face realities. Our society is unraveling, institutionally and structurally, and is being replaced by the corporate state of merging big business and government. Commercialism overwhelms civic values, impoverishes its subjects, and reaches into childhoods bypassing parental authority. Poverty, addiction, gambling, and hopelessness spread like epidemics. Only we the people can reverse the disintegration of democracy by plutocracy. In America: The Farewell Tour, Chris Hedges depicts the horrifying truths on the ground from which resistance rises to jolt us into an active, realizable culture of reconstruction."
— Ralph Nader

"An exceedingly dark, passionate, and provocative book, certain to arouse controversy but offering a point of view that needs to be heard."
— Booklist

"Chris Hedges is perhaps today's most important public intellectual, and America: the Farewell Tour is perhaps his most important book. If we as a society are able to move past our current 'sickness unto death,' as Kierkegaard put it, it will be in great measure thanks to books like this one."
— Derrick Jensen, author of A Language Older Than Words and The Culture of Make Believe

"Hedges writes a requiem for the American dream. . . . [A] fiery sermon that weighs the nation and finds it wanting."
— Kirkus Reviews

"Hedges's latest critique of late-stage capitalist America is forceful and direct."
— Publishers Weekly
Simon & Schuster, 9781501152672, 400pp.
Publication Date: August 21, 2018
About the Author
Chris Hedges is a Pulitzer Prize–winning journalist who was a foreign correspondent for fifteen years for The New York Times, where he served as the Middle East Bureau Chief and Balkan Bureau Chief for the paper. He previously worked overseas for The Dallas Morning News, The Christian Science Monitor, and NPR. He writes a weekly column for the online magazine Truthdig out of Los Angeles and is host of the Emmy Award­–winning RT America show On Contact. Hedges, who holds a Master of Divinity from Harvard University, is the author of the bestsellers American Fascists, Days of Destruction­, Days of Revolt, and was a National Book Critics Circle finalist for War Is a Force That Gives Us Meaning. He has taught at Columbia University, New York University, Princeton University, and the University of Toronto. He currently teaches college credit courses in the New Jersey prison system.
or
Not Currently Available for Direct Purchase