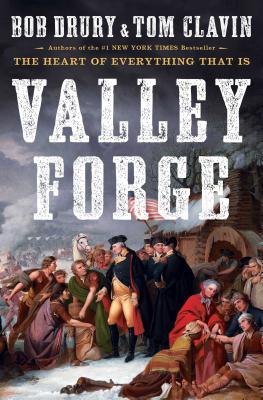 Valley Forge
Hardcover

* Individual store prices may vary.
Other Editions of This Title:
Digital Audiobook (10/1/2018)
Paperback (11/5/2019)
CD-Audio (10/2/2018)
Library Binding, Large Print (2/6/2019)
Description
The #1 New York Times bestselling authors of The Heart of Everything That Is return with one of the most inspiring—and underappreciated—chapters in American history: the story of the Continental Army's six-month transformation in Valley Forge.

December 1777. It is 18 months after the signing of the Declaration of Independence, and some 12,000 members of America's beleaguered Continental Army stagger into a small Pennsylvania encampment 23 miles northwest of British-occupied Philadelphia. The starving and half-naked force is reeling from a string of demoralizing defeats at the hands of King George III's army, and are barely equipped to survive the coming winter. Their commander in chief, the focused and forceful George Washington, is at the lowest ebb of his military career. The Continental Congress is in exile and the American Revolution appears to be lost.

Yet a spark remains. Determined to keep the rebel cause alive through sheer force of will, Washington transforms the farmland plateau hard by the Schuylkill River into a virtual cabin city. Together with a dedicated coterie of advisers both foreign and domestic—Marquis de Lafayette, Baron von Steuben, the impossibly young Alexander Hamilton, and John Laurens—he sets out to breathe new life into his military force. Against all odds, as the frigid and miserable months pass, they manage to turn a bobtail army of citizen soldiers into a professional fighting force that will change the world forever.

Valley Forge is the story of how that metamorphosis occurred. Bob Drury and Tom Clavin, the team behind such bestsellers as The Heart of Everything That Is, The Last Stand of Fox Company, and Halsey's Typhoon, show us how this miracle was accomplished despite thousands of American soldiers succumbing to disease, starvation, and the elements. Here is Steuben, throwing himself into the dedicated drilling sessions he imported from Prussian battlefields. Here is Hamilton, proffering the shrewd advice that wards off his beloved commander in chief's scheming political rivals. Here is Laurens, determined to integrate the Continental Army with freed black men and slaves. Here is Lafayette, thirsting for battlefield accolades while tenaciously lobbying his own king for crucial French aid.

At the center of it all is George Washington, in the prime of his life yet confronting crushing failure as he fends off political conspiracies every bit as pernicious as his incessant military challenges. The Virginia planter-turned-general is viewed by many as unqualified to lead the Continental Army after the humiliating loss of Philadelphia, and his detractors in and out of Congress plot to replace him. The Valley Forge winter is his—and the revolution's—last chance at redemption. And, indeed, after six months in the camp, Washington fulfills his destiny, leading the Continental Army to a stunning victory in the Battle of Monmouth Court House. The momentum is never again with the Redcoats.

Valley Forge is the riveting true story of a nascent United States toppling an empire. Using new and rarely seen contemporaneous documents—and drawing on a cast of iconic characters and remarkable moments that capture the innovation and energy that led to the birth of our nation—Drury and Clavin provide the definitive account of this seminal and previously undervalued moment in the battle for American independence.
Praise For Valley Forge…
Praise for Valley Forge

"A thorough, nuanced and enthralling account of the darkest winter of the American Revolution, Valley Forge recounts an epic of suffering, endurance and martial rebirth that Americans should never forget. . . . Masters of narrative history, Messrs. Drury and Clavin have written rousing and sharply rendered accounts of lesser known but thrilling historical episodes. . . . Valley Forge is their first attempt at one of the seminal moments in American history. It may also be their finest work."
—Wall Street Journal

"A superb account of the Revolutionary War from the Battle of Brandywine in the fall of 1777 to Monmouth Courthouse in the summer of 1778 . . . its well written account of the events and personalities from this storied period in American history is most welcome."
—Journal of the American Revolution

"A powerfully human portrait of George Washington . . . Valley Forge is deeply researched but presented in such lively style that it reads like a novel."
—Tampa Bay Times

"A towering and important work . . . Valley Forge offers an eminently readable, in-depth account of one vital page in the history of our nation."
—East Hampton Star

"The story of Valley Forge is a trope in America's sense of itself, a morality play in which beleaguered, stalwart soldiers outlast the ferocious elements in order to wrest freedom from imperial oppression. The reality, ably told here, is far more complex—and far more interesting. . . . The cast of characters is impressive. . . . Washington emerges as fallible but indispensable; it is hard to imagine that another commander would have had the same success in the face of so many hardships. . . . A fluent, readable story that corrects mythmaking errors and provides a more nuanced narrative in their place."
—Kirkus Reviews

"Drawing extensively from primary sources, Drury and Clavin leave few stones unturned. . . . All of the grisly details of supply failures, corruption, conspiracy, bureaucratic waste, and the reforms that resurrected the American cause are exquisitely well told in this exceptionally vivid history, one that will please all who are interested in the revolutionary era and American history in general. . . . It all comes magnificently into focus."
—Booklist

"Drury and Clavin craft an informative history while maintaining a smooth, narrative flow. . . . The authors' large readership will relish this book, as well American history buffs seeking a well-researched yet accessible presentation."
—Library Journal

"Valley Forge reads like a novel—chapters end with cliffhangers, pulling the reader along. Impeccably researched, the book seamlessly blends brief biographies of major characters with the larger narrative, providing valuable context. . . . Fascinating." —American Spirit

"Allows readers to go back in time and journey with the American revolutionaries in their attempts to defeat the British. . . . With extensive documents, they capture the iconic characters that instilled the energy needed to defeat the British empire leading to America's independence."
—Military Press

"Valley Forge made for one of the greatest chapters of Washington's celebrated life and contributed immensely to his mystique. Drury and Clavin give it the treatment it deserves in this fine book. . . . Thrilling reading . . . If you love either Washington or the Revolutionary War, or for that matter any well-written slice of history, you will thoroughly enjoy this book."
—Reagan Review

"Valley Forge was the existential moment in the war for independence, when the direction of American history hung in the balance. Drury and Clavin have now given us the fullest and most readable account of that dramatic story, against which all subsequent efforts must be measured. As we negotiate our own existential moment, this is a story to savor."
—Joseph J. Ellis, Pulitzer Prize– and National Book Award–winning author of Founding Brothers and American Dialogue: The Founders and Us

"In these pages, Bob Drury and Tom Clavin, masters of narrative nonfiction, whisk us into a pivotal moment in American history. General George Washington leaves behind his dusty schoolbook caricature and leaps into full, vivid life as both a world-changing titan and a complex man of uncommon will and grace. Forget your starched notions of Valley Forge and plunge into this, the true story of grit, courage, and innovation that was a fulcrum moment in the founding of our great nation."
—Lynn Vincent and Sara Vladic, New York Times bestselling authors of Indianapolis

"This gripping, panoramic account of the Continental Army's 1777–1778 winter encampment at Valley Forge charts, in lively language, the decisions that allowed the American Revolution to survive…. Judicious excerpts from the diaries of enlisted men and officers elucidating the squalid misery and deprivation at Valley Forge nearly waft off the page…. The battles, politics, and diplomacy that kept Washington's troops from faltering—the Battle of the Brandywine and skillful handling of French volunteers—are lucidly recounted. There are valuable insights, too, into the strategic thinking of British general William Howe and admiral Richard Howe…. As the authors sketch out the dizzying array of obstacles Washington faced, the reader gains an appreciation for the genuinely heroic role he played in the founding of the United States of America." —Publishers Weekly (starred review)

"Here is a beautiful book about a dire passage in our country's history, a time of supreme reckoning that revealed some of the first stirrings of our national character. Through muscular prose grounded in meticulous research, Drury and Clavin capture all the tribulations of that storied winter encampment, and show us how Washington, in his finest hour, managed to pull his bedraggled army—and the revolution itself—from the brink of disaster."

—Hampton Sides, bestselling author of In the Kingdom of Ice and On Desperate Ground

Praise for Lucky 666

"A fast-paced, well-researched account of a B-17 bomber—known as Old 666—its crew, and a courageous flight . . . Drury and Clavin skillfully blend Old 666's flight into the larger picture of Pacific Theater warfare and give gripping accounts of combat flights. The result is a story that history aficionados will find irresistible."
—USA Today

Praise for The Heart of Everything That Is

"A ripping yarn . . . A quintessentially Western tale of bold exploits, tough characters, brutal conditions and a lost way of life, this sounds like the sort of story that practically tells itself. Yet you only realize how little justice most popular histories do to their source material when you come across a book, like this one, that does everything right. It's customary to say of certain nonfiction books — gussied up with plenty of 'color' and psychological speculation — that they 'read like a novel,' but truth be told, most of the time we'd have to be talking about a pretty mediocre novel. The Heart of Everything That Is, on the other hand, resembles the good ones. There were times, turning its pages, when I could almost smell the pines of the Black Hills, feel the icy wind tearing down from Canada across the prairie and hear the hooves of the buffalo pounding the earth."
—Laura Miller, Salon

"Exquisitely told . . . Remarkably detailed . . . The story of Red Cloud's unusual guile and strategic genius makes the better-known Sitting Bull and Crazy Horse pale in comparison. . . . This is no knee-jerk history about how the West was won, or how the West was lost. This historical chronicle is unabashed, unbiased and disturbingly honest, leaving no razor-sharp arrowhead unturned, no rifle trigger unpulled. . . . A compelling and fiery narrative."
—USA Today

"Vivid . . . Lively . . . A tale of lies, trickery, and brutal slaughter . . . In telling the story of Red Cloud, Messrs. Drury and Clavin appropriately bring a number of the larger-than-life figures from that time onstage . . . [and] chronicle in considerable detail the shameful treatment of the Indians across the plains and the destruction of their ancient way of life."
—Christopher Corbett, The Wall Street Journal

"A page turner . . . Drawing on archives, letters, and a long-lost autobiography written toward the end of Red Cloud's life, the narrative has a remarkable immediacy . . . [and] the narrative sweep of a great Western."
—Kate Tuttle, The Boston Globe

Simon & Schuster, 9781501152719, 432pp.
Publication Date: October 2, 2018
About the Author
Bob Drury is the author/coauthor/editor of nine books. He has written for numerous publications, including The New York Times, Vanity Fair, Men's Journal, and GQ. He is currently a contributing editor and foreign correspondent for Men's Health. He lives in Manasquan, New Jersey.

Tom Clavin is the author or coauthor of sixteen books. For fifteen years he wrote for The New York Times and has contributed to such magazines as Golf, Men's Journal, Parade, Reader's Digest, and Smithsonian. He is currently the investigative features correspondent for Manhattan Magazine. He lives in Sag Harbor, New York.
or
Not Currently Available for Direct Purchase