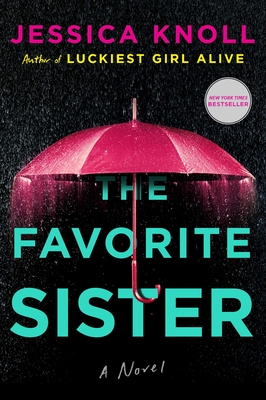 The Favorite Sister
Hardcover

* Individual store prices may vary.
Other Editions of This Title:
Digital Audiobook (5/14/2018)
Paperback (4/2/2019)
Mass Market (1/25/2022)
Library Binding, Large Print (7/1/2018)
CD-Audio (5/15/2018)
Description
***NEW YORK TIMES BESTSELLER***

"Engrossing…Deliciously savage and wildly entertaining."—People Magazine (Book of the Week)

From Jessica Knoll—author of Luckiest Girl Alive, the instant New York Times bestseller and the bestselling debut novel of 2015—comes a blisteringly paced thriller starring two sisters who join the cast of a reality TV series. One won't make it out alive. So…who did it?

When five hyper-successful women agree to appear on a reality series set in New York City called Goal Diggers, the producers never expect the season will end in murder…

Brett's the fan favorite. Tattooed and only twenty-seven, the meteoric success of her spin studio—and her recent engagement to her girlfriend—has made her the object of jealousy and vitriol from her castmates.

Kelly, Brett's older sister and business partner, is the most recent recruit, dismissed as a hanger-on by veteran cast. The golden child growing up, she defers to Brett now—a role which requires her to protect their shocking secret.

Stephanie, the first black cast member and the oldest, is a successful bestselling author of erotic novels. There have long been whispers about her hot, non-working actor-husband and his wandering eye, but this season the focus is on the rift that has opened between her and Brett, former best friends—and resentment soon breeds contempt.

The Favorite Sister explores the invisible barriers that prevent women from rising up the ranks in today's America—and offers a scathing take on the oft-lionized bonds of sisterhood, and the relentless pressure to stay young, relevant, and salable.
Praise For The Favorite Sister…
PRAISE FOR THE FAVORITE SISTER BY JESSICA KNOLL


"What could be more engrossing, guilty-pleasure-wise, than a reality show about rich, backstabbing women? A juicy whodunit staged behind the scenes of just such a fictional show, that's what. In Knoll's follow-up to 2015's Luckiest Girl Alive, one of the viciously ambitious stars of the series Goal Diggers ends up dead—and the truth behind the murder isn't revealed until each conniving cast member presents her version of the backstory. Deliciously savage and wildly entertaining."—People Magazine (Book of the Week)

"Knoll mines the rich landscape of reality television and creates a binge-worthy beach read complete with the provocative twists and turns of a whodunit...Reality TV fans will get a kick out of seeing their favorite Real Housewives amalgamated into fictional form. Hint: We see a lot of RHONY in these ladies."—USA Today (3 out of 4 stars)

"Knoll explores the blurry line between a reality show and real life--and the duplicity of family ties and friendship—in this razor-sharp, darkly comic thriller...[a] briskly paced whodunit...Though the mystery is engrossing enough in its own right, Knoll's novel is most notable as a potent takedown of a reality-show-obsessed culture that seeks out the spotlight rather than harder truths."—Publishers Weekly (STARRED REVIEW)

"Fans of Jessica Knoll's Luckiest Girl Alive, buckle up. In The Favorite Sister, Knoll takes us through the crazy world of reality TV, filled with careful observations and complete OMG moments, like no author can. The story of five women on a reality show called The Goal Diggers, it is utterly unputdownable. Read it, then have fun with your friends trying to figure out which real-life reality stars inspired each of the fictional ones here."—PopSugar

"You'll be seeing this pink umbrella on beaches everywhere this summer. The next thriller from the pen of Luckiest Girl Alive has a reality TV show as its setting, and a pair of sisters—who are definitely no Housewives—with a dark secret to get the action going."—Elle

"A twisty, sexy thriller, jam-packed with wit and snark. Everything you wanted to know about what goes on off-camera is here: the secrets, the lies, and all the juicy details that make you speed through it like an episode of The Bachelor."—Glamour

"The Real Housewives are tame next to the reality-show stars in Jessica Knoll's wickedly gripping The Favorite Sister."—Cosmopolitan

"Picture a fictional feminist reality TV show that's basically The Real Housewives of Startup Boardrooms. We find out early that one of the five castmates is dead, but we have no idea who did it, or why. This is the kind of soapy, hilariously vicious book you'll gobble up in one sitting."—Marie Claire

"We don't want to give too much away, but you won't be able to put this one down—no matter how good the water looks."—Good Housekeeping

"Knoll explores the pressure society places on women to be everything to everyone and do it all without a strand of hair out of place. There's enough conniving, scandal, and snark to rival the most shocking episodes of Real Housewives, and these cutthroat divas play to win even if it means blurring the line between truth and lies. In the end, murder seems inevitable. Season 4 will end with a bang, and there will be blood…salaciously entertaining."—Kirkus Reviews

"Knoll's second thriller (after Luckiest Girl Alive) combines the cut-throat world of reality television and the competition for fame among alleged friends. The unexpected and unpredictable twists and surprising revelations will delight suspense fans."—Library Journal

"Knife-sharp and enthralling, Jessica Knoll's The Favorite Sister is as bold and smart and audacious a novel about women and ambition as you could hope for. A more-than-worthy follow-up to Luckiest Girl Alive, it proves Knoll is a literary force to be reckoned with."—Megan Abbott, New York Times bestselling author of You Will Know Me

***

PRAISE FOR LUCKIEST GIRL ALIVE BY JESSICA KNOLL

[A] huge summer read . . . one of those great stories that you can't put down!"—Reese Witherspoon, InStyle

"The perfect page-turner to start your summer."—People (Book of the Week)

"Dark, twisty . . . razor-sharp writing . . . propulsive prose . . . [The] reveal is a real doozy—a legitimately shocking, completely unputdownable sequence that unfolds like a slow-motion horror film. It instantly elevates Luckiest Girl . . . and that momentum keeps going until its final pages."—Entertainment Weekly

"Loved Gone Girl? We promise [Luckiest Girl Alive is] just as addictive."—Good Housekeeping

"A pulse-pounding, jaw-dropping novel about how tragedy twists and shapes lives."—InTouch (A-)

"When Ani FaNelli wants something, she gets it: the job, the body, the man. What starts as a Mean Girls-seeming story line transforms into something so dark, so plot-twistingly intense that…well, actually, no spoilers here." —Marie Claire

"A knockout debut novel . . . completely enthralling . . . devilishly dark and fun."—Publishers Weekly

"[Ani FaNelli is] a cross between Sex and the City's Carrie Bradshaw and Gone Girl's Amy Dunne. . . . Knoll's debut truly delivers and will keep readers engaged until the end."—Library Journal

"This is going to be the book you insist all your friends read this summer. . . . [A] clever, cunning satire on the female condition in the 21st century."—Milwaukee Journal-Sentinel




Simon & Schuster, 9781501153198, 384pp.
Publication Date: May 15, 2018
About the Author
Jessica Knoll is the New York Times bestselling author of Luckiest Girl Alive, which has been optioned for film by Lionsgate with Reese Witherspoon set to produce. She has been a senior editor at Cosmopolitan and the articles editor at Self. She grew up in the suburbs of Philadelphia and graduated from The Shipley School in Bryn Mawr, Pennsylvania, and from Hobart and William Smith Colleges in Geneva, New York. She lives in Los Angeles with her husband and her bulldog, Beatrice. The Favorite Sister is her second novel.
or
Not Currently Available for Direct Purchase