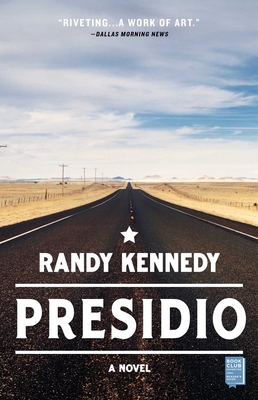 Presidio
A Novel
Paperback

* Individual store prices may vary.
Description
"Fluent, mordant, authentic, propulsive…wonderfully lit from within" (Lee Child, The New York Times Book Review), this critically acclaimed, stunningly mature literary debut is the darkly comic story of a car thief on the run in the gritty and arid landscape of the 1970s Texas panhandle.

In this "stellar debut," (Publishers Weekly) car thief Troy Falconer returns home after years of wandering to reunite with his younger brother, Harlan. The two set out in search of Harlan's wife, Bettie, who's left him cold and run away with the little money he had. When stealing a station wagon for their journey, Troy and Harlan find they've accidentally kidnapped a Mennonite girl, Martha Zacharias, sleeping in the back of the car. But Martha turns out to be a stubborn survivor who refuses to be sent home, so together, these unlikely road companions haphazardly attempt to escape across the Mexican border, pursued by the police and Martha's vengeful father.

But this is only one layer of Troy's story. Through interjecting entries from his journal that span decades of an unraveling life, we learn that Troy has become so estranged from society that he's shunned the very idea of personal property. Instead of claiming possessions, he works motels, stealing the suitcases and cars of men roughly his size, living with their things until those things feel too much like his own, at which point he finds another motel and vanishes again into another man's identity.

Richly nuanced and complex, "like a nesting doll, [Presidio] continually uncovers stories within stories" (Ian Stansel, author of The Last Cowboys of San Geronimo). With a page-turning plot, prose as gritty and austere as the novel's Texas panhandle setting, and a determined yet doomed cast of characters ranging from con artists to religious outcasts, this "rich and rare book" (Annie Proulx, author of Barkskins) packs a kick like a shot of whiskey. Perfect for fans of Cormac McCarthy, Denis Johnson, and Larry McMurtry, who said that Kennedy "captures the funny yet tragic relentlessness of survival in an unforgiving place. Let's hope he keeps his novelistic cool and brings us much, much more."
Praise For Presidio: A Novel…
"Here is a rich and rare book. Reader, if you like poor Texas boys gone bad (or not bad enough), landscapes so accurate in detail you feel you grew up there, coldly logical Mennonite girls with outcast Manitoban-Mexican papas, magnetic details about old cars, the finer points of an automobile-thieving, and a magisterial use of italics you will want to read this novel through twice in a row as I did. It is a hard picture of the choices offered to poor Texas youths in the 1960s and '70s. You might say it shakes out as a weird combination of Canterbury Tales, Breaking Bad and À la recherche du temps perdu with a dash of Confederacy of Dunces, but it is brilliantly original. You will laugh, you will cry and you will read it again straight through to enjoy the fine points of marvelous writing. There is nothing out there like Presidio."
—Annie Proulx, author of Barkskins

"Presidio is set in what I think of as Max Crawford Country—the bleak dreamscape around the edges of the Caprock, where life is, to say the least—gritty. Randy Kennedy captures the funny yet tragic relentlessness of survival in an unforgiving place. Let's hope he keeps his novelistic cool and brings us much, much more."
—Larry McMurtry

"Randy Kennedy writes wonderful prose. He combines the detail and eye of a journalist with the lyricism of a poet. If you want to read about the real deal down in Texas, he's your man."
—James Lee Burke, author of Robicheaux

"Randy Kennedy's Mexican-American frontier of the 1970s occupies the same dustblown landscape painted by Cormac McCarthy. Car thieves and drug dealers tumble together with Mennonites and luncheonette waitresses—all of them lightened by empty pockets, small dreams, and minimal futures. From these elements Kennedy assembles a gorgeously written narrative of outrunning violence and despair."
—Carol Anshaw, author of Carry the One

"A fabulous novel, executed in rare and exquisite language, about two brothers and the tough little girl, (one of the most engaging fictional heroines in recent memory), they accidentally encounter on a hapless journey across Texas to recover some stolen money. Kennedy is truly the literary heir to Cormac McCarthy in his depiction of the vivid characters and sparsely beautiful landscape of the American West."
—Dinitia Smith, author of The Honeymoon

"An absolute marvel of a novel. Like a nesting doll, it continually uncovers stories within stories, each revealing the depth and humanity of its fascinating cast of characters. Kennedy has given us a wonderfully compelling portrait of the American West in the second half of the twentieth century, full of danger, humor, and surprises."
—Ian Stansel, author of The Last Cowboys of San Geronimo

"Two estranged brothers and an unexpected passenger embark on a road trip through Texas to recover stolen money in this strong debut… Kennedy has a fertile imagination he lets drift into many beguiling detours, and the writing sparkles throughout."
— Kirkus Reviews, starred review

"In this stellar debut....Kennedy soberly etches a Texas landscape of violence and despair as vividly as anything by Larry McMurtry."
— Publishers Weekly

"A fluent, mordant, authentic, propulsive narrative wonderfully lit from within by an intriguing main character...The Texas of the novel...has been written about before, and very well. Kennedy rises to the challenge and succeeds so well that Larry McMurtry and James Lee Burke have offered their praise."
— Lee Child, The New York Times Book Review

"Stunning....Kennedy is a masterful landscape builder, with descriptions so sharp it's hard not to taste the gas fumes."
— Interview Magazine

"With the right person at the wheel, some of the best road trips go nowhere in particular. Those winding up at a dead end can be most entertaining of all. Count Randy Kennedy's striking debut novel, "Presidio," in that number. Set in the latter months of 1972, "Presidio" is first-rate Lone Star noir: haunted by fate, gritty with regret, told with dusty elegance and dark humor."
— Houston Chronicle
Atria Books, 9781501153877, 336pp.
Publication Date: August 6, 2019
About the Author
Randy Kennedy was born in San Antonio, Texas, and raised in Plains, a small farming town in the Texas Panhandle, where his father worked as a telephone lineman and his mother as a teachers' aide. He was educated at the University of Texas at Austin. He moved to New York City in 1991 and worked for twenty-five years as a staff member and writer for The New York Times, first as a city reporter and for many years covering the art world. His first novel, Presidio, hailed as a "rich and rare book" by novelist Annie Proulx, was published in 2018 by Touchstone/Simon & Schuster. A collection of his city columns, Subwayland: Adventures in the World Beneath New York, was published in 2004. For The New York Times and The New York Times Magazine he has written about many of the most prominent artists of the last 50 years, including John Chamberlain, Claes Oldenburg, Bruce Nauman, Vito Acconci, Nan Goldin, Paul McCarthy and Isa Genzken. He is currently director of special projects for the international art gallery Hauser & Wirth. He lives in Brooklyn with his wife, Janet Krone Kennedy, a clinical psychologist, and their two children.
or
Not Currently Available for Direct Purchase