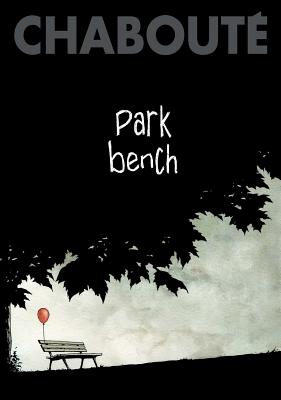 Park Bench
Paperback

* Individual store prices may vary.
Description
With his masterful illustration style, bestselling French creator-storyteller Chabouté (Alone, Moby-Dick) explores community through a common, often ignored object: the park bench.

From its creation, to its witness to the fresh ardor of lovers, the drudgery of businessmen, the various hopes of the many who enter its orbit, the park bench weathers all seasons. Strangers meet at it for the first time. Paramours carve their initials into it. Old friends sit and chat upon it for hours. Others ignore the bench, or (attempt to) sleep on it at night, or simply anchor themselves on it and absorb the ebb and flow of the area and its people.

Christophe Chabouté's mastery of the visual medium turns this simple object into a thought-provoking and gorgeously wrought meditation on time, desire, and the life of communities all across the planet. This could be a bench in my hometown or yours—the people in this little drama are very much those we already recognize.
Praise For Park Bench…
"Another stunning achievement from an author who seems to produce only stunning achievements."
— Library Journal

"This small, graceful story becomes a lush fairy tale through Chabouté's stunning black-and-white art . . . Widely regarded as his masterpiece. It's a visually stunning humanist fable."
— Publishers Weekly (starred review) on Alone

"[Chabouté is] a master of black and white, with evocative panels and a skill using swaths of darkness to create a sense of place without excessive detail."
— Paste Magazine

"[A] beautifully illustrated and carefully paced tale filled with equal parts sadness, humor, and tender moments of human connection that examines the powers of creative limitations, made all the more memorable for its minimal dialog. Already an international best seller and selected for the prestigious Angoulême International Comics Festival in France, available here in English for the first time, this ultimately moving story about an unlikely and surprisingly inspiring protagonist is sure to be embraced by all readers."
— Library Journal on Alone

"Alone offers a glimpse through a window into a vastly different visualstorytelling culture. This is a narrative style that affords 9 pages to pick, panel by panel, through the details of a single room, and in which the main character doesn't even appear until page 109. In a nearly silent story, Chabouté uses acute detail and tactile, sensual black lines to carve an expansive vision from confined spaces, and draws a deep emotional reservoir from simple actions, tiny moments, and small gestures. This kind of pacing and focus creates resonant, textured space, both physical and emotional, and turns a story filled with gothic trappings into something strikingly poignant."
— Booklist (starred review) on Alone

"This black-and-white graphic novel is a visually poetic, thought-provoking tale of how isolation contrasts with the rich realm of the imagination... The result is a wistful and evocative story that explores the power of the imagination and a yearning for connection."
— Shelf Awareness of Alone
Gallery 13, 9781501154027, 336pp.
Publication Date: September 19, 2017
About the Author
Christophe Chabouté published his first work, Stories, based on the work of Arthur Rimbaud, in 1993 in France. Since then, he has received numerous prizes for his very personal illustration and storytelling style. When Alone, a wholly original work of his, published in France, it was widely hailed as his masterpiece and was an Official Selection at France's prestigious Angoulême International Comics Festival. He is the illustrator-storyteller of Park Bench.