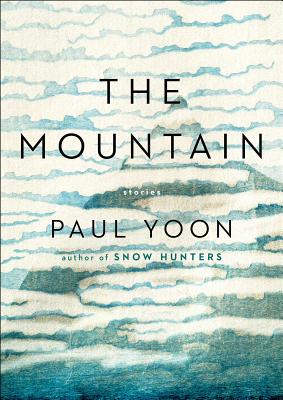 The Mountain (Hardcover)
Stories
Simon & Schuster, 9781501154089, 256pp.
Publication Date: August 15, 2017
* Individual store prices may vary.
Description
A Best Books of 2017 Selection by * NPR * Publishers Weekly * Library Journal * Southern Living *

From Paul Yoon, the award-winning and critically acclaimed author of Once the Shore and Snow Hunters, comes a luminous collection of short stories set throughout the world—from the Hudson Valley to the Russian Far East—across periods of time after World War II.

In The Mountain, Paul Yoon displays his subtle, ethereal, and strikingly observant style with six thematically linked stories, taking place across several continents and time periods and populated with characters who are connected by their traumatic pasts, newly vagrant lives, and quests for solace in their futures. Though they exist in their own distinct worlds (from a sanatorium in the Hudson Valley to an inn in the Russian far east) they are united by the struggle to reconcile their traumatic pasts in the wake of violence, big and small, spiritual and corporeal. A morphine-addicted nurse wanders through the decimated French countryside in search of purpose; a dissatisfied wife sporadically takes a train across Spain with a much younger man in the wake of a building explosion; a lost young woman emigrates from Korea to Shanghai, where she aimlessly works in a camera sweat shop, trying fruitlessly to outrun the ghosts of her past.

Hailed by New York magazine as a "quotidian-surreal craft-master" and a "radiant star in the current literary firmament" by The Dallas Morning News, Yoon realizes his worlds with quiet, insightful, and gorgeous prose. Though each story is distinct from the others, his restrained voice and perceptive observations about violence—to the body, the landscape, and ultimately, the human soul—weaves throughout this collection as a whole, making The Mountain a beautiful, memorable read.
About the Author
Paul Yoon was born in New York City. His first book, Once the Shore, was selected as a New York Times Notable Book, a Best Debut of the Year by National Public Radio and won a 5 under 35 Award from the National Book Foundation. His novel, Snow Hunters, won the 2014 Young Lions Fiction Award. He is a former fellow at the New York Public Library's Cullman Center for Scholars and Writers, and his stories have appeared in Harper's Magazine, VQR, the PEN/O. Henry Prize Stories, and The Best American Short Stories. He lives in Cambridge, Massachusetts, where he is currently a Briggs-Copeland Lecturer at Harvard University along with his wife, the writer Laura van den Berg.
Praise For The Mountain: Stories…
PRAISE FOR THE MOUNTAIN BY PAUL YOON

"Believe me: This is a genuine work of art, a shadowland of survivors that is tough and elegant and true. And beautiful." —The Boston Globe

"The Mountain is quiet, restrained and howling beneath the surface...a fantastic collection."—The LA Times

"Reading The Mountain is like admiring a glowing sunset before realizing that what you're really watching is a wildfire heading your way....his sentences read like Hemingway stripped of his machismo...The Mountain is remarkable...as close as the short story can get to poetry without losing its grip on plot..." —The Star Tribune

"Yoon proves himself a literary alchemist, transforming tragedy into beauty with deft reminders of our universal connections… Joining such luminaries as Jhumpa Lahiri, Junot Díaz, and Alice Munro, Yoon has undoubtedly earned membership in the exclusive coterie of today's finest writers of the short form."—Library Journal (starred review)

"Despite his literary austerity, Yoon's dazzling use of wordplay, pacing, and the quiet authenticity of his characters to instill emotion in his audience makes him one of the most evocative writers working today. Six little mysteries that quietly capture the breadth of the human experience."—Kirkus Reviews (starred review)

"These stories span multiple continents and time periods to arrive at human truths about how greatly our lives are affected and influenced by our shared histories....Yoon expertly interrogates the meaning of nationhood and the universality of the migrant experience. Most often the stories are structured as montages of inner experience; moments of connection are the sparks that ignite these otherwise meditative, reflective narratives. The result is a spectacular display of intelligence and feeling."—Publisher's Weekly (starred review)

"Both careful and confident, The Mountain shows that a classic approach to a classic form can still feel vital and relevant when in the hands of a perfectionist like Paul Yoon."—GQ

"Elegant, luminous…A heartbreaking yet beautiful rumination on tragedy, loneliness, grief, and displacement." —Buzzfeed

"Radiant...Yoon uses precise, measured prose to create atmospheric narratives that lack neat resolutions. The Mountain's overall mood is one of wistfulness—a feeling that stays with the reader after the final page has been turned."—Bookpage

"The six stories in Paul Yoon's (Snow Hunters) second collection, The Mountain, are almost shocking in their simplicity. Possessing a fable-like sensibility, each one is a quietly elegant examination of how survivors of various sorts carry on in the face of profound loss. Yoon's strikingly uninflected prose heightens both the tension and the resonance of these tales…It's impossible to separate the content of these stories from the daringly unembellished quality of Yoon's writing, where omission often feels as meaningful as the words on the page…Yoon's unadorned prose is of a piece with the fragility of these delicate stories. Individually and collectively they comprise an exquisite and memorable work of art."—Shelf Awareness

"The Mountain is atmospherically so compelling, and describes so movingly the loneliness and courage of these characters. Paul Yoon mines the interstices of our experience—it's full of pregnant spaces—we are haunted by all that isn't said. This is the voice with which we speak to ourselves when no one is listening. The book is profound, in the way that W.G. Sebald's work is—like him, Yoon's voice is quiet and sincere and urgent—and that's what makes the collection so powerful, and what ties the collection together. The characters are disconnected, yet we feel deeply connected to them. It's mysterious and elusive and distinctive, a brilliant collection of stories, and a unified work of art." —Daniyal Mueenuddin, author of In Other Rooms, Other Wonders, finalist for the Pulitzer Prize and National Book Award

"Paul Yoon writes as if in a state of grace. In The Mountain, he moves across continents and time periods with breathtaking assurance, setting minutely observed individual lives against the tidal pull of history. He tells the story of border crossings, both literal and metaphorical. We are all migrants in one way or another; The Mountain narrates our shared story of movement." —Katie Kitamura, critically-acclaimed author of A Separation and The Longshot