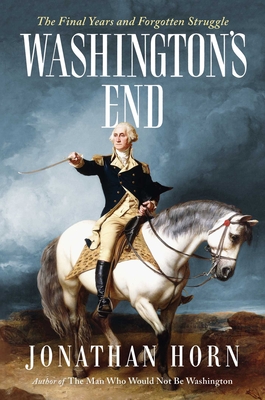 Washington's End
The Final Years and Forgotten Struggle
Hardcover

* Individual store prices may vary.
Other Editions of This Title:
Digital Audiobook (2/10/2020)
Paperback (2/9/2021)
Compact Disc (2/11/2020)
Library Binding, Large Print (8/5/2020)
Description
Popular historian and former White House speechwriter Jonathan Horn tells the astonishing true story of George Washington's forgotten last years—the personalities, plotting, and private torment that unraveled America's first post-presidency.

Washington's End begins where most biographies of George Washington leave off, with the first president exiting office after eight years and entering what would become the most bewildering stage of his life. Embittered by partisan criticism and eager to return to his farm, Washington assumed a role for which there was no precedent at a time when the kings across the ocean yielded their crowns only upon losing their heads. In a different sense, Washington would lose his head, too.

In this riveting read, bestselling author Jonathan Horn reveals that the quest to surrender power proved more difficult than Washington imagined and brought his life to an end he never expected. The statesman who had staked his legacy on withdrawing from public life would feud with his successors and find himself drawn back into military command. The patriarch who had dedicated his life to uniting his country would leave his name to a new capital city destined to become synonymous with political divisions.

A vivid story, immaculately researched and powerfully told through the eyes not only of Washington but also of his family members, friends, and foes, Washington's End fills a crucial gap in our nation's history and will forever change the way we view the name Washington.
Praise For Washington's End: The Final Years and Forgotten Struggle…
One of Parade Magazine's "Books We Love"

"A poignant look at the father of his country in the twilight of his life. Horn . . . has a fluid, pleasing style, with stately cadences that suit his subject."
—National Review

"Using meticulous research, Horn demonstrates how 'peace' eluded Washington throughout his retirement, which was repeatedly interrupted by partisan attacks, tensions with political allies, and the specter of war with France."
—The American Interest

"An outstanding biographical work on one of America's most prominent leaders. Highly recommended for those who want to better understand the early republic." —Library Journal

"Jonathan Horn in his new book Washington's End provides a captivating and enlightening look at Washington's post-presidential life and the politically divided country that was part of his legacy." —New York Journal of Books

"Horn ably captures the tension of Washington's inner turmoil as he continued to deal with urgent dispatches and unwanted news from the capital. A useful biography that provides an honest reckoning of Washington's life and legacy." —Kirkus Reviews

"The standard histories of George Washington invariably end when he surrendered power as president after eight years. Yet as Jonathan Horn reminds us, Washington's post-presidency was fascinating and important in its own right. Vividly told and impeccably researched, Washington's End is a movable feast of a book. Read it, savor it, learn from it."
—Jay Winik, New York Times bestselling author of April 1865 and 1944

"Every great man, even George Washington, has his Lion in Winter moment. Jonathan Horn brings us along on this cold sad journey, lighting the path with brilliant writing and characterization."
—Robert L. O'Connell, bestselling author of Fierce Patriot and Revolutionary: George Washington at War

"There have been hundreds of biographies about the Father of our country but to me, this is one of the best. Jonathan Horn knows how to tell a story and he starts where most biographers stop: the end of Washington's presidency. In doing so he humanizes Washington as no previous historian has done. He reminds us that icons have feelings too and understanding Washington's personal side gives us an even greater appreciation of the public man. I can't remember a book where I paused so many times to say to myself, 'I didn't know that.' This engaging book is history served up exactly the way I like it. A wonderful and insightful read."
—Bob Schieffer, CBS News

"A remarkable work, revealing Washington as seldom seen before—up close, warm, intimate. Washington opens his heart and soul about his country, his friends and associates, his family—and himself. Jonathan Horn's book is a unique portrayal of Washington's private life as he shapes the presidency and a new nation—and tries to prepare America for a future without him."
—Harlow Giles Unger, author of Thomas Paine and the Clarion Call for American Independence

"A riveting read and a powerful story! Jonathan Horn relates the fascinating story of Washington's long overlooked final years, describing vividly the president's return to private life and the subsequent intrigues, feuds, return to uniform, and personal torment that beset America's first ex-president."
—General David Petraeus, former commander of coalition forces in Iraq and Afghanistan and U.S. Central Command, and former Director of the CIA
Scribner, 9781501154232, 352pp.
Publication Date: February 11, 2020
About the Author
Jonathan Horn is an author and former White House presidential speechwriter whose Robert E. Lee biography, The Man Who Would Not Be Washington, was a Washington Post bestseller. Jonathan has appeared on CNN, Fox News, MSNBC, and PBS NewsHour, and his writing has appeared in The Washington Post, The New York Times' Disunion series, Politico Magazine, The Daily Beast, The Weekly Standard, and other outlets. A graduate of Yale University, he lives in Bethesda, Maryland, with his wife, daughter, and dog. His latest book is Washington's End.
or
Not Currently Available for Direct Purchase