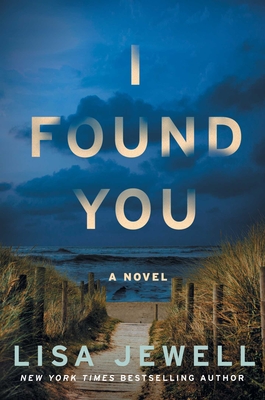 I Found You
A Novel
Hardcover

* Individual store prices may vary.
Other Editions of This Title:
Paperback (3/6/2018)
Compact Disc (4/25/2017)
MP3 CD (4/25/2017)
Mass Market (6/25/2019)
Description
"Readers of Liane Moriarty, Paula Hawkins, and Ruth Ware will love." —Library Journal (starred review)

"Jewell's novel explores the space between going missing and being lost….how the plots intersect and finally collide is one of the great thrills of reading Jewell's book. She ratchets up the tension masterfully, and her writing is lively." —New York Times

In the windswept British seaside town of Ridinghouse Bay, single mom Alice Lake finds a man sitting on a beach outside her house. He has no name, no jacket, and no idea how he got there. Against her better judgment, she invites him inside.

Meanwhile, in a suburb of London, newlywed Lily Monrose grows anxious when her husband fails to return home from work one night. Soon, she receives even worse news: according to the police, the man she married never even existed.

Twenty-three years earlier, Gray and Kirsty Ross are teenagers on a summer holiday with their parents. The annual trip to Ridinghouse Bay is uneventful, until an enigmatic young man starts paying extra attention to Kirsty. Something about him makes Gray uncomfortable—and it's not just because he's a protective older brother.

Who is the man on the beach? Where is Lily's missing husband? And what ever happened to the man who made such a lasting and disturbing impression on Gray?

"A mystery with substance" (Kirkus Reviews), I Found You is a delicious collision course of a novel, filled with the believable characters, stunning writing, and "surprising revelations all the way up to the ending" (Booklist) that make the New York Times bestselling author of Then She Was Gone Lisa Jewell so beloved by audiences on both sides of the Atlantic.
Praise For I Found You: A Novel…
Praise for I Found You:

"Lisa Jewell is a brilliant storyteller, creating suspenseful yet believable novels time and again. I Found You is no exception—filled with intriguing characters connected in startling ways. Quickly paced yet delicately nuanced, this novel is sure to appeal to fans of Big Little Lies and The Woman in Cabin 10."
— Shelf Awareness (starred review)

"Jewell is a wonderful storyteller. Her characters are believable, her writing is strong and poetic, and her narrative is infused with just enough intrigue to keep the pages turning. Readers of Liane Moriarty, Paula Hawkins, and Ruth Ware will love."
— Library Journal (starred review)

"How [the] plots intersect and finally collide is one of the great thrills of reading Jewell's book. She ratchets up the tension masterfully, and her writing is lively."
— New York Times Book Review

"The structure keeps the suspense level high, and Jewell manages surprising revelations all the way up to the ending. The mix of women's fiction and suspense—plus a no-nonsense 40-something heroine at the heart of the story—makes this a good fit for fans of Liane Moriarty."
— Booklist

"Riveting…numerous twists avoid predictability, and the novel is well-paced as it weaves three narratives together. Dark and moody, this is a mystery with substance."
— Kirkus Reviews

"One word: wow! This latest offering from Jewell starts off strong and keeps readers riveted until the very last word…this book is 'unreliable narrator' at its best!"
— RT Book Reviews

"Jewell keeps the reader guessing."
— New York Post, Required Reading column

"Jewell is a genuinely original and skilled novelist with an impressive flair for deftly crafted narratives and surprising plot development."
— Midwest Book Review

"There will be tendencies to compare this book to The Girl On The Train and its various imitators, but don't be fooled: This is better than those. Jewell's forte is the good old-fashioned novel of psychological suspense, the kind that keeps you reading deep into the night."
— The Globe and Mail

"Crackling suspense...Among the year's best domestic thrillers."
— Toronto Star

Praise for The Girls in the Garden:

"Lisa Jewell's characters are so real that I finish every book half-expecting to bump into one of them. Modern, complex, intuitive, she just goes from strength to strength."
— Jojo Moyes, author of After You

"Jewell expertly builds suspense by piling up domestic misunderstandings and more plot twists than an SVU episode. It's a page-turner for readers who like beach reads on the dark side."
— People

"Full of suspense yet emotionally grounded…Fans of Liane Moriarty, Paula Hawkins, and Carla Buckley will adore this peek inside a gated community that truly takes care of its own, no matter the consequences."
— Booklist (starred review)

"Rich characterization and intricate plot development are combined with mid-chapter cliffhangers that cut from one character's point of view to the next, resulting in a riveting pace. Vivid descriptions of the bucolic park contrast with the evil lurking around the themes of teenage sexuality, perversion, peer pressure, and the desire for a complete family. Jewell adeptly creates a pervasive atmosphere of unease in this well-spun narrative."
— Publishers Weekly (starred review)

One of New York Post's "Buzziest Books to Bring to the Beach"

"Jewell expertly mines the relationships of her compelling, multilayered characters for a perfect pack-for-vacation read."
— Fort-Worth Star Telegram

"Jewell crafts another page-turner that keeps the suspense flowing…[and] sharply evades the truth while bouncing the story among multiple characters' perspectives. Recommended for lovers of mysteries built on the complexities of family and the dismantling of the idea that being part of a community keeps us safe."
— Library Journal

"An intoxicating, spellbinding read that will make readers entranced with Lisa Jewell's wicked and gorgeous prose…raw, intense, gritty, dark and suspenseful. If you are looking for a looking for a psychological thriller that will unfold secrets and truths in a shocking manner, this book is for you."
— Manhattan Book Review

"Faithful to the thriller genre, Jewell makes liberal use of red herrings and plot twists… The answer to the whodunit is a sly – and satisfying – surprise."
— New York Times Book Review

"The writing is cause for pleasant pause."
— Seattle Times

"An engaging and atmospheric read, Lisa beautifully conjures up the half-child half-adult lives of young teenagers."
— Jane Fallon, author of Skeletons

"Oh but I loved this book – a magical garden right in the center of the city, a long, hot summer simmering away, a group of young teens, lurching between boredom and passion and ripe for their lives to start. And at its center a dark and disturbing mystery that keeps you turning the pages long into the night. Lisa Jewell is the most compassionate storyteller. She writes with such lightness of touch, yet her books pack a powerful punch. A stunning, beautiful, mesmerizing book that everyone will be reading this summer."
— Tamar Cohen, author of The Mistress's Revenge

"Lisa creates beguiling characters, which dazzle from the page. This is a terrific suspense story told with that brooding promise of danger that taunts us to read on, to chase the elusive truth at the heart of the book."
— Rachel Hore, author of The House on Bellevue Gardens

"Jewell does a beautiful job of creating large companies of detailed and believable characters in her novels. Some are likable, some are not, and Jewell carefully explores what makes each of them tick, from the unstable to the overachievers to those in search of love... a delicate exploration of teenage love and rivalry, mental illness and how far people will go to protect those they care about. Fans of Liane Moriarty and JoJo Moyes will love The Girls in the Garden, as will anyone who remembers the angst and ecstasy of being a teenager."
— Shelf Awareness

"Jewell offers an intriguing premise and characters…[and] creates a story ripe with anticipation and emotion."
— Kirkus Reviews

"Another winner. Beautiful writing, believable characters, a pacy narrative and dark secrets combine to make this a gripping read."
— London Daily Mail

"Jewell pens a psychological thriller that leaves readers wondering if they really know all the answers. Children can be more frightening than adults, as she demonstrates in her brilliant portrayal of youthful deceit and jealousy. Each individual is vividly described and counterbalanced by their strengths and weaknesses."
— RT Magazine

"A suspenseful mystery."
— Womans Day
Atria Books, 9781501154591, 352pp.
Publication Date: April 25, 2017
About the Author
Lisa Jewell is the #1 New York Times bestselling author of nineteen novels, including The Family Upstairs and Then She Was Gone, as well as Invisible Girl and Watching You. Her novels have sold over 10 million copies internationally, and her work has also been translated into twenty-nine languages. Connect with her on Twitter @LisaJewellUK, on Instagram @LisaJewellUK, and on Facebook @LisaJewellOfficial.
or
Not Currently Available for Direct Purchase