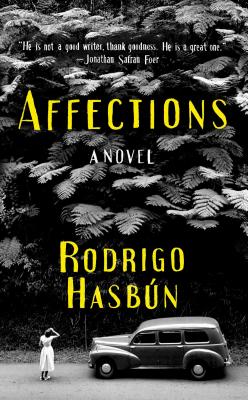 Affections (Hardcover)
A Novel
Simon & Schuster, 9781501154799, 144pp.
Publication Date: September 12, 2017
Other Editions of This Title:
Compact Disc (9/12/2017)
Paperback (9/11/2018)
* Individual store prices may vary.
Description
A haunting novel about an unusual family's breakdown—set in South America during the time of Che Guevara and inspired by the life of Third Reich cinematographer Hans Ertl—from the literary star Jonathan Safran Foer calls, "a great writer."

Inspired by real events, Affections is the story of the eccentric, fascinating Ertl clan, headed by the egocentric and extraordinary Hans, once the cameraman for the Nazi propagandist Leni Riefenstahl. Shortly after the end of World War II, Hans and his family flee to Bolivia to start over. There, the ever-restless Hans decides to embark on an expedition in search of the fabled lost Inca city of Paitití, enlisting two of his daughters to join him on his outlandish quest into the depths of the Amazon, with disastrous consequences.

Set against the backdrop of the both optimistic and violent 1950s and 1960s, Affections traces the Ertls's slow and inevitable breakdown through the various erratic trajectories of each family member: Hans's undertakings of colossal, foolhardy projects and his subsequent spectacular failures; his daughter Monika, heir to his adventurous spirit, who joins the Bolivian Marxist guerrillas and becomes known as "Che Guevara's avenger"; and his wife and two younger sisters left to pick up the pieces in their wake. In this short but powerful work, Hasbún weaves a masterfully layered tale of how a family's voyage of discovery ends up eroding the affections that once held it together.
About the Author
Rodrigo Hasbún is a Bolivian novelist living and working in Houston. In 2007, he was selected by the Hay Festival as one of the best Latin American writers under the age of thirty-nine for Bogotá39, and in 2010 he was named one of Granta's Best Young Spanish-Language Novelists. He is the author of a previous novel and a collection of short stories, two of which have been made into films, and his work has appeared in Granta, McSweeney's, Zoetrope: All-Story, Words Without Borders, and elsewhere. Affections received an English PEN Award and has been published in twelve languages.

Sophie Hughes has translated novels by several contemporary Latin American and Spanish authors, including award-winning Laia Jufresa and Rodrigo Hasbún. Her translations and writing have been published in The Guardian, The Times Literary Supplement, Literary Hub, and The White Review, among others. In 2017 Sophie was awarded a PEN/Heim Translation Fund Grant.
Praise For Affections: A Novel…
PRAISE FOR RODRIGO HASBUN:

"He is not a good writer, thank goodness. He is a great one." —Jonathan Safran Foer



PRAISE FOR AFFECTIONS:

"Dark, deep, disturbing. No concessions, no sweeteners: here everything hurts. Through this ably crafted family saga, Hasbún manages to explore the permanent conflicts and contradictions of a whole nation." —Andrés Neuman, author of Travel of the Century

"In Affections, a family elegy is woven into an epitaph for the radical politics of South America and the result is an act of literary hypnosis you won't soon forget." —Adam Haslett, bestselling author of Imagine Me Gone

"Concise yet wild, haunting yet exuberantly full of life, Rodrigo Hasbún's Affections achieves all sorts of artful, intoxicating contradictions. What a gloriously unpredictable book." —Idra Novey, author of Ways to Disappear

"A slim, striking novel." —The New York Times Book Review

"A dark, stunning novel, Affections is charged by a brilliant kaleidoscope of perspectives, the voices of exiles, a post-war German family in Bolivia. Hasbún has spun a tale of displacement, of political turmoil, in which the characters' motives are as complicated as the Bolivian jungle they explore. It's a fascinating book." —Lynne Tillman, author of American Genius, A Comedy

"A compact and evocative historical novel. . .Hasbun has crafted an intriguing tale that ably bridges a pair of indelible historical moments. Lots of novels plumb the intersection of the personal and the political, but few have this kind of intellectual helf and emotional subtlety." —World Literature in Review

"It's hard to decide which character is more fascinating in Hasbún's masterful blend of history and fiction about a German family living in La Paz in the decades after the war. As the quick-paced narrative covers from the search for a lost city in the Amazon to the brutal guerrillas in the Bolivian jungle, the inner lives of each family member build up to enormous emotional payoff. This is sharp storytelling, both in the political and intimate fronts." —Daniel Galera, author of Blood-Drenched Beard

"I have rarely read a novel so gently and quietly concerned with adding two and two and getting five, in fact, of making it possible to read the same sentence twice and see two different things. At first, I thought this was just because Hasbún is a very good writer—which he is—but it isn't just that: to tell a story about a person is to freeze them in place, but to live the story that is told about you, to move forward in time from the image into which you were frozen, like a word being italicized—it does something to render that story a mere fiction, false and inadequate. And if telling stories is a form of control over reality—which it is—then living in a world made by stories is all about finding the places where the story doesn't fit, where the lives we are sentenced to break apart and become something else. This novel is about that: Affections is not a story about lives, in the end; it's about how people live in a world constructed by stories, how they make those stories, and how they are lost in them." —Aaaron Bady, The New Inquiry

"Affections is a masterpiece, its spare mosaic narrative mesmerizes and brilliantly explodes in the reader's imagination like slow fireworks that will never fade. With its Chekovian emotional intimacy, the razor sharp and tragic political insight of a Coetzee or Bolaño, the seamless enchantment of a Dinesen tale, this novel feels timeless." —Francisco Goldman, author of Say Her Name

"A short but powerful novel. . . rendered beautifully by translator Sophie Hughes." –Words Without Borders

"Hasbún writes with patience and precision, revealing the family's most intimate thoughts and interactions: first smokes, blind love, and familial devotion. This is a novel to savor for its richness and grace and its historical and political scope." —Booklist (starred review)

"Though Hasbún's narrative is rooted in politics, its key strengths are his remarkable command of time and characterization. The novel is short but gallops across a half-century's worth of transformations in Bolivia, and sections narrated by individual characters are marked by a surprising depth of emotional detail given the story's brevity. . . .In stripping down the story to its barest essence, Hasbún has intensified the effects of each individual scene; the volumes' worth of drama contained in the family's life emerge by suggestion and implication. A one-sitting tale of fragmented relationships with a broad scope, delivered with grace and power." —Kirkus Reviews (starred review)

"This is a finely atmospheric book...It's a work of sympathetic imagination, written with cool economy, elegance and understanding. It's a reconstruction of real lives, real historical events, but Hasbún's achievement is to make it perfectly fictional, which is to say truer than fact. I read it straight through first, with no idea of its historical truth, no knowledge of Hans Ertl beyond the name, no memory of the woman who in Hamburg assassinated the Bolivian diplomat who had been the policeman who ordered the hands of the dead Che Guevara be cut off. Learning of this made the second reading interesting in a different way, but didn't enrich it. The truth of fiction of this quality is that it reminds you how much of life that really matters goes on in the mind and heart." —The Scotsman (UK)

"Beautifully translated by Sophie Hughes, Affections is a richly atmospheric and evocative portrait of fractured familial bonds that takes the reader into the darkness where the protagonists dwell." —The National (UK)

"Los afectos is a miracle of writing: Rodrigo Hasbún can concentrate two continents, fifty years of history and the collapse of a family in just one hundred pages. He works with extreme delicacy on the Erlts' biography by creating a literary version of them which is wonderful for its consistency and clarity." —Giorgio Fontana, Domenica - Sole 24 Ore (Italy)

"With a direct, unvarnished style, harsh in some way, but with a great sense of rhythm, the author hooks the reader until the very ending of the novel, which is unexpected as much as suspended." —Marco Ostoni, La lettura - Corriere della Sera (Italy)

"Hasbún never tricks the readers, but he surprises them, and displays his heroes with a sort of warm coldness which plays with our curiosity and lets us freely imagine what's left unsaid." —Goffredo Fofi, Internazionale (Italy)
or
Not Currently Available for Direct Purchase