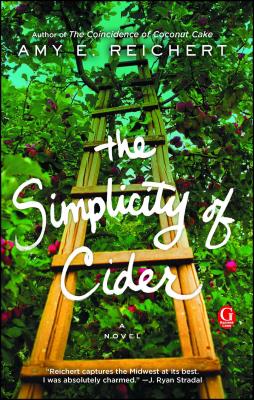 The Simplicity of Cider
A Novel
Paperback

* Individual store prices may vary.
Description
Fall in love with The Simplicity of Cider, the charming new novel about a prickly but gifted cider-maker whose quiet life is interrupted by the arrival of a handsome man and his young son at her family's careworn orchard by the author of The Coincidence of Coconut Cake and Luck, Love & Lemon Pie.

Focused and unassuming fifth generation cider-maker Sanna Lund has one desire: to live a simple, quiet life on her family's apple orchard in Door County, Wisconsin. Although her business is struggling, Sanna remains fiercely devoted to the orchard, despite her brother's attempts to convince their aging father to sell the land.

Single dad Isaac Banks has spent years trying to shield his son Sebastian from his troubled mother. Fleeing heartbreak at home, Isaac packed up their lives and the two headed out on an adventure, driving across the country. Chance—or fate—led them straight to Sanna's orchard.

Isaac's helping hands are much appreciated at the apple farm, even more when Sanna's father is injured in an accident. As Sanna's formerly simple life becomes increasingly complicated, she finds solace in unexpected places—friendship with young Sebastian and something more deliciously complex with Isaac—until an outside threat infiltrates the farm.

From the warm and funny Amy E. Reichert, The Simplicity of Cider is a charming love story with a touch of magic, perfect for fans of Sarah Addison Allen and Gayle Forman.
Praise For The Simplicity of Cider: A Novel…
Praise for THE SIMPLICITY OF CIDER

"Reichert captures the food, relationships, and unique settings of the Midwest at their best. I was absolutely charmed by The Simplicity of Cider."
— J. Ryan Stradal, New York Times bestselling author of Kitchens of the Great Midwest

"Reichert has once again delivered a sure fire hit with The Simplicity of Cider. It's charming, heartwarming and magical."
— Nina Bocci, USA Today bestselling author of Roman Crazy

"The Simplicity of Cider will quench your thirst for a smart, poignant tale of people who find their true selves, and in the process each other, in the most unexpected places. A sparkling tale of creating family where you need it, and learning to let go of the things that hold you back from your best life."
— Stacey Ballis, author of Wedding Girl and Recipe for Disaster

"The Simplicity of Cider is the perfect blend of sweet, smart and immensely satisfying. If foodie fiction is a thing, Amy Reichert is the grand master."
— Colleen Oakley, author of Close Enough to Touch

"Deep family secrets and undeniable attraction collide in this wonderfully atmospheric and heartwarming tale of a father trying to save his son, a woman trying to save her family's land, and the way that the two of them might just save each other if they can stop the past from destroying their future. As deliciously satisfying as a crisp glass of the cider Amy E. Reichert so masterfully describes."
— Kristin Harmel, international bestselling author of The Sweetness of Forgetting, The Life Intended, and When We Meet Again

"With a dreamy setting and lovable characters, The Simplicity of Cider is so good you can practically taste it. Read it in the shade of an apple tree, near a perfectly dry bottle of cider, or wherever--just read it!"
— Kelly Harms, author of The Good Luck Girls of Shipwreck Lane

"Reichert's writing is like the song in your heart, at once lilting and joyous yet aching and real. The Simplicity of Cider is a comforting and layered read with a cast of well-developed characters who feel both unique and authentic, and a setting that will have you yearning for a trip to Door County and a mug of cider."
— Sonali Dev, author of A Change of Heart

"The Simplicity of Cider is a novel as delicious as cider and as enchanting as magic--both of which are found in measured doses throughout the book. Amy Reichert has a way of writing about complicated relationships and seemingly impossible situations with a strong thread of hope that is both uplifting and substantive. This is a lovely book, meant to be savored."
— Karen White, New York Times bestselling author of The Guests on South Battery

"Brimming with hilarity, magic, and heartwarming unexpected relationships, The Simplicity of Cider is the ultimate ode to celebrating the dazzling splendor in small things. This will give you more fuzzy feelings than you can count."
— Redbook

"A lot charming and a little bit magical, Reichert's latest is warm and poignant and romantic… between the humor and the heart lies a subplot of family and setting yourself free — framed beautifully by a story that won't let go."
— RT Book Reviews (4 star review)

"Have you discovered Amy E. Reichert yet? This month she released her third book, The Simplicity of Cider, and I'm happy to say it is another terrific read. I loved how Reichert solved some of the major conflicts with ingenuity and heart. I loved how the characters made some crazy mistakes, but that they owned them and didn't expect the people around them to readily forgive them, but when the time came for forgiveness, it was available and earned. I loved the amazing apple tree that was the heart and soul of the orchard. I loved the book's hint of magic and the slight softening of the characters' attitudes as they began to look for solutions and help from each other. And, of course, the book has a strong food theme, which Reichert is celebrated for. If you haven't read Amy Reichert yet, I highly recommend you check her out."
— Bobbi Dumas, Kirkus Reviews

"I enjoyed all the quaint details about the food and Midwest settings… And the romance between Sanna and Isaac was the perfect mix of spicy and sweet!"
— Melissa D'Agnese, First for Women Magazine

Praise for LUCK, LOVE & LEMON PIE

"As irresistible and delicious as an actual slice of lemon pie, Luck, Love & Lemon Pie has all of the sweet ingredients that make a book impossible to put down. From the fallible yet lovable characters to the smart writing and layered plot, we tore through the pages of this thought provoking story. Amy E. Reichert has a flair for writing heartwarming fiction that will give you sweet cravings!"
— Liz Fenton and Lisa Steinke, authors of THE YEAR WE TURNED FORTY and THE STATUS OF ALL THINGS

"Luck, Love & Lemon Pie is touching, clever, and a hell of a lot of fun. Amy E. Reichert somehow manages to not only tell a stirring story about modern marriage, but also transport you poolside in Vegas. Simply put, Luck, Love & Lemon Pie is a great bet."
— Taylor Jenkins Reid, author of MAYBE IN ANOTHER LIFE and AFTER I DO

"Luck, Love & Lemon Pie delves into the complexities of marriage and what we're willing to do for the ones we love. With relatable characters and a lot of heart, Reichert delivers a story that is both entertaining and wise, and leaves you believing that, when it comes to true happiness, you can create your own luck."
— Karma Brown, bestselling author of COME AWAY WITH ME

"Amy E. Reichert serves up another delicious serving of fresh wit and lots of fun in this charming tale of a woman determined to fix her marriage gone stale. This heartfelt novel is as funny as it is tender—in other words, the perfect summer read."
— Colleen Oakley, author of BEFORE I GO

"An enjoyable and thought-provoking exploration of a modern-day marriage in midlife crisis."
— Kirkus Reviews

"Reichert's second novel, after the popular The Coincidence of Coconut Cake (2015), will appeal to readers who enjoy a lighter look at self-discovery, family, and friendship."
— Booklist

"Laugh-out-loud, hold-on-to-your-panties women's fiction. The characters are game for anything when it comes to getting back what they think they have lost. Reichert is a talented author."
— RT Book Reviews, four-star review

Praise for THE COINCIDENCE OF COCONUT CAKE

"Deliciously entertaining! Amy E. Reichert's voice is warm and funny in this delightful ode to second chances and the healing power of a meal cooked with love."
— Meg Donohue, USA Today bestselling author of ALL THE SUMMER GIRLS and HOW TO EAT A CUPCAKE

"Amy E. Reichert writes like your best friend and reading her words is like having that friend whisper them into your ear. The Coincidence of the Coconut Cake is a delicious story of food, love, and a wink at what people will do to have their cake and eat it, too."
— Ann Garvin, author of THE DOG YEAR and MAGGIE'S WATCH

"Amy E. Reichert whips up the perfect recipe for a deliciously fun read. Combine humor and romance with a dash of drama, then let it simmer. The sprinkle of Wisconsin pride is icing on an already irresistable cake. Warning: do not read this book hungry!"
— Elizabeth Eulberg, author of THE LONELY HEARTS CLUB and BETTER OFF FRIENDS

"What a wonderful treat! Delicious descriptions of food and love and Milwaukee (I know! Who knew?). A sweet, endearing read."
— Megan Mulry, USA Today Bestselling Author of A ROYAL PAIN

"The Coincidence of Coconut Cake is a smart and delicious debut—a read as satisfying as the last bite of dessert after a lovingly-prepared meal. The novel is as much a celebration of the midwest and regional food as it is a love story between chef Lou and food critic Al. I adored Lou and her quirky makeshift family of restaurant customers and co-workers. Their missteps and milestones kept me racing through the chapters, craving another course."
— Susan Gloss, author of the novel VINTAGE

"Amy Reichert brings sweetness and substance to her delicious debut. Sign me up for second helpings!"
— Lisa Patton, bestselling author of WHISTLIN' DIXIE IN A NOR'EASTER

"Amy E. Reichert takes the cake with this charming tale of food, friendship, and fate."
— Beth Harbison, New York Times bestselling author of IF I COULD TURN BACK TIME

"…Reichert's quirky and endearing debut skillfully and slyly examines identity and community while its characters find love in surprising places. Clever, creative, and sweetly delicious."
— Kirkus Reviews

"A delectable novel."
— Bookreporter

"Highly recommended that you eat before reading this book…a light, fun read that feels a bit like eating dessert for dinner."
— RT Book Reviews

"Well-developed secondary characters and detailed descriptions of the Milwaukee food scene will leave readers hungry for more. Fans of Stacey Ballis and Erica Bauermeister will find lots to love."
— Booklist
Gallery Books, 9781501154928, 336pp.
Publication Date: May 16, 2017
About the Author
Amy E. Reichert, author of The Coincidence of Coconut Cake, Luck, Love & Lemon Pie, The Simplicity of Cider, and The Optimist's Guide to Letting Go, loves to write stories that end well with characters you'd invite to dinner. A wife, mom, amateur chef, Fix-It Mistress, and cider enthusiast, she earned her MA in English Literature and serves on her local library's board of directors.