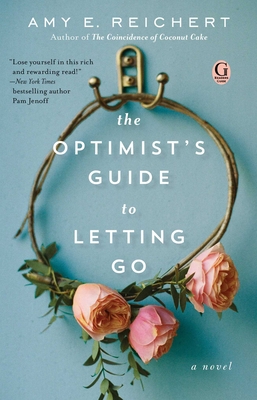 The Optimist's Guide to Letting Go
Paperback

* Individual store prices may vary.
Other Editions of This Title:
Digital Audiobook (5/14/2018)
MP3 CD (5/15/2018)
Compact Disc (5/15/2018)
Compact Disc (5/15/2018)
Library Binding, Large Print (7/18/2018)
Description
Three generations. Seven days. One big secret. The author of The Coincidence of Coconut Cake unfolds a mother-daughter story told by three women whose time to reckon with a life-altering secret is running out.

Gina Zoberski wants to make it through one day without her fastidious mother, Lorraine, cataloguing all her faults, and her sullen teenage daughter, May, snubbing her. Too bad there's no chance of that. Her relentlessly sunny disposition annoys them both, no matter how hard she tries. Instead, Gina finds order and comfort in obsessive list-making and her work at Grilled G's, the gourmet grilled cheese food truck built by her late husband.

But when Lorraine suffers a sudden stroke, Gina stumbles upon a family secret Lorraine's kept hidden for forty years. In the face of her mother's failing health and her daughter's rebellion, this optimist might find that piecing together the truth is the push she needs to let go...
Praise For The Optimist's Guide to Letting Go…
Praise for THE OPTIMIST'S GUIDE TO LETTING GO

"The Optimist's Guide to Letting Go is poignant, tender, and simply wonderful. Amy Reichert has outdone herself. With characters that are as complicated as they are original and a voice that is warmhearted and wise, you will hug this book when you're done."
— Taylor Jenkins Reid, bestselling author of One True Loves

"Delightful and heartfelt, The Optimist's Guide to Letting Go is Reichert's best book yet!"
— Karma Brown, bestselling author of IN THIS MOMENT

"Written with Reichert's hallmark humor and heart, The Optimist's Guide to Letting Go is a poignant, multi-generational tale of family ties and hidden pasts, of forgiveness, second chances, and the truths that set us free. Lose yourself in this rich and rewarding read!"
— Pam Jenoff, New York Times bestselling author of THE ORPHAN'S TALE

"Written with a keen and tender awareness of the devotion between women across generations, The Optimist's Guide to Letting Go is a beautiful read. The characters are wonderfully imperfect, and their relationships are recognizably flawed, making their journey around and around—and finally back to—each other immeasurably satisfying. Bravo!"


— Christina Lauren, New York Times bestselling author of Love and Other Words

"Three generations of women cope with a grandmother's stroke and a big family secret. Readers will relate to the family's struggles and develop an appetite for grilled cheese, as well. A delicious read full of family and food."
— Kirkus Reviews

"A delightful treat—Amy's writing gets under the skin of family: how they drive you crazy, but you love them just the same. An absolute joy I am sure readers will take to their hearts."
— Veronica Henry, author of The Forever House

"With even pacing, the novel seamlessly moves between the present and the past as Lorraine, Gina, and May remember those they have lost, revealing secrets along the way. Readers will embrace the realistic characters, whose moments of anger, regret, guilt, and understanding delicately illustrate the process of letting go."
— Booklist

"Bringing light to the subtle ways in which our lives intertwine, while giving hope for healing in the most unexpected places, The Optimist's Guide to Letting Go pushes us to see relationships on a deeper level. With charmingly developed characters who are thoughtfuly crafted, this story will cling to readers through the final pages."
— RT Book Reviews

"Reichert (The Coincidence of Coconut Cake) has created wonderful true-to-life characters in a novel of secrets and regrets, loss and hope."
— Library Journal

Praise for THE SIMPLICITY OF CIDER

"Reichert captures the food, relationships, and unique settings of the Midwest at their best. I was absolutely charmed by The Simplicity of Cider."
— J. Ryan Stradal, New York Times bestselling author of Kitchens of the Great Midwest

"The Simplicity of Cider will quench your thirst for a smart, poignant tale of people who find their true selves, and in the process each other, in the most unexpected places. A sparkling tale of creating family where you need it, and learning to let go of the things that hold you back from your best life."
— Stacey Ballis, author of Wedding Girl and Recipe for Disaster

"The Simplicity of Cider is a novel as delicious as cider and as enchanting as magic--both of which are found in measured doses throughout the book. Amy Reichert has a way of writing about complicated relationships and seemingly impossible situations with a strong thread of hope that is both uplifting and substantive. This is a lovely book, meant to be savored."
— Karen White, New York Times bestselling author of The Guests on South Battery

"Brimming with hilarity, magic, and heartwarming unexpected relationships, The Simplicity of Cider is the ultimate ode to celebrating the dazzling splendor in small things. This will give you more fuzzy feelings than you can count."
— Redbook

"A lot charming and a little bit magical, Reichert's latest is warm and poignant and romantic… between the humor and the heart lies a subplot of family and setting yourself free — framed beautifully by a story that won't let go."
— RT Book Reviews (4 star review)

Praise for LUCK, LOVE & LEMON PIE

"As irresistible and delicious as an actual slice of lemon pie, Luck, Love & Lemon Pie has all of the sweet ingredients that make a book impossible to put down. From the fallible yet lovable characters to the smart writing and layered plot, we tore through the pages of this thought provoking story. Amy E. Reichert has a flair for writing heartwarming fiction that will give you sweet cravings!"
— Liz Fenton and Lisa Steinke, authors of THE YEAR WE TURNED FORTY and THE STATUS OF ALL THINGS

"Luck, Love & Lemon Pie is touching, clever, and a hell of a lot of fun. Amy E. Reichert somehow manages to not only tell a stirring story about modern marriage, but also transport you poolside in Vegas. Simply put, Luck, Love & Lemon Pie is a great bet."
— Taylor Jenkins Reid, author of MAYBE IN ANOTHER LIFE and AFTER I DO

"Amy E. Reichert serves up another delicious serving of fresh wit and lots of fun in this charming tale of a woman determined to fix her marriage gone stale. This heartfelt novel is as funny as it is tender—in other words, the perfect summer read."
— Colleen Oakley, author of BEFORE I GO

"Laugh-out-loud, hold-on-to-your-panties women's fiction. The characters are game for anything when it comes to getting back what they think they have lost. Reichert is a talented author."
— RT Book Reviews, four-star review

Praise for THE COINCIDENCE OF COCONUT CAKE

"Deliciously entertaining! Amy E. Reichert's voice is warm and funny in this delightful ode to second chances and the healing power of a meal cooked with love."
— Meg Donohue, USA Today bestselling author of ALL THE SUMMER GIRLS and HOW TO EAT A CUPCAKE

"Amy E. Reichert whips up the perfect recipe for a deliciously fun read. Combine humor and romance with a dash of drama, then let it simmer. The sprinkle of Wisconsin pride is icing on an already irresistable cake. Warning: do not read this book hungry!"
— Elizabeth Eulberg, author of THE LONELY HEARTS CLUB and BETTER OFF FRIENDS

"Amy Reichert brings sweetness and substance to her delicious debut. Sign me up for second helpings!"
— Lisa Patton, bestselling author of WHISTLIN' DIXIE IN A NOR'EASTER

"…Reichert's quirky and endearing debut skillfully and slyly examines identity and community while its characters find love in surprising places. Clever, creative, and sweetly delicious."
— Kirkus Reviews

"Well-developed secondary characters and detailed descriptions of the Milwaukee food scene will leave readers hungry for more. Fans of Stacey Ballis and Erica Bauermeister will find lots to love."
— Booklist
Gallery Books, 9781501154942, 352pp.
Publication Date: May 15, 2018
About the Author
Amy E. Reichert, author of The Coincidence of Coconut Cake, Luck, Love & Lemon Pie, The Simplicity of Cider, and The Optimist's Guide to Letting Go, loves to write stories that end well with characters you'd invite to dinner. A wife, mom, amateur chef, Fix-It Mistress, and cider enthusiast, she earned her MA in English Literature and serves on her local library's board of directors.