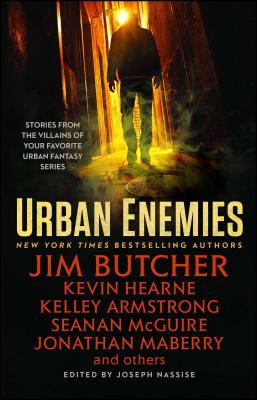 Urban Enemies
Paperback

* Individual store prices may vary.
Other Editions of This Title:
Digital Audiobook (7/31/2017)
Description
Villains have all the fun—everyone knows that—and this anthology takes you on a wild ride through the dark side! The top villains from seventeen urban fantasy series get their own stories—including the baddies of New York Times bestselling authors Jim Butcher, Kevin Hearne, Kelley Armstrong, Seanan McGuire, and Jonathan Maberry.

For every hero trying to save the world, there's a villain trying to tear it all down.

In this can't-miss anthology edited by Joseph Nassise (The Templar Chronicles), you get to plot world domination with the best of the evildoers we love to hate! This outstanding collection brings you stories told from the villains' point of view, imparting a fresh and unique take on the evil masterminds, wicked witches, and infernal personalities that skulk in the pages of today's most popular series.

The full anthology features stories by Jim Butcher (the Dresden Files), Kelley Armstrong (Cainsville), Seanan McGuire (October Daye), Kevin Hearne (The Iron Druid Chronicles), Jonathan Maberry (Joe Ledger), Lilith Saintcrow (Jill Kismet), Carrie Vaughn (Kitty Norville), Joseph Nassise (Templar Chronicles), Domino Finn (Black Magic Outlaw), Steven Savile (Glasstown), Caitlin Kittredge (Hellhound Chronicles), Jeffrey Somers (The Ustari Cycle), Sam Witt (Pitchfork County), Craig Schaefer (Daniel Faust), Jon F. Merz (Lawson Vampire), Faith Hunter (Jane Yellowrock), and Diana Pharaoh Francis (Horngate Witches).
Praise For Urban Enemies…
"Balanced and entertaining . . . Fans of urban fantasy can read stories from some of their best-known names in the genre and discover new writers in this well-arranged anthology, which focuses on villains. In Jim Butcher's "Even Hand," the human crime lord who has been a thorn in wizard Harry Dresden's side gets his due in an amusing story that pokes some fun at the long-running Dresden Files series. Other highlights include "Hounded" by Kelly Armstrong; Carrie Vaughn's "Bellum Romanum," featuring an immortal Roman centurion who wants to see the world burn; and the deliciously wicked "Balance" by Seanan McGuire, set in her InCryptid world."
— Publishers Weekly

"Helmed by editor Joseph Nassise, these tales plunge readers into the world of each series featured—from Jeff Somers' Utsari Cycle to Kevin Hearne's Iron Druid Chronicles to Carrie Vaughn's Kitty Norville series—these stories are sure to appeal to fans and series newcomers alike!"
— RT book reviews

"Butcher is the dean of contemporary urban fantasy."
— Booklist on Jim Butcher

"Storytelling doesn't get much better than this, folks. The author has caught lightning (pun intended) in a bottle and he keeps doing it again and again. If you haven't caught on to the joy that is the Iron Druid Chronicles, you should remedy that post-haste."
— My Bookish Ways on Kevin Hearne's Hunted of the Iron Druid Chronicles

"A wondrously gothic hybrid horror-thriller in the grand tradition of Dean Koontz and Stephen King."
— Providence Journal on Kelley Armstrong's Cainsville series

"Heartbreaking . . . Somers conjures a riveting setting that bends and breaks time and again, each iteration raising the stakes for his accidental hero. By turns frightening and sorrowful, this is a story that offers no good choices to its characters. The ever-present violence is balanced by compassion, which in turn is eroded by the grim fight to save humankind."
— Publishers Weekly on Jeff Somers' Ustari Cycle

"The only thing more fun than an October Daye book is an InCryptid book. Swift narrative, charm, great world-building . . all the McGuire trademarks."
— Charlaine Harris, #1 New York Times–bestselling author of Sookie Stackhouse series on Seanan McGuire's InCryptid series

"Top grade horror fiction."
— Booklist, Starred Review on Jonathan Maberry's Joe Ledger series
Gallery Books, 9781501155086, 448pp.
Publication Date: August 1, 2017
About the Author
#1 New York Times bestselling author Jim Butcher turned to writing as a career because anything else probably would have driven him insane. He lives mostly inside his own head so that he can write down the conversation of his imaginary friends, but his head can generally be found in Independence, Missouri.

Kevin Hearne is the New York Times bestselling author of the Iron Druid Chronicles. He's a middle-aged nerd who still enjoys his comic books and old-school heavy metal. Visit him online at KevinHearne.com.

Seanan McGuire is the author of Every Heart a Doorway, the October Daye urban fantasy series, the InCryptid series, and several other works, both standalone and in trilogies. She also writes darker fiction as Mira Grant. She was the winner of the 2010 John W. Campbell Award for Best New Writer, and in 2013 she became the first person ever to appear five times on the same Hugo ballot.

Kelley Armstrong is the #1 New York Times bestselling author of the Otherworld series, as well as the New York Times bestselling young adult trilogy Darkest Powers, the Darkness Rising trilogy, and the Nadia Stafford series. She lives in rural Ontario, Canada with her husband and three children.

Jonathan Maberry is a New York Times bestselling author, five-time Bram Stoker Award winner, and comic book writer. He writes in multiple genres including suspense, thriller, horror, science fiction, fantasy, and adventure; and he writes for adults, teens, and middle grade. His works include the Joe Ledger thrillers, Glimpse, the Rot & Ruin series, the Dead of Night series, The Wolfman, The X-Files Origins: Devil's Advocate, Mars One, and many others. Several of his works are in development for film and TV, including V Wars, which is a Netflix original series. He is the editor of high-profile anthologies including the X-Files books, Aliens: Bug Hunt, Out of Tune, Hardboiled Horror, Baker Street Irregulars, Nights of the Living Dead, and others. He lives in Del Mar, California. Visit him at JonathanMaberry.com and on Twitter (@JonathanMaberry) and Facebook.

Jeff Somers was born in Jersey City, New Jersey. After graduating college he wandered aimlessly for a while, but the peculiar siren call of New Jersey brought him back to his homeland. Visit him at JeffreySomers.com and WeAreNotGoodPeople.com, and on Twitter at @JeffreySomers.

Joseph Nassise is the New York Times and USA TODAY bestselling author of more than thirty novels, including the internationally bestselling Templar Chronicles series, the Jeremiah Hunt trilogy, and the Great Undead War series. He also writes epic fantasy under the pseudonym Matthew Caine. He's a multiple Bram Stoker Award and International Horror Guild Award nominee and his work has been translated into seven languages.