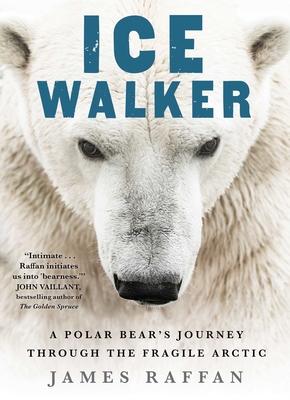 Ice Walker
A Polar Bear's Journey through the Fragile Arctic
Hardcover

* Individual store prices may vary.
Other Editions of This Title:
Digital Audiobook (6/21/2021)
Description
From bestselling author James Raffan comes an enlightening and original story about a polar bear's precarious existence in the changing Arctic, reminiscent of John Vaillant's The Golden Spruce.

Nanurjuk, "the bear-spirited one," is hunting for seals on Hudson Bay, where ice never lasts more than one season. For her and her young, everything is in flux.

From the top of the world, Hudson Bay looks like an enormous paw print on the torso of the continent, and through a vast network of lakes and rivers, this bay connects to oceans across the globe. Here, at the heart of everything, walks Nanurjuk, or Nanu, one polar bear among the six thousand that traverse the 1.23 million square kilometers of ice and snow covering the bay.

For millennia, Nanu's ancestors have roamed this great expanse, living, evolving, and surviving alongside human beings in one of the most challenging and unforgiving habitats on earth. But that world is changing. In the Arctic's lands and waters, oil has been extracted—and spilled. As global temperatures have risen, the sea ice that Nanu and her young need to hunt seal and fish has melted, forcing them to wait on land where the delicate balance between them and their two-legged neighbors has now shifted.

This is the icescape that author and geographer James Raffan invites us to inhabit in Ice Walker. In precise and provocative prose, he brings readers inside Nanu's world as she treks uncertainly around the heart of Hudson Bay, searching for nourishment for the children that grow inside her. She stops at nothing to protect her cubs from the dangers she can see—other bears, wolves, whales, human beings—and those she cannot.

By focusing his lens on this bear family, Raffan closes the gap between humans and bears, showing us how, like the water of the Hudson Bay, our existence—and our future—is tied to Nanu's. He asks us to consider what might be done about this fragile world before it is gone for good. Masterful, vivid, and haunting, Ice Walker is an utterly unique piece of creative nonfiction and a deeply affecting call to action.
Praise For Ice Walker: A Polar Bear's Journey through the Fragile Arctic…
A Globe and Mail Top 100 Book of 2020
A 49th Shelf Most Anticipated Book

"I have never felt as intimate with another animal as I have with Raffan's polar bear, Nanu. Raffan evokes her world—on land and ice, hunting, hibernating, giving birth, and raising cubs—with a sensory vocabulary that combines science and poetry to powerful effect. In so doing, Raffan initiates us into 'bearness,' putting us, not just inside Nanu's den but, almost literally, under her skin, where we become deeply invested in her life and fate, which is unavoidably linked to our own."
— JOHN VAILLANT, bestselling author of The Golden Spruce and The Tiger

"An evocative and sensory trip through the Arctic, Ice Walker captures the beauty, the danger, and the expanse of the northern icescape while calling us to action to save the polar bear, the world it inhabits, and all they represent. This is a timely book about the power of a mother's love that transcends species. Nanu's story will live in my imagination for a long time."
— PAUL NICKLEN, award-winning National Geographic photographer and author of Born to Ice

"Raffan plunges readers into Hudson Bay and the world of Nanu, a female polar bear, spinning a stunning tale around this massive creature and the world she inhabits. The ice is as much a character in the story as the bears, and Raffan extols the wonders of this land, and what its loss will mean for Canadians and the world."
— The Globe and Mail

"Just as a polar bear slips between worlds, from solid ground to sea ice and back again, James Raffan moves effortlessly between the tangible and the imaginative in this strikingly evocative, scientifically rigorous exploration of 'bearness.' In journeying vicariously with a female polar bear through a world of flux, we see that no one and nothing exists in isolation, especially in the far north. Failing to recognize this reality more broadly will only accelerate our undoing. Ice Walker, then, is an act of defiance and hope. This is nature writing at its most intimate, compassionate, and exhilarating pitch."
— KATE HARRIS, award-winning and bestselling author of Land of Lost Borders

"Raffan educates and fascinates readers, lending an intimacy as we journey along with [the bear]. . . . Raffan describes scenes in a beautiful, captivating, and, at times, heartbreaking fashion, pondering how human life affects the bears and, by extension, all of existence. . . . Fans of John Vaillant's The Golden Spruce will be equally enthralled by this."
— Booklist (Starred)

"Raffan brings the ecological marvels of the polar bear's world into the hearts and minds of the reader—framed by the realities of the harshest inhabited environment on planet earth."
— DR. PETER EWINS, lead specialist, species conservation, World Wildlife Fund Canada

"Raffan takes a unique approach to engaging our empathy—and, by extension, our concern—by telling the story from the perspective of a polar bear called Nanu. A compelling mix of science and narrative."
— Toronto Star

"From bestselling author James Raffan comes Ice Walker, an enlightening and original story about a polar bear's precarious existence in the changing Arctic."
— 49th Shelf

"A welcome, if saddening, look at a disappearing world and a keystone species that may disappear with it."
— Kirkus Reviews (Starred)

"For most of my life, I have read stories of animals, stories that possibly made me who I am. My heroes have been the likes of Ernest Thompson Seton, who was able to get inside the skin of other creatures without anthropomorphizing. James Raffan's Ice Walker is a worthy member of that tradition. As he captures the smells, sounds and feel of the Arctic, we become engaged and travel with Nanu and share her world. We care about her, her cubs, and her environment and end up wanting to protect those all the more. This book is important reading!"
— ROBERT BATEMAN, Canadian naturalist and bestselling author of Life Sketches and Robert Bateman's Canada

"In Ice Walker, explorer and adventurer James Raffan asks readers to look at the Arctic through unexpected eyes."
— CBC Books
Simon & Schuster, 9781501155369, 192pp.
Publication Date: October 13, 2020
About the Author
James Raffan is a prolific writer, speaker, and geographer, and the author of numerous books, including the bestselling Circling the Midnight Sun; Emperor of the North; Bark, Skin and Cedar; and Fire in the Bones. He has written for a variety of media outlets, including National Geographic, Canadian Geographic, Up Here, Explore and The Globe and Mail, and produced radio and television documentaries for CBC Radio and the Discovery Channel. His work has taken him all over the world. He is an international fellow of the Explorers Club, a past chair of the Arctic Institute of North America, and a fellow and past governor of the Royal Canadian Geographical Society, service for which he was awarded many medals, including the Queen's Diamond Jubilee Medal. From 2010 to 2013, he traveled through the Arctic Circle, spending time in Iceland, Norway, Sweden, Finland, Russia, Alaska, Canada, and Greenland, as he researched and wrote on culture and climate change in the North. He lives in Seeley's Bay, Ontario. Visit him at JamesRaffan.ca or follow him on Twitter @raffjam.
or
Not Currently Available for Direct Purchase