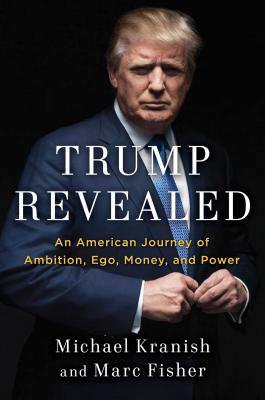 Trump Revealed
An American Journey of Ambition, Ego, Money, and Power
Hardcover

* Individual store prices may vary.
Other Editions of This Title:
Digital Audiobook (8/22/2016)
Paperback (1/10/2017)
Description
A New York Times Bestseller
A Philadelphia Inquirer Best Book of the Year
A Los Angeles Times Most Important Book of the Year

Authoritative, timely, and provocative, this deeply researched biography of Donald Trump provides a complex portrait of the man who—despite broad skepticism—could be the next president of the United States.

Who is Donald J. Trump? Despite decades of scrutiny, many aspects of his life are not well known. To discover Trump in full, The Washington Post assembled a team of award-winning reporters and researchers to delve into every aspect of Trump's improbable life, from his privileged upbringing in Queens to his astonishing 2016 rise to seize the Republican candidacy for president. Coauthored by Washington Post investigative political reporter Michael Kranish and senior editor Marc Fisher, this comprehensive book documents Trump's fascinating family roots, his aggressive efforts to make a name for himself in New York social circles, and his penchant for big bets—on real estate, branded businesses, and, ultimately, on himself. The authors, seasoned journalists who interviewed Trump for this book, scrutinize everything from his youthful alliance with the power broker Roy Cohn to his alleged dealings with organized crime and his controversial projects in New York City, Atlantic City, Florida, Scotland, and Azerbaijan. The authors examine Trump's wealth, the evolution of his political beliefs, and his peculiar identity as a billionaire businessman, celebrity, global brand, television star, and now candidate for the most powerful office in the world. Few individuals have ever roamed so widely through such diverse realms as real estate, sports, entertainment, and national politics. How has Trump's life informed his bold statements on the economy, immigration, race, global trade, terrorism, and women? Drawn from in-depth reporting by The Washington Post, Trump Revealed is essential reading as the 2016 American presidential election looms.
Praise For Trump Revealed: An American Journey of Ambition, Ego, Money, and Power…
"Any voter who is not already devoted to Trump's cause will find plenty of reason to think long and hard about whether to support him after reading this book. ...Talented writers Michael Kranish and Marc Fisher have taken the work of dozens of Post journalists and woven it into a compelling narrative. ...The best of investigative reporting is brought to bear on a man who could potentially lead the free world. They paint a sobering portrait that merits inspection. Voters can't say they weren't warned."
—USA Today

"The most definitive book about Trump to date."
—Booklist

"The many revealing scenes cohere into a fascinating portrait. ...Trump the outrageous poseur becomes sadder and more real in this fine book."
—Evan Thomas, The Washington Post

"[L]ikely the most complete and nuanced life of Trump thus far."
—Boston Globe

"Those willing and brave enough to dare these pages will find the authors' approach evenhanded, perhaps even overly so, in preference to allowing Trump plenty of rope—and suffice it to say that Trump unrolls miles of it."
—Kirkus Reviews

"Useful, vigorously reported...deftly charts [Trump's] single-minded building of his gaudy brand and his often masterful manipulation of the media."
—The New York Times

"As we look ahead to a Trump administration that appears particularly disinclined toward transparency, this book is all the more valuable in understanding how Trump, our president-elect, has behaved in the past as a manager, businessman and private person."
—Los Angeles Times
Scribner, 9781501155772, 448pp.
Publication Date: August 23, 2016
About the Author
Michael Kranish is an investigative political reporter for The Washington Post. He is the coauthor of the New York Times bestseller Trump Revealed, John F. Kerry, The Real Romney, and the author of The World's Fastest Man and Flight from Monticello: Thomas Jefferson at War. He was the recipient of the Society of Professional Journalists Award for Washington Correspondence in 2016. Visit MichaelKranish.com.

Marc Fisher is a senior editor at The Washington Post, where he has been the enterprise editor, local columnist, and Berlin bureau chief, among other positions over thirty years at the paper. He is the author of Something in the Air, a history of radio, and After the Wall, an account of the fall of the Berlin Wall and the reunification of Germany. Fisher wrote several of the Washington Post articles that won the Pulitzer Prize for National Reporting in 2016 and the Pulitzer Prize for Public Service in 2014. Visit MarcFisher.com.
Coverage from NPR
or
Not Currently Available for Direct Purchase