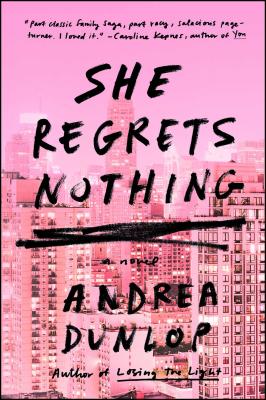 She Regrets Nothing
A Novel
Paperback

* Individual store prices may vary.
Other Editions of This Title:
Digital Audiobook (2/5/2018)
MP3 CD (2/6/2018)
Compact Disc (2/6/2018)
Description
Named a "Must-Read" by Town & Country * Elite Daily * InStyle

"The love child of Gossip Girl and Crazy Rich Asians, plus the social climbing of a Gatsby party." —Refinery29

In the tradition of The Emperor's Children and The House of Mirth, the forgotten granddaughter of one of New York's wealthiest men is reunited with her family just as she comes of age—and once she's had a glimpse of their glittering world, she refuses to let it go without a fight.

When Laila Lawrence becomes an orphan at twenty-three, the sudden loss unexpectedly introduces her to three glamorous cousins from New York who show up unannounced at her mother's funeral. The three siblings are scions of the wealthy family from which Laila's father had been estranged long before his own untimely demise ten years before.

Two years later, Laila has left behind her quiet life in Grosse Point, Michigan to move to New York City, landing her smack in the middle of her cousins' decadent world. As the truth about why Laila's parents became estranged from the family patriarch becomes clear, Laila grows ever more resolved to claim what's rightfully hers. Caught between longing for the love of her family and her relentless pursuit of the lifestyle she feels she was unfairly denied, Laila finds herself reawakening a long dead family scandal—not to mention setting off several new ones—as she becomes further enmeshed in the lives and love affairs of her cousins. But will Laila ever, truly, belong in their world? Sly and sexy, She Regrets Nothing is a sharply observed and utterly seductive tale about family, fortune, and fate—and the dark side of wealth.
Praise For She Regrets Nothing: A Novel…
Praise for She Regrets Nothing:

"A sharp, glittering story of wealth, family, and fate and one's woman search to find her place in it all."
— Buzzfeed

"She Regrets Nothing is the love child of Gossip Girl and Crazy Rich Asians, plus the social climbing of a Gatsby party."
— Refinery29

"This deliciously entertaining novel is a spellbinding story about the dark side of wealth."
— Bustle

"A seductive tale about family, fortune, and the forgotten granddaughter of one of New York's wealthiest men."
— Redbook

"An addicting story about family, greed, blackmail, New York, you name it. Oh, and the drama. There's plenty of drama."
— HelloGiggles

"Readers who follow New York trends will enjoy the stories of fashion, clubs, and restaurants Dunlop builds to a gripping climax while delving into questions of family, loyalty, lust, wealth, power, and betrayal."
— Library Journal

"Like a Gossip Girl for grownups, Dunlop's latest looks at Manhattan society from the outsider's perspective and is replete with fashion, sex, and glitzy locations…Laila is a compellingly conniving character."
— Booklist

"She Regrets Nothing made me feel like I'm back in high school, staying up late to finish that special book, the one that's part enriching classic family saga novel assigned by the teacher, part salacious, nasty page-turner about impossible rich kids. Andrea Dunlop infuses this story with insight into family dynamics, which makes She Regrets Nothing especially rich and multifaceted, engrossing. Fans of Becky Sharp and Brenda Walsh, this is your lucky day."
— Caroline Kepnes, author of Hidden Bodies

"Laila Laurence and her family are people I am thrilled not to know personally and was equally thrilled to spend a few hours following around New York City in all the best clothes and shoes to all the best clubs and parties. She Regrets Nothing is addictive, dark, and twisty and, like its characters, delightfully conniving."
— Laurie Frankel, author of This is How it Always Is

"Get ready to drop everything and lose yourself in how the other half lives. Andrea Dunlop's deliciously addictive new novel has it all: old money, big secrets, a privileged family, and a ruthless social climber trying desperately to shed her arriviste status and become one of them. A spot on social critique with perfectly executed plot twists, She Regrets Nothing is modern day Edith Wharton meets Gossip Girl. Blair Waldorf would certainly approve."
— Karin Tanabe, author of The Gilded Years

"Andrea Dunlop has done it again! As she did so well in Losing the Light, Dunlop has created unforgettable characters and a setting so richly drawn, the reader is immersed in the drama until the last engaging page. She Regrets Nothing is an entertaining, compelling story of family, class, and the yearning to belong."
— Amy Poeppel, author of Small Admissions

Praise for Losing the Light:

One of Redbook's Best Books of 2016

"Who doesn't fantasize about a sexy and passionate romance with a hot foreigner?"
— PopSugar

"A complicated friendship, a disastrous affair with a professor, and intoxicating relationships factor in making this an unforgettable trip."
— Buzzfeed

"A haunting story of betrayal within a beautiful portrait of youth."
— Kirkus Reviews

"Dunlop's smart and suspenseful debut follows the lead of Katie Crouch's Abroad (2014) and Jennifer duBois' Cartwheel (2013), but delves more deeply into the repercussions beyond a shocking incident during a year abroad. Dunlop richly evokes the heady emotions of friendship, lust, and betrayal."
— Booklist

"Dunlop's writing is effervescent, but wise…the story, which is as much about love, lust and longing as it is about the intricacies and potential pitfalls of close, obsessive friendship, also offers a truly lovely depiction of France."
— Globe and Mail

"In her debut, Dunlop writes of a fizzy, decadent world, filled with the intense relationships that young love brings, whether that feeling is for a person or for a beautiful location."
— Library Journal

"Love triangles can haunt you forever. This gorgeously written debut novel centers around one woman being seduced by European high life while on a study abroad trip in France. It's an exotic escape and a literary escape at the same time."
— Redbook

"The story of a young girl studying abroad in France who gets sucked into a world of love and lust. This unraveling tale is absolutely haunting."
— SheKnows

"It's got Gainsbourg's 'Sea, Sex, and Sun' plus red wine and betrayal—a compulsively readable debut about forever friendships that can't last."
— Courtney Maum

"Losing the Light is a smart, sexy, thrilling novel. Andrea Dunlop's debut brilliantly captures the tension and sharp edges of female friendships, infatuation, and life abroad. You will feel transported to France, as if you yourself are speaking French and drinking a little too much wine with your best friend and a dangerously handsome man."
— Taylor Jenkins Reid

"There are so many coming-of-age novels in the world about the young, innocent girl making her way in the world. And yet, Losing the Light is really something special. Andrea Dunlop has a keen sense of what a modern woman on the cusp of her twenties might truly desire, fear, and be tempted by. Her characters are unapologetic and troublesome, yet intensely likable. On top of that, she sets the book in a French town and feeds you wine and men the whole way through. Oh, and there's a murder mystery. Seduced yet? You should be. This is a lovely debut."
— Katie Crouch

"Andrea Dunlop's captivating debut ardently delivers the thrill and joy and exquisite pain of being young and in love: with a friend, with a lover, with a country, with a life, with the future. I felt myself twenty and in France with nothing but heady enchantment before me. Losing the Light is utterly transporting."
— Laurie Frankel

"A heady cocktail of nostalgia, a seductive Frenchman, a passionate love triangle, a mysterious disappearance: Seattle author Andrea Dunlop weaves an intriguing story about 30-year-old Brooke, now newly engaged,and her recollections of student days a decade earlier in France with her bubbly, blond buddy Sophie...Losing the Light is a love letter to France — the cafes, the language, the 'fierce elegance' of Parisiennes, the sun-drenched beauty of Cap Ferrat. Dunlop brilliantly recreates the tempestuous, 'anything is possible' whirlwind of emotions that accompany Brooke's coming of age, with the dizzying heights and depths of feeling...A thoughtful, assured debut."

— The Seattle Times

"In Losing the Light, Andrea Dunlop takes readers on an intense, smart, sexy adventure, giving major The Talented Mr. Ripley vibes."
— Working Mother

"This delicious literary indulgence is consuming and addictive…the perfect partner for every beach day this summer."
— Sunset Magazine
Washington Square Press, 9781501155987, 400pp.
Publication Date: February 6, 2018
About the Author
Andrea Dunlop is the author of We Came Here to Forget, She Regrets Nothing, Losing the Light, and Broken Bay. She lives with her husband in Seattle, Washington, where she works as a social media consultant.