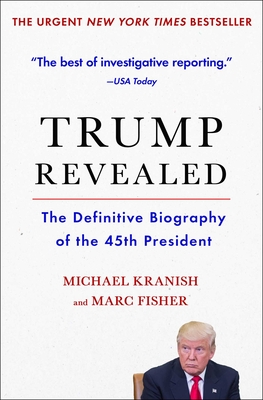 Trump Revealed
The Definitive Biography of the 45th President
Paperback

* Individual store prices may vary.
Other Editions of This Title:
Digital Audiobook (8/22/2016)
Hardcover (8/23/2016)
CD-Audio (8/23/2016)
Description
A New York Times Bestseller
A Philadelphia Inquirer Best Book of the Year
A Los Angeles Times Most Important Book of the Year

Hailed as "authoritative" and "essential," and based on the work of two dozen reporters and twenty hours of interviews with Trump, Trump Revealed is the indispensable and now updated biography of the 45th president of the United States.

Who is Donald J. Trump? To discover Trump in full, the Washington Post assembled a team of award-winning reporters and researchers to investigate every aspect of his life, from his privileged upbringing in Queens to his hundreds of lawsuits, his infamous womanizing, his shifting position on abortion rights, his dizzying seven changes in party affiliation, and his astonishing, disruptive election as president in November 2016.

Coauthored by Washington Post investigative political reporter Michael Kranish and senior editor Marc Fisher, Trump Revealed details the 1970s Justice Department suit against Trump and his father for racial discrimination, his business and political machinations and alleged organized crime connections, his disastrous Atlantic City casino projects, and his relentless pursuit of the attentions of the media. What emerges is a portrait of "a man certain of his views, hugely confident in his abilities, not terribly well informed, quick to take offense," a man with a penchant for big bets—on real estate, branded businesses, and, ultimately, on himself.

In the wake of the most controversial and polarizing election in modern American history, Trump Revealed provides essential insight into this billionaire businessman, celebrity, and global brand who is now the president of the United States.
Praise For Trump Revealed: The Definitive Biography of the 45th President…
"Any voter who is not already devoted to Trump's cause will find plenty of reason to think long and hard about whether to support him after reading this book. ...Talented writers Michael Kranish and Marc Fisher have taken the work of dozens of Post journalists and woven it into a compelling narrative. ...The best of investigative reporting is brought to bear on a man who could potentially lead the free world. They paint a sobering portrait that merits inspection. Voters can't say they weren't warned."
—USA Today

"The most definitive book about Trump to date."
—Booklist

"The many revealing scenes cohere into a fascinating portrait. ...Trump the outrageous poseur becomes sadder and more real in this fine book."
—Evan Thomas, The Washington Post

"[L]ikely the most complete and nuanced life of Trump thus far."
—Boston Globe

"Those willing and brave enough to dare these pages will find the authors' approach evenhanded, perhaps even overly so, in preference to allowing Trump plenty of rope—and suffice it to say that Trump unrolls miles of it."
—Kirkus Reviews

"Useful, vigorously reported...deftly charts [Trump's] single-minded building of his gaudy brand and his often masterful manipulation of the media."
—The New York Times

"I know, I know — you've likely read more than you ever wanted to about the star of his own life. You have had it up to here and probably think you know all there is to know about the destroyer of the Republican Party….Although I have fussed, fumed and fulminated, I see that I have, frankly, not understood all there is understand about Mr. Trump….I guarantee that reading about this particular life is incredible. It has taken genuine intelligent research to realize it. Page after page, it's all convincing. I think you'll be startled by the cumulate facts….I wish I had read it before, but I simply didn't know the half of it."
—Liz Smith, New York Social Diary

"347 well-reported pages."
—VICE

"As we look ahead to a Trump administration that appears particularly disinclined toward transparency, this book is all the more valuable in understanding how Trump, our president-elect, has behaved in the past as a manager, businessman and private person."
—Los Angeles Times

"Based on that paper's superb reporting on the Trump era so far, I bet there is some useful information in this deep dig into Trump's life and his business record."
—The Seattle Times

"Benefits greatly from the in-depth reporting so critical to Jeffersonian democracy in the day of the tweet, the blog and the self-congratulatory mockery of 'fair and balanced' journalism."
—The Roanoke Times
Scribner, 9781501156526, 464pp.
Publication Date: January 10, 2017
About the Author
Michael Kranish is an investigative political reporter for The Washington Post. He is the coauthor of the New York Times bestseller Trump Revealed, John F. Kerry, The Real Romney, and the author of The World's Fastest Man and Flight from Monticello: Thomas Jefferson at War. He was the recipient of the Society of Professional Journalists Award for Washington Correspondence in 2016. Visit MichaelKranish.com.

Marc Fisher is a senior editor at The Washington Post, where he has been the enterprise editor, local columnist, and Berlin bureau chief, among other positions over thirty years at the paper. He is the author of Something in the Air, a history of radio, and After the Wall, an account of the fall of the Berlin Wall and the reunification of Germany. Fisher wrote several of the Washington Post articles that won the Pulitzer Prize for National Reporting in 2016 and the Pulitzer Prize for Public Service in 2014. Visit MarcFisher.com.