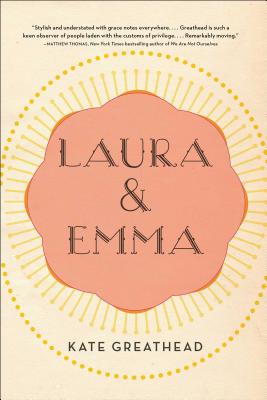 Laura & Emma (Hardcover)
Simon & Schuster, 9781501156601, 352pp.
Publication Date: March 13, 2018
Other Editions of This Title:
Digital Audiobook (3/12/2018)
Paperback (3/12/2019)
* Individual store prices may vary.
Description
"Masterly deftness, funny sentence by funny sentence...a moving and intricately braided story of two mothers."—JONATHAN FRANZEN, The Guardian

*BELLETRIST BOOK CLUB SELECTION*

*ONE OF ESQUIRE'S BEST BOOKS OF 2018 SO FAR*

*MOST ANTICIPATED BOOKS OF SPRING 2018 SELECTION BY * NYLON * SOUTHERN LIVING *

"[A] sly, charming debut…Laura and Emma's struggles are real, and their saga makes for a beguiling, addictive read."—People (Book of the Week)

Laura hails from the Upper East Side of Manhattan, born into old money, drifting aimlessly into her early thirties. One weekend in 1981 she meets Jefferson. The two sleep together. He vanishes. And Laura realizes she's pregnant.

Enter: Emma.

Despite her progressive values, Laura raises Emma by herself in the same blue-blood world of private schools and summer homes she grew up in, buoyed by a host of indelible characters, including her eccentric mother, who informs her society friends and Emma herself that she was fathered by a Swedish sperm donor; her brother, whose childhood stutter reappears in the presence of their forbidding father; an exceptionally kind male pediatrician; and her overbearing best friend, whose life has followed the Park Avenue script in every way except for childbearing. Meanwhile, the apple falls far from the tree with Emma, who begins to question her environment in a way her mother never could.

Told in vignettes that mine the profound from the mundane, with meditations on everything from sex and death to insomnia and the catharsis of crying on the subway, a textured portrait emerges of a woman struggling to understand herself, her daughter, and the changing landscape of New York City in the eighties and nineties. Laura & Emma is an acutely insightful exploration of class and family warfare from a new author whose offbeat sensibility, understated wit, and stylish prose celebrate the comedy and pathos that make us human.
About the Author
Kate Greathead is a graduate of Wesleyan University and the MFA Program for Writers at Warren Wilson College. Her writing has appeared in The New Yorker, The New York Times, and Vanity Fair, and on NPR's Moth Radio Hour. She was a subject in the American version of the British Up documentary series. She lives in Brooklyn with her husband, the writer Teddy Wayne. Laura & Emma is her first novel.
Praise For Laura & Emma…
PRAISE FOR LAURA & EMMA BY KATE GREATHEAD:

"Greathead's debut, which often has the feel of an updated version of Mrs. Bridge…is enlivened by flashes of sardonic humor…[and] the surprising, poignant and beautifully composed final scene...This carefully observed family story rings true to life."—New York Times Book Review

"[A] sly, charming debut…Laura and Emma's struggles are real, and their saga makes for a beguiling, addictive read."—People (Book of the Week)

"For a privileged Manhattan daughter who finds herself unexpectedly pregnant, raising a child alone is pearl-clutchingly radical in Kate Greathead's wryly observed, 1980s-set first novel."—Vogue

"A deft exploration of conflict, both class and interfamilial, in 1980s blue-blood New York."—Marie Claire

"[An] absorbing debut novel...Laura is a wonderfully complex and, at times, frustrating character: ashamed of the old-money world from which she came, but not so brave or ambitious as to abandon it altogether, and the novel, for all its humor and sharp observations, is imbued with the loneliness at her core."—Oprah.com

"Greathead's smart and original take on the mother-daughter novel impresses and charms."—Booklist

"Kate Greathead's debut novel gamely takes on class conflict, single motherhood, and the discreet pretension of the 1980s Upper East Side through the story of Laura, a daughter of privilege who finds herself unexpectedly pregnant after a one-night stand." —New York Magazine

"[A] warmhearted debut novel...The supporting characters who come in and out of Laura's life over the years sparkle with idiosyncrasies...Greathead is a talented writer of detail, particularly in her evocations of New York life—subway sobbing, could-be celebrity sightings, the joy of a favorite grocery store...This is a thoughtful novel of trying to find oneself despite an assigned place in the world."—Publishers Weekly

"Who wouldn't want to get an inside peek into the rarefied world of New York City's elite in the 1980s and 90s? That's exactly what this smart, witty novel offers as it explores the strength of the bonds of family, class, weather, and privilege, leading many of its characters (to say nothing of its readers) wondering just how strong their own constructed identities are, and what it might take to make everything come crashing down."—Nylon

"If the title of Kate Greathead's debut evokes a Jane Austen novel, well, it's fitting for an incisive comedy of manners about class divides and the 'burdens' of being born privileged."—Esquire

"Kate Greathead classes it up with her debut, Laura & Emma." —Vanity Fair

"Each restrained and understated sentence has been polished to glittering brightness… despite this novel's enormous restraint and despite the surface pleasures of its comedy, Laura &Emma is a profoundly sad book. It's loneliness in the form of a novel, and beneath its fierce quietness, there's an ache that never stops."—Vox

"A layered story about mothers and daughters and identity."—Entertainment Weekly

"This debut from nine-time Moth StorySLAM winner Kate Greathead gives readers a behind-the-scenes peek at the lavish world of Upper East Side society through a series of vignettes." —Bustle

"Greathead, a nine-time Moth StorySLAM champion, spins a complex tale of social class and family warfare that follows the quiet struggles of a single mother raising her daughter among the upper crust of New York society." —The Millions

"Greathead has wrought a tale of subtle beauty more closely akin to the proud and obedient midwesterners of Evan S. Connell's fiction…Greathead's power as a prose stylist and storyteller converge to create scenes that will linger with you for days after reading them…The characters in this book live in a world few of us will relate to, but in Greathead's hands, their humanity is deeply felt."—ESME

"This novel makes a seemingly unlikable character sympathetic and interesting to the point that her story becomes unputdownable. Set against the backdrop of the 1980s to mid-1990s, this debut by a Moth ­StorySLAM champion will appeal to readers of character-driven women's fiction." —Library Journal

"This ultimately rather mysterious book, with its attenuated plot and restrained humor, is like a person who speaks so softly that you end up paying very close attention."—Kirkus Reviews

"Few books can grapple with the weighty legacy of Mrs. Bridge and come out standing; this one does. Stylish and understated, with grace notes everywhere, ironic reversals at the ends of sections, and resonant lines of dialogue that quiver with multiple meanings. The tone is arch, contrapuntal, and the anthropology here is brilliant; Greathead is such a keen observer of this world of people laden by the customs of privilege, who struggle to express their feelings, or even have them in the first place, and she finds affect in unexpected corners. Objects return with talismanic power and we track their movements with great appreciation of the artistry involved. It's devastating to watch these characters sabotage their own and others' happiness, and Greathead sticks the landing with a remarkably moving ending. —Matthew Thomas, New York Times bestselling author of We Are Not Ourselves

"A big-hearted book, tenderly intelligent and mirthfully incisive in its exploration of family, class, and the difficulty of reconciling our own natures with the way we nurture others. In Greathead's capable hands, Laura & Emma become luminously real, a lens through which the rarefied, often contradictory world of elite New York comes charmingly alive."—Alexandra Kleeman, author of You Too Can Have a Body Like Mine

"I stayed up all night to finish Laura & Emma. Weeks later, I'm still thinking about Laura, still bothered by her troubles, and marveling at how Kate Greathead made these characters and this world so real to me. A brave, unassuming, wonderful first novel."—Rebecca Schiff, author of The Bed Moved