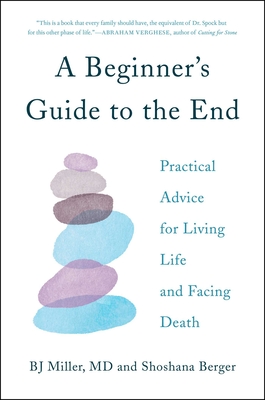 A Beginner's Guide to the End (Hardcover)
Practical Advice for Living Life and Facing Death
Simon & Schuster, 9781501157165, 544pp.
Publication Date: July 16, 2019
Other Editions of This Title:
Digital Audiobook (7/15/2019)
Compact Disc (7/16/2019)
* Individual store prices may vary.
Description
The first ever practical, compassionate, and comprehensive guide to dying—and living fully until you do.

"There is nothing wrong with you for dying," palliative care doctor B.J. Miller and Shoshana Berger write in A Beginner's Guide to the End. "Our ultimate purpose here isn't so much to help you die as it is to free up as much life as possible until you do."

Theirs is a clear-eyed and big-hearted action plan for approaching the end of life, written to help readers feel more in control of an experience that so often seems anything but controllable. Their book offers everything from step-by-step instructions for how to do your paperwork and navigate the healthcare system to answers to questions you might be afraid to ask your doctor, like whether or not sex is still okay when you're sick. You'll be walked through how to break the news to your employer, whether to share old secrets with your family, how to face friends who might not be as empathetic as you'd hoped, and to how to talk to your children about your will. (Don't worry: if anyone gets snippy, it'll likely be their spouses, not them.) There are also lessons for survivors, like how to shut down a loved one's social media accounts, clean out the house, and write a great eulogy.

An honest, surprising, and detailed-oriented guide to the most universal of all experiences, A Beginner's Guide to the End is the one book that everyone needs.
About the Author
B.J. Miller, MD, is an assistant clinical professor of medicine at the University of California, San Francisco where he practices and teaches palliative medicine. He has been profiled in The New York Times Magazine, and interviewed on Super Soul Sunday, The Tim Ferriss Show, and On Being with Krista Tippett, and has spoken at the Aspen Ideas Festival and around the world. He is the author, with Shoshana Berger, of A Beginner's Guide to the End.

Shoshana Berger is the global editorial director at IDEO, where she has worked on projects ranging from the end of life to modern Judaism to school lunch. She was a senior editor at WIRED, and has written for the New York Times, WIRED, Popular Science, Marie Claire, and Salon. She cofounded the DIY design magazine ReadyMade, later turning it into a book, ReadyMade: How to Make (Almost) Everything.
Praise For A Beginner's Guide to the End: Practical Advice for Living Life and Facing Death…
"The combined wisdom of a legendary hospice physician together with a journalist and experienced caregiver makes this book feel like a loving friend who is by our side with practical advice on the medical, legal, logistical, and emotional aspects of an event that awaits us all. This is a book that every family should have, the equivalent of Dr. Spock but for this other phase of life."
— Abraham Verghese, author of Cutting for Stone

"A Beginner's Guide to the End is honest, funny, luminous, and essential. Full of real-world advice and hard-won insight, it's a practical guide to dying that is actually much more about living."
— Lucy Kalanithi, author of the epilogue to When Breath Becomes Air by Paul Kalanithi

"A gentle, knowledgeable guide to a fate we all share."
— The Washington Post

"Miller and Berger, through their honesty and deep experience, help us to live the best life possible with a serious illness. This is a beautiful, poignant, expert, and human handbook for all of us."
— Susan Block, MD, Professor of Psychiatry and Medicine, Harvard Medical School

"I wish I'd had this book when I needed it. Death and dying are not subjects that many people are comfortable talking about, but it's hugely important to be as prepared as you can be—emotionally, physically, practically, financially, and spiritually. This book may be the most important guide you could have."
— Elizabeth Gilbert, author of Big Magic and Eat Pray Love

"'You know what would be fun today? Reading a book about death,' said no one ever. So you can imagine my surprise when I opened these pages and found myself smiling on the first one. BJ Miller and Shoshana Berger have done something impressive: they're written a book about dying that's not only moving and practical, but also delightful to read."
— Adam Grant, co-author of Option B and author of Give and Take and Originals

"When it comes to the final journey, we are all beginners. Navigating the complexities of serious illness requires grace and grit. With elegant simplicity and tender, earthy honesty, this beginner's guide explains how to prepare, what possible routes you might take, mis-turns to avoid, and the beauty you might see along the way."
— Ira Byock, MD, Founder & Chief Medical Director, Institute for Human Caring

"There are many times in my personal life and my medical education when I could have used this book. In their clear and compelling guide, Miller and Berger help us understand how to approach one of the most important but least understood phases of our life. Their honest reflections and sharp insights will change lives for the better."
— Vivek Murthy, MD, former Surgeon General of the United States

"If you are sure you would never read a book about how to face death, especially long before you need it, A Beginner's Guide to the End: Practical Advice for Living Life and Facing Death just might convince you it wouldn't be bad to have on the shelf... The book blends practical information with compassionate advice for facing our own death or the death of a loved one."
— Next Avenue