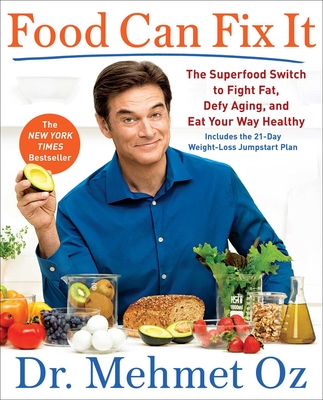 Food Can Fix It
The Superfood Switch to Fight Fat, Defy Aging, and Eat Your Way Healthy
Hardcover

* Individual store prices may vary.
Other Editions of This Title:
Digital Audiobook (9/25/2017)
Paperback (11/13/2018)
CD-Audio (9/26/2017)
Description
Includes the 21-Day Weight Loss Jumpstart!
Improve your life through your diet with a friendly, non-punishing, and completely authoritative approach to harnessing the healing power of food from Dr. Mehmet Oz, America's #1 authority on health and well-being.

What if you had an effortless way to improve your mood, heal your body, lose weight, and feel fantastic? What if a cure for everything from fatigue to stress to chronic pain lay at your fingertips? In his groundbreaking new book, Dr. Oz reveals how every meal, snack, and bite we take holds the solution to our health problems.

In a world of endless choices, determining what to eat and when to eat it can seem overwhelming. Fortunately, it doesn't have to be this way. In Food Can Fix It, Dr. Oz lays out a simple, easy-to-follow blueprint for harnessing the healing power of food. Through simple modifications and a meal plan filled with nutrient-rich superfoods, Dr. Oz explains how to kickstart weight loss, improve your energy, decrease inflammation, and prevent or alleviate a host of other common conditions—all without medication. His plan also includes stress-free, healthy, and delicious recipes and appealing full-color photographs that show just how easy it can be to improve your well-being through the food you eat. Drawing on responses from thousands of readers of The Good Life, Dr. Oz's popular, prize-winning magazine, Food Can Fix It is the ultimate guide to eating for health, and the ticket to living your best life, starting today.
Praise For Food Can Fix It: The Superfood Switch to Fight Fat, Defy Aging, and Eat Your Way Healthy…
"I am a firsthand witness to Dr. Oz's holistic approach to modern medicine and healing. When he performed my mom's heart valve replacement surgery, he asked her first to heal herself with food. His work gave me ten more years with my mom. In the years since, I have seen him live the life he preaches and the results. Food Can Fix It hits all notes of a nutritious and delicious lifestyle. I know from personal experience, food can fix it!"
— Rocco DiSpirito, award-winning chef and author of Rocco's Healthy & Delicious

"It was Hippocrates who once said, 'Let food be thy medicine, and medicine be thy food.' Both Dr. Oz and I first heard that in medical school many years ago. Now, with Food Can Fix It, Dr. Oz will teach everyone this valuable lesson and explain what it means and how to draw upon the amazing healing powers of food."
— —Sanjay Gupta, M.D., Associate Chief of Neurosurgery at Grady Memorial Hospital, Chief Medical Correspondent at CNN, and contributor to 60 Minutes

"In his groundbreaking new book, Dr. Oz empowers readers to take charge of their health through the foods they choose to eat. With words of wisdom, personal stories, and findings from multiple scientific studies, Dr. Oz shows how food can fix or improve fatigue, bad moods, heart problems, and even pain. Follow his simple plan and you'll be on a healthy journey for life."
— Deepak Chopra, M.D.

"Experts have long known that food has remarkable potential as medicine to prevent, treat, and even reverse disease. Far too little, however, has been done with this crucial information. No one is better suited to fix this problem, deliver this empowering memo, and help millions add years to their lives and life to their years than Dr. Mehmet Oz."
— David L. Katz, M.D., M.P.H., founding director of Yale University Prevention Research Center and founder and president of the True Health Initiative

"What we eat is one of the most powerful determinants of our health and well-being. In Food Can Fix It, Dr. Oz—America's doctor—has written one of the most authoritative yet user-friendly guides to foods that keep us healthy and vibrant that are also delicious, familiar, and fun. If you read only one book on nutrition this year, this is it. Highly recommended!"
— Dean Ornish, M.D., founder and president of Preventive Medicine Research Institute and author of The Spectrum and Dr. Dean Ornish's Program for Reversing Heart Disease

"Food Can Fix It elegantly reveals the science and wisdom that food can be a powerful medicine for the body."
— Mike Roizen, M.D., Chief Wellness Officer at Cleveland Clinic and co-author of YOU: On a Diet

"As a heart surgeon and early pioneer to some of the Blue Zones areas, Dr. Oz knows how to eat your way to a longer and stronger life. Fix what you eat, and you could very well fix your health problems.Dr. Oz explains how in this informative, accessible book filled with anecdotes, science, recipes, and guidelines for cooking, shopping, and eating out."
— Dan Buettner, author of The Blue Zones Solution: Eating and Living Like the World's Longest-Lived People

"Can't fall asleep at night? A tablespoon of peanut butter and a small banana can help you relax! Learn more food fixes for everything from bad moods to pain to digestive health. In his new book, Dr. Oz explains the power of nutrition and makes it easy for you to benefit from it."
— Good Housekeeping

"The doctor's latest is full of what-to-eat recs to help you feel younger, get more energy, ease common ailments and control your weight."
— Good Housekeeping

"If you're aiming for virtuous good health, you'll certainly find a book to fuel your preoccupation….Dr. Mehmet Oz's FOOD CAN FIX IT."
— New York Times Book Review

"Sprinkled throughout the book, making it not only an interesting but also a fun read, are tips and factoids to devour. We give Dr. Oz three cheers for his thoughts on how food should be thought of as even more than just good for the physical body."
— Healthy Aging Magazine
Scribner, 9781501158155, 368pp.
Publication Date: September 26, 2017
About the Author
Mehmet Oz, MD, is a cardiothoracic surgeon. He has won nine Daytime Emmy Awards for The Dr. Oz Show. A professor of surgery at Columbia University, he directs the Complementary Medicine Program at New York—Presbyterian Hospital and performs more than fifty heart operations a year. Dr. Oz has written eight New York Times bestselling books, including Food Can Fix It, YOU: The Owner's Manual, YOU: The Smart Patient, YOU: On a Diet, YOU: Staying Young, and the award-winning Healing from the Heart.
or
Not Currently Available for Direct Purchase