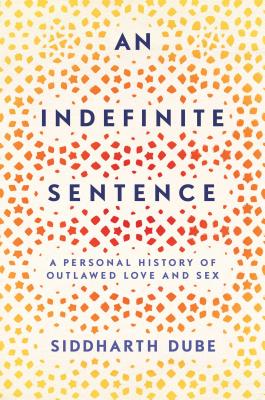 An Indefinite Sentence (Hardcover)
A Personal History of Outlawed Love and Sex
Atria Books, 9781501158476, 384pp.
Publication Date: January 8, 2019
* Individual store prices may vary.
Description
A revelatory memoir about sex, oppression, and the universal struggle for justice.

From his time as a child in 1960s India, Siddharth Dube knew that he was different. Reckoning with his femininity and sexuality—and his intellect—would send him on a lifelong journey of discovery: from Harvard classrooms to unsafe cruising sites; from ivory-tower think-tanks to shantytowns; from halls of power at the UN and World Bank to jail cells where sexual outcasts are brutalized.

Coming of age in the earliest days of AIDS, Dube was at the frontlines when that disease made rights for gay men and for sex workers a matter of basic survival. He was part of a valiant movement to decriminalize same-sex relations and sex work in India, both similarly outlawed under laws dating back to British colonial rule. He emerged as a trenchant critic of the United States' imposition of its cruel anti-prostitution policies on developing countries—an effort legitimized by leading American feminists and do-gooders—warning that this was a 21st century reprise of the moralistic Victorian-era campaigns that spawned endless persecution of countless women, men, and trans individuals the world over.

Profound, ferocious, and luminously written, An Indefinite Sentence is both a personal and political journey, weaving Dube's own quest for love and self-respect with unforgettable portrayals of the struggles of some of the world's most oppressed people, those reviled and cast out for their sexuality. Informed by a lifetime of scholarship and introspection, it is a tour de force on the pressing global debates over sexuality, gender expression, and of securing human rights and social justice in a world distorted by inequality and right-wing ascendancy.
About the Author
Born in Kolkata, India, Siddharth Dube is widely known for his writing on AIDS, public health, and poverty. He is a graduate of Tufts University, the University of Minnesota's School of Journalism, and the Harvard School of Public Health. He has since been a visiting fellow at the Centre for the Study of Developing Societies in Delhi, scholar-in-residence at Yale University's Center for Interdisciplinary Research on AIDS, senior adviser to the Executive Director of UNAIDS, and a senior fellow at the World Policy Institute in New York City. Visit SiddharthDube.com.
Praise For An Indefinite Sentence: A Personal History of Outlawed Love and Sex…
Praise for Siddharth Dube

"This searing memoir of a gay man from a country that criminalizes homosexuality is intertwined with a first-hand account of the struggle for basic human rights by gays as well as by women sex workers, two groups similarly outlawed in India. Dube unsparingly exposes a complex web of hypocrisy, corruption and brutality in this work of grave, vital importance."
— Kiran Desai, author of The Inheritance of Loss

"More than a memoir of a gay man's life growing up in India and the United States...a firsthand account of the lives of sexual minorities in these two countries."


"[One of the] year's best books....journalist Siddharth Dube's brave, sensitively told coming-of-age account as an upper class gay man and the persecution he faced."


"Probably one of the most important (books for our times)…Both fierce and tender, it will leave the reader enraged and heartened."

"Dube is privileged and a pariah at the same time. It is this insider-outsider perspective, the difficult choices he made, and his deep empathy with those less privileged that gives the pages of the book their punch."