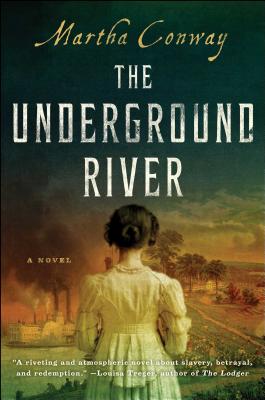 The Underground River (Hardcover)
A Novel
Atria Books, 9781501160202, 352pp.
Publication Date: June 20, 2017
Other Editions of This Title:
Paperback (8/21/2018)
Compact Disc (6/20/2017)
MP3 CD (6/20/2017)
Pre-Recorded Audio Player (9/20/2017)
* Individual store prices may vary.
Description
The New York Times Book Review Editors' Choice

Set aboard a nineteenth century riverboat theater, this is the moving, page-turning story of a charmingly frank and naive seamstress who is blackmailed into saving runaways on the Underground Railroad, jeopardizing her freedom, her livelihood, and a new love.

It's 1838, and May Bedloe works as a seamstress for her cousin, the famous actress Comfort Vertue—until their steamboat sinks on the Ohio River. Though they both survive, both must find new employment. Comfort is hired to give lectures by noted abolitionist, Flora Howard, and May finds work on a small flatboat, Hugo and Helena's Floating Theatre, as it cruises the border between the northern states and the southern slave-holding states.

May becomes indispensable to Hugo and his troupe, and all goes well until she sees her cousin again. Comfort and Mrs. Howard are also traveling down the Ohio River, speaking out against slavery at the many riverside towns. May owes Mrs. Howard a debt she cannot repay, and Mrs. Howard uses the opportunity to enlist May in her network of shadowy characters who ferry babies given up by their slave mothers across the river to freedom. Lying has never come easy to May, but now she is compelled to break the law, deceive all her new-found friends, and deflect the rising suspicions of Dr. Early who captures runaways and sells them back to their southern masters.

As May's secrets become more tangled and harder to keep, the Floating Theatre readies for its biggest performance yet. May's predicament could mean doom for all her friends on board, including her beloved Hugo, unless she can figure out a way to trap those who know her best.
About the Author
Martha Conway grew up in Cleveland, Ohio, the sixth of seven daughters. Her first novel was nominated for an Edgar Award, and she has won several awards for her historical fiction, including an Independent Book Publishers Award and the North American Book Award for Historical Fiction. Her short fiction has been published in the Iowa Review, Massachusetts Review, Carolina Quarterly, Folio, Epoch, The Quarterly, and other journals. She has received a California Arts Council Fellowship for Creative Writing, and has reviewed books for the Iowa Review and the San Francisco Chronicle. She now lives in San Francisco, and is an instructor of creative writing for Stanford University's Continuing Studies Program and UC Berkeley Extension. She is the author of The Underground River.
Praise For The Underground River: A Novel…
"Creating a perfectly straight seam finds echoes throughout the book in plot devices and metaphors, even in saving souls, and it may come as a surprise how lively and sustaining this lost art can be. Twain has his 'Life on the Mississippi.' Conway's life on the Ohio makes you see the place, through May's eyes, in all its muddy glory."

"The Underground River is both a dear love story and a page-turning adventure about the Underground Railroad—and an unwilling participant. An extraordinary cast of memorable characters gives this book irresistible appeal while the setting on the watery boundary between North and South places them in dangerous and morally ambiguous territory. A captivating, thoughtful, and unforgettable read."
— Kathleen Grissom, author of The Kitchen House and Glory over Everything

"It is part of Martha Conway's gift as a writer to weave stories from the richest and most interesting periods of American history. Set on a nineteenth century floating theatre on the Ohio River, The Underground River is a riveting and atmospheric novel about slavery, betrayal and redemption, with a memorably forthright heroine, and a plot as fast flowing and twisty as the river itself."
— Louisa Treger, author of The Lodger

"Warning: The Underground River is a page-turner. Be prepared to stay up late reading, because once you start you won't want to put it down. From the first page to the last, Martha Conway's novel is riveting, immersing the reader in the adventures of an unlikely heroine who finds courage, independence and love amid the social turmoil of the Underground Railroad. Vividly drawn settings, original characters, and perilous situations make this mesmerizing book one you will remember for years to come."
— Amy Belding Brown, author of Flight of the Sparrow

"Martha Conway's The Underground River is simply wonderful, a novel in which the women—good and bad—matter. The tale is told by young May Bedloe, who grows up and falls in love as the modest little show-boat drifts down the river between the small towns of the slave-holding South and the free North. May is pitched into the middle of the Slave vs Free drama not through conviction--though she does indeed know what's right--but by blackmail, until eventually she musters the courage to risk everything for another woman. I loved May, and I very much hope we have not seen the last of her."
— Beverly Swerling, author of City of Dreams

"Well-researched and gripping to the end, The Underground River is a vivid look at a pivotal chapter in American history."

"The Underground River evokes Twain in both story and setting. A compelling book that would no doubt please the Master of the Mississippi....A compelling story of a young woman who is trying to find her way in a world that, in a few years, will be ripped apart by war. A tale worthy of Twain."

"May herself is a marvelous creation, more than a little reminiscent of Mattie Ross in Charles Portis' True Grit....You'll root for her till the last page. Add a gentle love story and an especially sinister villain (who enters stage left, rather late) and The Underground River has the makings of a cult classic."

"Thanks to the success of Colson Whitehead's The Underground Railroad, the subject of the abolition movement is popular in fiction now. Conway (Thieving Forest; Sugarland) offers a novel take on the topic, and book groups will especially enjoy the distinctive setting, the rich historical details, and the thorny issues begging to be discussed."

"Readers will profit from narrator May's attention to detail and will appreciate the richly drawn showboat and the North-South border setting."

"Intriguing....A story that touches the mind and heart."

"May herself is a marvelous creation, more than a little reminiscent of Mattie Ross in Charles Portis's True Grit....You'll root for her till the last page.... Add a gentle love story and an especially sinister villain...and The Underground River has the makings of a cult classic."

"Well-researched and gripping to the end."

"The Underground River's powerful story of slavery… examine[s]…the impact of both slavery and the choices of whose who oppose it make for an unusual kind of Underground Railway story that is compelling and hard to put down."