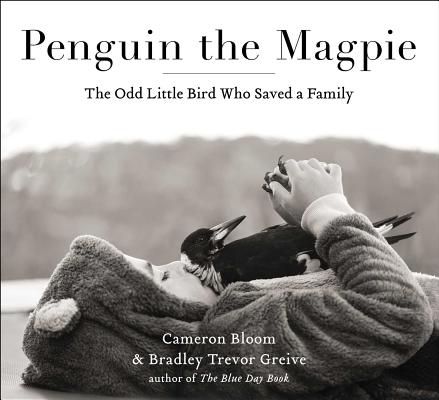 Penguin the Magpie
The Odd Little Bird Who Saved a Family
Hardcover

* Individual store prices may vary.
Other Editions of This Title:
Digital Audiobook (4/3/2017)
Paperback (3/30/2021)
Description
THE INSPIRATION FOR THE NETFLIX FILM PENGUIN BLOOM

"A triumph that will make your heart soar" (Sy Montgomery, author of The Soul of an Octopus), this true story follows a family's journey of recovery, hope, and courage as they nurse an injured magpie back to health—from the New York Times bestselling author of The Blue Day Book.

When Sam Bloom suffers a near fatal fall during a vacation, she is left paralyzed and deeply depressed. One of their three sons, reeling from the tragic accident, discovers an injured magpie chick abandoned after she had fallen from her nest. The boys name the bird Penguin, for her black-and-white plumage. As they nurse Penguin back to health, the incredible joy, playfulness, and strength she exudes fortify the family and especially lift Sam's spirits.

"A unique and remarkable insight into a family dealing with tragedy and finding their way through it with love, courage, and hope" (Naomi Watts), Penguin the Magpie reminds us all that, no matter how lost, fragile, or damaged we feel, accepting the love of others and loving them in return will help to make us whole.
Praise For Penguin the Magpie: The Odd Little Bird Who Saved a Family…
"PENGUIN THE MAGPIE is a triumph that will make your heart soar."
— Sy Montgomery, author of The Soul of an Octopus

"A unique and remarkable insight into a family dealing with tragedy and finding their way through it with love, courage, and hope."


— Naomi Watts

"A gorgeous book."
— Good Housekeeping

"Exquisite beyond words."
— Goodreads

"A breath-taking book. Beautiful in content, spectacular in photos. The connections that Sam and her family make through love reveal a triumph of the human and of the bird spirit. A spectacular, uplifting and exquisitely beautiful book."
— Lynne Cox, author of Grayson and Swimming in the Sink

"Animals can be such loyal friends! Caring and bonding are ancient animal traits indeed, which we share with other species. This is a remarkable story of human suffering and a rescued bird who returns the love she received."
— Frans de Waal, author of Are We Smart Enough to Know How Smart Animals Are?

"This beautiful, profound, life-changing book carries the message that wild birds have a depth of emotion, intelligence, individuality, and personality with which they can communicate empathetically and profoundly with people. I find myself returning to this healing story again and again to marvel at and be inspired by the gorgeous souls of Penguin the Magpie and her human family."
— Stacey O'Brien, author of Wesley the Owl

"A wonderful story of the interconnections that are possible between wild animals and people and the vital role that nature plays in human life and healing."
— Bernd Heinrich, author of Mind of the Raven

"From the instant Penguin tumbles from her nest down to the pavement, this book embodies the discovery of how another being can bring new depth and meaning to our lives, even in the darkest times.Through nuanced photographs and unassuming prose, it reveals an insight both familiar and fantastical—hope and healing are within our grasp when we look beyond ourselves."
— Vint Virga, DVM, author of The Soul of All Living Creatures

"Written from the heart and exquisitely illustrated with striking photographs, Penguin the Magpie is an emotional journey from the depth of adversity to the height of accomplishment. Traversing this rugged ground reveals the world of a special bird and her connection to a family unwilling to fail. Laid bare are the mutual and life-changing bonds that form between birds and people."
— John M. Marzluff, author of Gifts of the Crow and Welcome to Subirdia

"Here's to the angels that come in the form of animals and the human animals that recognize them as such. Sam Bloom and her family remind us that when we take care of others we heal ourselves. A truly beautiful story. There are odd little birds out there for all of us--we just have to take the time to see them."
— Tracey Stewart, author of Do Unto Animals, A Friendly Guide to How Animals Live, and How We Can Make Their Lives Better

"A book that will make everyone's heart soar."
— Daily Telegraph

"In this sweet story of love and resilience, a wild bird becomes the one cure for a broken human heart."
— Mark Obmascik, author of The Big Year

"Penguin the Magpie is a truly unique and deeply moving book and that shares an important message of love, resilience and hope. This beautifully crafted work combats the stigma that there is no life after sustaining a spinal cord injury and proves that we can find inspiration, empowerment and joy in the most unlikely places and when we least expect it. With stunning photographs, an extraordinary true story and a searingly honest portrayal of life after paralysis, this book addresses that while life may not be perfect, we can all find happiness, purpose and love even during the most challenging times. As Dana Reeve once said, "find the joy inside the hardship," the Bloom family takes readers on a journey of how they celebrated the small, yet important wins and ultimately reclaimed their future thanks to an unlikely feathered hero. On behalf of the Christopher & Dana Reeve Foundation we are proud to be associated with this wonderful book and we are grateful to the authors, Cameron Bloom and Bradley Trevor Greive, and the publisher, Atria Books, for donating a percentage of every book sold to support our work to find cures for spinal cord injury."
— Peter Wilderotter, President & CEO, Christopher & Dana Reeve Foundation

"Be brave. Be open-minded. Be kind. Be forgiving. Be generous. Be optimistic. Be grateful for the many unexpected lessons you will learn. Find the joy inside the hardship. It's there. I assure you. And, too, be open to inspiration from unlikely sources."


— Dana Reeve
Atria Books, 9781501160356, 208pp.
Publication Date: April 4, 2017
About the Author
Cameron Bloom began his career as a surf photographer at the age of fifteen. Since then his editorial and travel images have been featured in many international publications. Cameron is also the award-winning cinematographer of Surrender, which was screened at the London Art Fair.

Bradley Trevor Greive became a publishing sensation after the release of The Blue Day Book in 2000. He has since sold more than 25 million books in over a hundred countries. In 2014 he was awarded the Order of Australia for his service to literature and wildlife conservation.
or
Not Currently Available for Direct Purchase