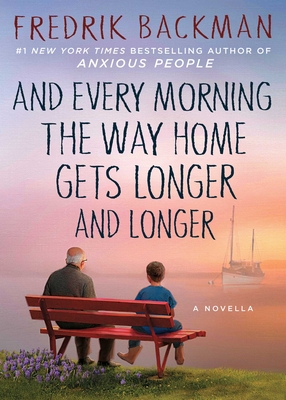 And Every Morning the Way Home Gets Longer and Longer (Hardcover)
A Novella
Atria Books, 9781501160486, 96pp.
Publication Date: November 1, 2016
Other Editions of This Title:
Digital Audiobook (10/31/2016)
CD-Audio (11/1/2016)
Hardcover, Large Print (3/1/2017)
Paperback, Chinese (10/31/2018)
* Individual store prices may vary.
Description
A little book with a big heart!

"I read this beautifully imagined and moving novella in one sitting, utterly wowed, wanting to share it with everyone I know." —Lisa Genova, bestselling author of Still Alice

From the New York Times bestselling author of A Man Called Ove, My Grandmother Asked Me to Tell You She's Sorry, and Britt-Marie Was Here comes an exquisitely moving portrait of an elderly man's struggle to hold on to his most precious memories, and his family's efforts to care for him even as they must find a way to let go.

With all the same charm of his bestselling full-length novels, here Fredrik Backman once again reveals his unrivaled understanding of human nature and deep compassion for people in difficult circumstances. This is a tiny gem with a message you'll treasure for a lifetime.
About the Author
Fredrik Backman is the #1 New York Times bestselling author of A Man Called Ove (soon to be a major motion picture starring Tom Hanks), My Grandmother Asked Me to Tell You She's Sorry, Britt-Marie Was Here, Beartown, Us Against You, as well as two novellas, And Every Morning the Way Home Gets Longer and Longer and The Deal of a Lifetime. His books are published in more than forty countries. He lives in Stockholm, Sweden, with his wife and two children. Connect with him on Twitter @BackmanLand or on Instagram @backmansk.
Praise For And Every Morning the Way Home Gets Longer and Longer: A Novella…
"Winsome, bittersweet...Wise and heartbreaking, Backman's slim novella celebrates the joy of connecting even in the midst of letting go."
"A novella to be savored and reread about a boy, his dad and his grandpa as they learn to say goodbye. It's a little book with a big message."
"I read this beautifully imagined and moving novella in one sitting, utterly wowed, wanting to share it with everyone I know."
— Lisa Genova, New York Times bestselling author of Still Alice
"Beautiful, dreamlike, heartbreaking, and heartwarming. Bring tissues. Bring all the tissues."
"The saddest, sweetest book ever... It is heartbreakingly sad, but also beautiful and uplifting in the end."
PRAISE FOR A MAN CALLED OVE
"A charming debut…You'll laugh, you'll cry, you'll feel new sympathy for the curmudgeons in your life. You'll also want to move to Scandinavia, where everything's cuter."
"Even the most serious reader of fiction needs light relief, and for that afternoon when all you want is charm, this is the perfect book."
"A light hearted, deeply moving novel about a grumpy but loveable curmudgeon who finds his solitary world turned on its head when a boisterous young
family
moves in next door. This quirky debut is a thoughtful and charming exploration of the impact one life has on countless others—and an absolute delight."
"An inspiring affirmation of love for life and acceptance of people for their essence and individual quirks.
A Man Called Ove
is a perfect selection for book clubs. It's well written and replete with universal concerns. It lacks violence and profanity, is life-affirming and relationship-driven. The book is bittersweet, tender, often wickedly humorous and almost certain to elicit tears. I contentedly wept my way through a box of tissues when I first read the novel and again when I savored it for a second time."
"
A Man Called Ove
is exquisite. The lyrical language is the confetti thrown liberally throughout this celebration-of-life story, adding sparkle and color to an already spectacular party. Backman's characters feel so authentic that readers will likely find analogues living in their own neighborhoods."
"Readers seeking feel-good tales with a message will rave about the rantings of this solitary old man with a singular outlook. If there was an award for 'Most Charming Book of the Year,' this first novel by a Swedish blogger-turned-overnight-sensation would win hands down."
"A funny crowd-pleaser that serves up laughs to accompany a thoughtful reflection on loss and love… The author writes with winning charm."
"This charming debut novel by Backman should find a ready audience with English-language readers… hysterically funny… wry descriptions, excellent pacing… In the contest of Most Winning Combination, it would be hard to beat grumpy Ove and his hidden,generous heart."
PRAISE FOR MY GRANDMOTHER ASKED ME TO TELL YOU SHE'S SORRY
"[…] Believable and fanciful. Backman's smooth storytelling infuses his characters with charm and wit. . . Engaging. . . A delightful story."
"Every bit as churlish but lovable as Backman's cantankerous protagonist in his debut,
A Man Called Ove
(2014), precocious Elsa will easily work her way into the hearts of readers who like characters with spunk to spare. A delectable homage to the power of stories to comfort and heal, Backman's tender tale of the touching relationship between a grandmother and granddaughter is a tribute to the everlasting bonds of deep family ties.
"
"Firmly in league with Roald Dahl and Neil Gaiman. A touching, sometimes funny, often wise portrait of grief."
"In his second offering, Backman (
A Man Called Ove
) continues to write with the same whimsical charm and warm heart as in his debut."
"An eclectic cast of characters, fairy-tale wisdom, and a little mystery… one of our favorite novels of the year so far."
PRAISE FOR BRITT-MARIE WAS HERE
"The bestselling author of A MAN CALLED OVE returns with this heartwarming story about a woman rediscovering herself after personal crisis. Backman reveals Britt-Marie's need for order….with clear, tight descriptions. Insightful and touching, this is a sweet and inspiring story about truth and transformation. Fans of Backman's will find another winner in these pages."
"Britt-Marie's metamorphosis from cocoon to butterfly seems all the more remarkable for the utterly discouraging environment in which it takes place."
"A brilliant mix of belly-laughs, profound insight and captivating events delivered… with Backman's pitch-perfect dialogue and an unparalleled understanding of human nature."