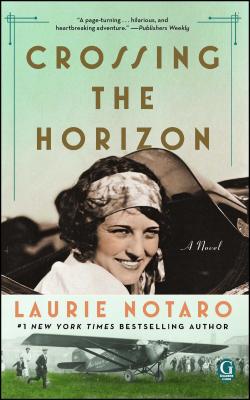 Crossing the Horizon
A Novel
Paperback

* Individual store prices may vary.
Other Editions of This Title:
Digital Audiobook (11/28/2016)
MP3 CD (11/29/2016)
Compact Disc (11/29/2016)
Hardcover (10/4/2016)
Description
Soar back to the fearless 1920s with #1 New York Times bestselling writer Laurie Notaro—beloved author of The Idiot Girls' Action Adventure Club—in a "captivating historical" (Kirkus Reviews) novel that tells the true, little-known story of three aviatrixes in a race to be the first woman to fly across the Atlantic.

It's 1927.

Charles Lindberg has inspired millions but no woman has yet embarked on trans-Atlantic flight. Three women, based on real aviatrixes from the early years of aviation, determine to make their mark on history and set out on a thrilling but dangerous mission.

Elsie Mackay, daughter of an Earl, is the first Englishwoman to get her pilot's license. Mabel Boll, a glamorous society darling and former cigar girl, is ardent to make the historic flight. Beauty pageant contestant Ruth Elder uses her winnings for flying lessons and becomes the preeminent American girl of the sky.

Inspired by true events and real people, Notaro vividly evokes this exciting time as her determined heroines vie for the record. Through striking photos, meticulous research, and atmospheric prose, Notaro brings Elsie, Mabel, and Ruth to life, pulling us back in time as the pilots collide, struggle, and literally crash in the chase for fame and a place in aviation history.
Praise For Crossing the Horizon: A Novel…
Praise for Crossing The Horizon

"Notaro portrays this exciting sliver of time with historical accuracy, providing an authentic glimpse of the era (including photographs), and then adds a pump of adrenaline by including dialogue and drama of her own imagination, creating a captivating historical fiction. Be prepared to hold tight as you're boosted into the cockpit for a two-day flight across the horizon. The odds of making it are against you—but what a ride!"
— Kirkus Reviews

"...Soaring into a page-turning, stomach-churning, hilarious, and heartbreaking adventure... Elsie, Mabel, and Ruth defied the odds stacked against them, and their indomitable spirits and vibrant, larger-than-life personalities provide much inspiration."
— Publishers Weekly

"Fascinating… Well-researched novelization.. A compelling story… Harrowing scenes from the cockpit are a reminder of the daring and skill these pilots had. Notaro's narrative of the pleasures Elsie finds in the air soar with emotion."
— USA Today

"Best known for her offbeat essays on contemporary topics, Notaro breaks new literary ground and demonstrates an intuitive sense of narrative and indelible appreciation for history's ironies in this engrossing novel."
— Booklist

Praise for Laurie Notaro

"Laurie Notaro is absolutely hilarious. You never see the jokes coming. They're always organic to her writing, and it makes her a joy to read."
— Justin Halpern, author of SH*T MY DAD SAYS

"If her books don't inspire pants-wetting fits of laughter, then please consult your physician, because, clearly, your funny bone is broken."

— Jen Lancaster, author of I REGRET NOTHING and BITTER IS THE NEW BLACK

"Whenever I pick up a book by Laurie Notaro, I know I'll be in a good mood soon. Because Laurie Notaro makes me laugh. Period."
— Meg Cabot, author of THE PRINCESS DIARIES

"Hilarious, fabulously improper, and completely relatable, Notaro is the queen of funny."

— Celia Rivenbark, author of BLESS YOUR HEART, TRAMP

"Laurie Notaro is the Mount Everest of contemporary humorists—many writers try to scale her comic heights, and most end up either naseous or dead."
— Eric Poole, author of WHERE'S MY WAND?

"Laurie Notaro is like the sister I never (wanted) had: Hilarious, lovable, sarcastic, self-effacing and laser-like in her observation. Actually, I'm glad I'm not family, but blessed to be a huge fan."
— Wade Rouse, author of IT'S ALL RELATIVE and AT LEAST IN THE CITY SOMEONE WOULD HEAR ME SCREAM

"Whether she is writing or speaking about all things big and small, Laurie Notaro hits the bull's eye of emotion. Her storytelling is known to induce embarrasing fits of hysterical laughter as well as a-ha moments and even tears. She has the gift of celebrating life's imperfections in a way that makes us all relax and giggle. A lot!"
— Kathy Cano-Murillo, author of WAKING UP IN THE LAND OF GLITTER

"(Notaro) expands her worldview to include the full panoply of life's indignities. The result is screamingly funny."
— USA Today

"Hilarious...(Notaro) is Dave Barry with ovaries, filing bizare and frequently humiliating reports on Life on the Goofy Side."
— Miami Herald

Praise for There's a (Slight) Chance I Might Be Going to Hell

"[Notaro's] quirky humor, which she's previously showcased in her cult-classic essays on girly dorkdom, runs rampant."
— Bust

"Notaro is a natural comic, a graduate of the Jennifer Weiner school of self-deprecation, but she's the best when she's being nasty."
— Houston Chronicle

"In a world that shows us cosmos and stilettos, [Notaro] makes space for cupcakes and ass-kicking boots."
— IndyWeek.com

Praise for Spooky Little Girl

"A comedic killer... Notaro crafts a wondrously realistic afterlife... she is able to make death laughable in a heartfelt way."
— Bust

"A crazy, funny version of the afterlife."
— Minneapolis Star-Tribune

"Pure, unexpurgated Notaro... again [she] turns on the truth serum, and the results once more are riotously funny... Playful and light... Spooky Little Girl is a great summer beach read. The freshness it brings to a tired idea in chick lit- girl loses everything and exacts revenge by making herself over- is, well, refreshing."
— San Antonio Express-News

"An amazing story."
— Seattle Post-Intelligencer

"We're always thrilled to know that the prolific scribe of Autobiography of a Fat Bride: True Tales of a Pretend Adulthood and We Thought You Would Be Prettie: True Tales of the Dorkiest Girl Alive will crack us the you-know-what up with a new book just when we're casting about for something to read."
— Phoenix New Times
Gallery Books, 9781501160493, 480pp.
Publication Date: June 27, 2017
About the Author
Laurie Notaro was a reporter and a daily columnist at the metro daily The Arizona Republic before publishing twelve books of fiction and non-fiction with Random House and Simon and Schuster, several of which have been New York Times bestsellers. Her work covers the genres of humor, women's fiction, historical fiction, and literary fiction. She was a finalist for the Thurber Prize, and has been awarded the Hearst Award, the Golden Circle Award, and several awards from the Society of Professional Journalists. She lives in Eugene, Oregon.