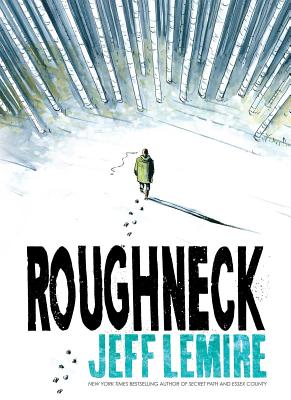 Roughneck (Hardcover)
Gallery 13, 9781501160998, 272pp.
Publication Date: April 18, 2017
* Individual store prices may vary.
Description
From the New York Times bestselling author and award-winning creator of Essex County, Secret Path, Descender, and The Underwater Welder comes an all-original graphic novel about a brother and sister who must come together after years apart to face the disturbing history that has cursed their family.

Derek Ouelette's glory days are behind him. His hockey career ended a decade earlier in a violent incident on ice, and since then he's been living off his reputation in the remote northern community where he grew up, drinking too much and fighting anyone who crosses him. But he never counts on his long-lost sister, Beth, showing up one day out of the blue, back in town and on the run from an abusive boyfriend. Looking to hide out for a while, the two siblings hunker down in a secluded hunting camp deep in the local woods. It is there that they attempt to find a way to reconnect with each other and the painful secrets of their past...even as Beth's ex draws closer, threatening to pull both Derek and Beth back into a world of self-destruction that they are fighting tooth and nail to leave behind.

Simultaneously touching and harrowing, Roughneck is a masterwork from New York Times bestselling writer/artist Jeff Lemire—a deeply moving and beautifully illustrated story of family, heritage, and the desire to break the cycle of violence at any cost from one of today's most acclaimed comic creators.
About the Author
New York Times bestselling author Jeff Lemire is the award-winning writer and artist of the acclaimed graphic novels Roughneck, Essex County, Secret Path, The Underwater Welder, The Nobody, Sweet Tooth, and Trillium, as well as the mainstream comic book series featuring Green Arrow, Animal Man, the Justice League, and Moon Knight. He is the writer of All-New Hawkeye, Extraordinary X-Men, and Old Man Logan for Marvel, Descender, Royal City, and Plutona for Image Comics, Black Hammer for Dark Horse, and Bloodshot Reborn for Valiant, as well as the artist for A.D.: After Death, in collaboration with Scott Snyder. He lives with his family in Toronto.
Praise For Roughneck…
"Jeff Lemire stands alone. A storyteller, deep and clear."
— Gord Downie

"The Stephen King of comics."

"When Princeton and Duke are offering graduate degrees in the graphic novel form twenty years from now, a lot of students will be writing their Masters' theses on Lemire's Essex County trilogy."

"The power of Lemire's hushed, deliberately paced storytelling is in his . . . linework: raw, scratchy, and sometimes minimalist, it conveys a lot with a handful of ragged lines."

"With a casual grace that would make the late Raymond Carver envious, Lemire's stories build out of innocuous and seemingly unconnected moments that gather and gain weight when viewed in a cumulative light. . . . Lemire's characters weather their lives with resolution and quiet despair. We feel for them because of Lemire's talent for revealing their inner strength, not their outer weaknesses."
— Darwyn Cooke

"His work is hall of fame–worthy."
or
Not Currently Available for Direct Purchase