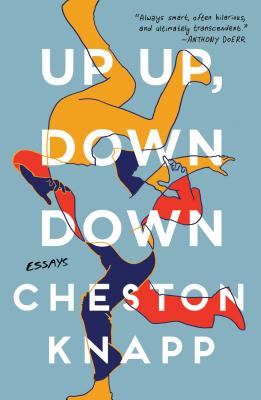 Up Up, Down Down (Hardcover)
Essays
Scribner, 9781501161025, 320pp.
Publication Date: February 6, 2018
Other Editions of This Title:
Paperback (2/5/2019)
MP3 CD (2/6/2018)
Compact Disc (2/6/2018)
* Individual store prices may vary.
Description
For fans of John Jeremiah Sullivan and Wells Tower, a "glittering," (Leslie Jamison), "always smart, often hilarious, and ultimately transcendent" (Anthony Doerr) linked essay collection from the managing editor of Tin House that brilliantly explores the nature of identity.

Daring and wise, hilarious and tender, Cheston Knapp's exhilarating collection of seven linked essays, Up Up, Down Down, tackles the Big Questions through seemingly unlikely avenues. In his dexterous hands, an examination of a local professional wrestling promotion becomes a meditation on pain and his relationship with his father. A profile of UFO enthusiasts ends up probing his history in the church and, more broadly, the nature and limits of faith itself. Attending an adult skateboarding camp launches him into a virtuosic analysis of nostalgia. And the shocking murder of a neighbor expands into an interrogation of our culture's prevailing ideas about community and the way we tell the stories of our lives. Even more remarkable, perhaps, is the way he manages to find humanity in a damp basement full of frat boys.

Taken together, the essays in Up Up, Down Down amount to a chronicle of Knapp's coming-of-age, a young man's journey into adulthood, late-onset as it might appear. He presents us with formative experiences from his childhood to marriage that echo throughout the collection, and ultimately tilts at what may be the Biggest Q of them all: what are the hazards of becoming who you are?

With "an ordnance of wit" (Wells Tower) and "a prose style that feels both extravagant and exact, and a big, booming heart" (Maggie Nelson), Up Up, Down Down signals the arrival of a truly one-of-a-kind voice.
About the Author
Cheston Knapp is the managing editor of Tin House. He lives with his family in Portland, Oregon. Up Up, Down Down is his first book.
Praise For Up Up, Down Down: Essays…
"Compelling... Knapp is a terrifically descriptive writer, particularly when illuminating the banal suburban world around him... Precise and laugh-inducing... Truly soars."

"Charming."

"Full of wit and disquiet, Cheston Knapp's Up Up, Down Down is a glittering collection of essays about nostalgia, skateboarding, fathers, waterslides, and all kinds of community. The path toward whatever we mean by "maturity" is a flowering vine of fruitful discomfort in these pages, and so much grows from it: acute self-awareness, intricate curiosity, tender interrogations. This book made me laugh out loud in embarrassing places—a quiet Swedish train, a darkened redeye flight—and its insights will keep echoing in me for a long time."
— Leslie Jamison, author of The Empathy Exams

"Up, Up, Down, Down is an always smart, often hilarious, and ultimately transcendent essay collection, full of thousand-dollar words and genuine goodness. You think you're reading about tennis, low-rent wrestling, the death of a neighbor, or the perils of beer pong, but suddenly you're pondering the biggest questions: What is kindness? What is self-consciousness? How does articulating an experience change it? It's an unqualified pleasure to be in Knapp's company."
— Anthony Doerr, author of All the Light We Cannot See

"Cheston Knapp's Up Up, Down Down has the uncanny, welcome ability to make so-called mainstream or dominant culture—white, masculinist, Christian, frat boy, and so on—appear newly strange, and newly open to analysis. He has the eye and ear of an anthropologist, a joyously expansive vocabulary, a prose style that feels both extravagant and exact, and a big, booming heart."
— Maggie Nelson, author of The Argonauts

"Wow. Offering up a steady supply of perfectly chosen words in precision-guided sentences, Cheston Knapp will either break your heart or jolt your spine, and quite possibly bring some of us back to life. Congratulations, Young Man, on becoming the person you were meant to be, and thank you for sharing some of it with the rest of us."
— Joshua Ferris, author of Then We Came to the End

"Few writerly consciousnesses are as fun to inhabit as the limber brain of Cheston Knapp. With an ordnance of wit, acuity, and casual erudition, these essays explode the local and everyday into huge and moving human reaches. This is the sort of book you look up from to find the dull room around you newly charged with life's important particles."
— Wells Tower, author of Everything Ravaged, Everything Burned

"Cheston Knapp's essays are exhilarating and funny and endlessly smart on dads, fraternities, southerners, drinking games, retribution, tennis, the anxiety of influence, guilt, authenticity, UFO's, aptronyms, revelation, uncertainty, nostalgia, diversity, identity, skateboarding, and community, and that's just to start. He reminds us we're all caught up in one another's stories, as he tracks one family's unraveling and another's genesis, and points our way from fussbudget to enthusiast, from detachment to compassion, and from regret to joy."
— Jim Shepard, author of The Book of Aron

"Pierce the surface to get to the depths, then rise up from the depths to laugh on the surface— Knapp performs some amazing alchemy in Up Up, Down Down by letting the two planes coexist so beautifully. Here's a voice ever so light and generous and funny and yet the essays probe and get to real substance and resonance. It's like a great party conversation under sparkly lights with umbrella cocktails where you emerge with your mind a little better."
— Aimee Bender, author of The Particular Sadness of Lemon Cake

"Takes a firmly tongue-in-cheek approach to the existential crises of male maturity for the millennial generation… Knapp's philosophizing is kept lively by exuberant and sometimes acerbically funny descriptions… This intelligent take on coming-of-age deserves to be widely read, if only for its effortless-seeming form and its expression of how style and content are irrevocably intertwined."

"A master of collage, both in subject and in tone… The essays are hyperarticulate, literary, and occasionally self-conscious, but Knapp uses these tendencies to masterful effect…. If you have a conclusion, Knapp will beat you to it, and if you have an expectation, Knapp will flip it; what you end with is pure delight."

"Knapp is a smart writer using the power of his pen to come to terms with no longer being a 20-year-old."

"Transcendent."

"Knapp is a dazzling writer... He's blessed with a keen eye and great powers of observation."