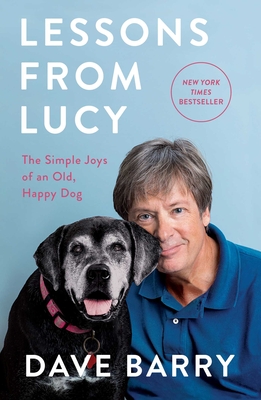 Lessons From Lucy
The Simple Joys of an Old, Happy Dog
Hardcover

* Individual store prices may vary.
Other Editions of This Title:
Digital Audiobook (4/1/2019)
Digital Audiobook (4/1/2019)
Paperback (11/3/2020)
Paperback, Large Print (11/11/2020)
Paperback, Chinese (7/15/2020)
CD-Audio (4/2/2019)
Description
In this "little gem" (Washington Independent Review of Books), Pulitzer Prize–winning columnist and New York Times bestselling author Dave Barry learns how to age happily from his old but joyful dog, Lucy.

As Dave Barry turns seventy—not happily—he realizes that his dog, Lucy, is dealing with old age far better than he is. She has more friends, fewer worries, and way more fun. So Dave decides to figure out how Lucy manages to stay so happy, to see if he can make his own life happier by doing the things she does (except for drinking from the toilet). He reconnects with old friends and tries to make new ones—which turns out to be a struggle, because Lucy likes people a lot more than he does. And he gets back in touch with two ridiculous but fun groups from his past: the Lawn Rangers, a group of guys who march in parades pushing lawnmowers and twirling brooms (alcohol is involved), and the Rock Bottom Remainders, the world's oldest and least-talented all-author band. With each new lesson, Dave riffs hilariously on dogs, people, and life in general, while also pondering Deep Questions, such as when it's okay to lie. (Answer: when scallops are involved.)

Lessons from Lucy shows readers a new side to Dave Barry that's "touching and sentimental, but there's still a laugh on every page" (Sacramento Bee). The master humorist has written a witty and affable guide to joyous living at any age.
Praise For Lessons From Lucy: The Simple Joys of an Old, Happy Dog…
"Lessons from Lucy is extremely funny (in a couple of places I laughed until water ran from my eyes and a slightly thicker fluid came from my nose). You'd expect that from Dave Barry. What you might not expect is how insightful it is, and downright touching. If you've grown old along with Dave, you will want to read this book. You'll also want to read it if you're a dog lover, but that's optional. These are very lively life lessons even for the canine-impaired."
— Stephen King

"In his unique way, [Barry] has chronicled his generation for 35 years, cutting to the truth with his power tool of insightful humor. But now that Dave has gray in his Beatles haircut… he's added a surprising element of seriousness to his comedic mania... Parts of Lucy are touching and sentimental, but there's still a laugh on every page."
— Sacramento Bee

"A little gem... The Pulitzer Prize winner... crafts a series of essays that, for the first time, reveal emotional depth to the man with the prankster pen... Barry makes a compelling case for gratefulness every single day."
— Washington Independent Review of Books

"Barry's anecdotes gave me belly laughs of recognition.... The book is easy to digest, enjoyable to read and good for you (you know what they say about laughter triggering endorphins). Barry's humor knows no borders, and even the canine-ambivalent can give it two paws up."
— Boomer Magazine

"We couldn't stop laughing."
— Parade

"All the classic trappings of beloved Florida humorist Dave Barry are here—the dad jokes, the wry observations, the charming self-sabotage... But there's also something gentler at work in this ode to Barry's patient mutt named Lucy—the effect of a dog who loves unconditionally."
— Garden & Gun

"An outrageously funny book in which Barry touches on all the things readers have come to love about his unique brand of slightly curmudgeonly, self-deprecating, stream of consciousness humor. Try as you might, however, it is hard to escape the fact that Lessons From Lucy is deep, sweet and downright touching."
— The Bark

"A gently life-affirming take on the things that dogs can teach us written in Dave's genuinely inimitable — though everyone… tries — style."
— Arkansas Democrat Gazette

"An instruction manual on how to live happy, healthy and heartily well into your 70s and beyond."
— Palm Beach Post

"Whether it's learning to let go of anger or living in the present, we could all take a page from Lucy."
— New York Post

"Astute advice about growing older rolled into a blanket of classic Barry humor... The lessons are filled with the author's signature brand of quirky, sometimes-sarcastic humor... Even for those who are not as enamored by dogs as the author, his gentle wisdom seeps through."
— Kirkus Reviews

"Barry managed a rare thing: a humorous dog book that is also useful. As you read, it gets even rarer: a useful, humorous dog book that examines the lessons of gratitude that apply to man and beast."
— Minneapolis Star Tribune

"Barry's signature sarcasm and dry wit is on display throughout.... An effortless reading experience for dog lovers and Barry fans alike."
— Publishers Weekly

"Generates multiple real laughs on every page."
— Shawangunk Journal

"Thoughtful and highly personal, the reflections of a man who wants to live his life a little better than he has in the past."
— Deseret News

"Barry's ability to poke fun at himself and simultaneously make points readers can identify with is his gift — and no one's better at it."
— Washington Missourian

"Barry shares with readers a love letter for a dog, a frame for his hilarious thoughts, a missive that wonderfully cradles the delightful abundance of off-topic topics that make his books so much fun to read. And yet there's a difference here, one that's really sweetly pronounced. In Lessons from Lucy, Barry seems more introspective than in his other books, letting readers in on his regrets, biggest peeves, and missed opportunities. His humor pokes great fun, but it feels like it might be fragile too, which gives it a sense of wistfulness. Is that because of an old dog? Or is it because of the book's final chapter? You won't know until you go fetch Lessons from Lucy. And then… sit."
— Bookworm Sez

"In his latest book, Dave Barry, Florida's premier funnyman, continues to dispense his unique brand of wisdom and philosophy... As usual, along the way, he will have you howling with laughter."
— Florida Times-Union

"Dog lovers will howl with laughter at humorist Dave Barry's advice book on living your best life by following the examples of his sweet senior rescue dog."
— Dogster

"Delightful... witty and wise."
— BookPage

"[Barry] has a knack for interweaving seemingly unrelated experiences together to extract meaning from the most random situations...."
— Erickson Tribune

"Laugh-out-loud hilarious."
— BookTrib

"Highly funny and entertaining but also insightful."
— Washington Book Review

"Summertime and the reading is funny, thanks to Dave Barry's wildly twisted mind and way with words... A perfectly funny and lovely book which will be read anytime self-pity or self-loathing creeps in."
— The New Barker

"If you're looking for a quick read to remind you of some of what is truly important in life, then you must read Lessons from Lucy."
— KRCU-FM

"At 70 the master of the oddball unabashed fact has not lost his edge....Read this book. The author clearly had a good time writing it."
— Virginian Pilot

"Barry fans, dog lovers, and anyone looking for reflections on a good life will enjoy this one."
— Redlands Daily Facts

"If you need a mental break, pack this latest from the humorist Dave Barry on your next trip, or stash it in the car to read while waiting for your kids to finish practice....a couple of the lessons, don't be afraid to meet new people or don't lie 'unless you have a really good reason, which you probably don't,' are perennials for business types. Amid all that, you'll roar...."
— American Banker
Simon & Schuster, 9781501161155, 240pp.
Publication Date: April 2, 2019
About the Author
Dave Barry is the author of more bestsellers than you can count on two hands, including Lessons From Lucy, Dave Barry's Complete Guide to Guys, Dave Barry Turns 40, and Dave Barry Is Not Making This Up. A wildly popular syndicated columnist best known for his booger jokes, Barry won the 1988 Pulitzer Prize for commentary. He lives in Miami.
or
Not Currently Available for Direct Purchase