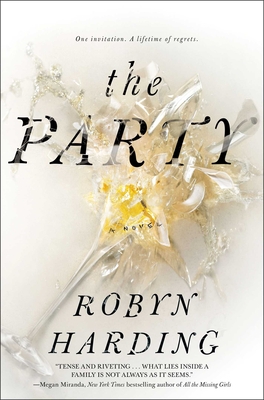 The Party (Hardcover)
A Novel
Gallery/Scout Press, 9781501161247, 352pp.
Publication Date: June 6, 2017
Other Editions of This Title:
Digital Audiobook (6/5/2017)
Paperback (11/28/2017)
Compact Disc (3/26/2019)
Mass Market (11/26/2019)
* Individual store prices may vary.
Description
In this stunning and provocative domestic drama about a sweet sixteen birthday party that goes horribly awry, a wealthy family in San Francisco finds their picture-perfect life unraveling, their darkest secrets revealed, and their friends turned to enemies.

One invitation. A lifetime of regrets.

Sweet sixteen. It's an exciting coming of age, a milestone, and a rite of passage. Jeff and Kim Sanders plan on throwing a party for their daughter, Hannah—a sweet girl with good grades and nice friends. Rather than an extravagant, indulgent affair, they invite four girls over for pizza, cake, movies, and a sleepover. What could possibly go wrong?

But things do go wrong, horrifically so. After a tragic accident occurs, Jeff and Kim's flawless life in a wealthy San Francisco suburb suddenly begins to come apart. In the ugly aftermath, friends become enemies, dark secrets are revealed in the Sanders' marriage, and the truth about their perfect daughter, Hannah, is exposed.

If you loved Liane Moriarty's and HBO's Big Little Lies, you'll love The Party by Robyn Harding. This fast paced book exposes how even the most perfect of families can be shadowed by lies and betrayals. This is one page-turner you're going to want to bring with you on vacation, to the beach, and add to your nightstand to be read.
About the Author
Robyn Harding's novels include The Party, Her Pretty Face, and The Arrangement, and she has written and executive produced an independent film. She lives in Vancouver, British Columbia, with her husband and two children.
Praise For The Party: A Novel…
"Cleverly constructed and brilliantly paced, The Party is a raw telling of a family coming apart at the seams. Robyn Harding weaves a riveting tale that is impossible to put down."
— Bill Clegg, New York Times bestselling author of Did You Ever Have a Family

"Robyn Harding spins a masterful tale of the disintegration of a seemingly perfect family in the aftermath of a disastrous sweet sixteen party. Engrossing and unflinching in its portrayal of the dark side of human nature, The Party takes the concept of 'mean girls' to a whole new level."


— A. J. Banner, #1 bestselling author of The Good Neighbor and The Twilight Wife

"Suspenseful and provocative, The Party is a story that will keep you reading and keep you thinking long after you've turned the last page. This is one party invitation you don't want to turn down."
— Barbara Taylor Sissel, bestselling author of CROOKED LITTLE LIES

"In this blistering fast read, self-obsessed soccer moms battle it out with their nasty teenagers who refuse to grow up. Why should they? Their parents never did…

A compulsive page-turner that mines the push-pull between basic impulses and doing the "right thing," The Party is a domestic drama that spins off the rails with hellish consequences. Consider yourself warned."
— Erica Ferencik, author of The River at Night

"A tense and riveting story about one night gone horribly wrong, and the fallout within a family and a group of friends. Secrets, desires, choice and consequence, The Party reveals that what lies inside a family—and each person—is not always as it seems. I was hooked from the opening scene and could not look away until I reached the very last page."
— Megan Miranda, New York Times bestselling author of All the Missing Girls

"Fast-paced and tension-filled, The Party explodes the myth of the perfect family and is one invitation you can't turn down."
— Rebecca Drake, author of Only Ever You

Everyone is flawed in this contemporary tale of mothers and daughters. Everyone behaves badly. And the story is a pure delight.
— Lucy Ferriss, author of A Sister to Honor

"With teenagers worthy of Mean Girls, and a healthy dose of suspense, The Party reads like a cross between Megan Abbott and Jodi Picoult by way of James Patterson."

"The intricate family dynamics that Harding teases out are complex and engaging."

"Domestic drama... done well."