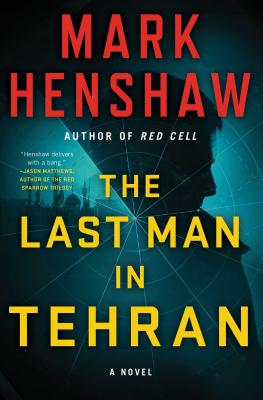 The Last Man in Tehran (Paperback)
A Novel (a Jonathan Burke/Kyra Stryker Thriller)
Gallery Books, 9781501161278, 336pp.
Publication Date: December 11, 2018
Other Editions of This Title:
Digital Audiobook (12/25/2017)
Hardcover (12/26/2017)
* Individual store prices may vary.
Description
Decorated current CIA analyst Mark Henshaw continues the "authentic, compelling, and revealing" (Jason Matthews) Red Cell series following agent Kyra Stryker who must work to save the CIA from being torn apart by a mole at the highest echelons, with the help of recently retired analyst, Jonathan Burke.

When a dirty bomb goes off in an Israeli port, Israel's feared intelligence service—the Mossad—unleashes their most deadly assassins across the globe. They suspect that Iran supplied the radioactive material used in the attack, and Israel will protect the homeland by any means necessary.

Meanwhile at CIA headquarters in Langley, Virginia, Kyra Stryker is just settling in to her new position: chief of the Red Cell, the CIA's special ops think tank. Soon after the attack on Israel, the CIA discovers evidence that a mole in Langley is helping Mossad wage its covert war. The FBI launches a counterintelligence investigation led by an ambitious special agent, who quickly identifies a suspect.

Not convinced that the FBI has the right man, Stryker asks for help from her former mentors—now-retired Red Cell Chief Jonathan Burke and his wife, former CIA Director Kathryn Cooke—to protect the convenient scapegoat, find the truth, and convince Mossad to stop its assassination campaign before a world war overtakes the Middle East. Kyra's campaign takes her to Iran, where she uncovers kidnapping, torture, back-channel diplomacy, and an illegal op, but also finds help from the most unlikely source she could imagine.

"[A] taut plot" (Publishers Weekly), The Last Man in Tehran is a deeply satisfying, fascinating and thrilling novel by a real-life CIA analyst.
About the Author
Mark Henshaw is a graduate of Brigham Young University and a decorated CIA analyst with more than sixteen years of service. In 2007, Henshaw was awarded the Director of National Intelligence Galileo Award for innovation in intelligence analysis. A former member of the Red Cell think tank, Henshaw is the author of Red Cell, Cold Shot, and The Fall of Moscow Station, and lives with his family in Leesburg, Virginia. Visit him at MarkHenshaw.com.
Praise For The Last Man in Tehran: A Novel (a Jonathan Burke/Kyra Stryker Thriller)…
"[A] taut plot."
—Publishers Weekly

"[A] sumptuous political thriller with echoes of the James Grady classic 'Six Days of the Condor.' Reading Henshaw offers a primer on how the intelligence world really works, something at once both informative and terrifying."
—Providence Journal

"Kyra is a bold and powerful character whom readers will admire as she throws herself into the usually male-dominated world of espionage. Those who enjoy novels dealing more with the machinations behind covert operations than the gunplay will find much to savor in this solid series."
—Booklist

"This is the fourth in the Red Cell series and all are intelligently plotted and exciting in pace. Among the new crop of spy writers such as Jason Matthews, Charles Cumming and Adam Brookes, Mark Henshaw is as good as anyone writing spy fiction today."
—Deadly Pleasures Magazine

"This fourth in a series is an interesting, intriguing saga with some unique twists involving the CIA, FBI and the Israeli Mossad, their counterpart to the CIA."
—Green Valley News

"Another deftly crafted and riveting read from Mark Henshaw."
—Midwest Book Review

"Author Mark Henshaw brings real-life drama to The Last Man in Tehran through his experiences as a CIA analyst."
—BookReporter.com

"Henshaw's role as a CIA analyst lends credibility to the story. The narrative stays interesting and topical due to interspersing the novel with factual information and a plethora of surprises."
—RT Book Reviews

"[A] quintessential spy novel ... [Henshaw] brings a degree of authenticity no other author can."
—Manhattan Book Review

Praise for The Fall of Moscow Station

"CIA officer Kyra Stryker is operating black in Moscow, a target on her back, trying to save Russian sources running for their lives. A real-life thriller from an active-duty CIA analyst who gives us a harrowing glimpse of the secret world of modern espionage. It's happening now, and Henshaw delivers with a bang."
—Jason Matthews, author, Palace of Treason and Red Sparrow

"The Fall of Moscow Station has enough action and plot twists to keep the reader engaged right until the end."
—Andrew Selsky, Associated Press, Albany Times Union

"Henshaw's narrative is a high-tension page-turner, and his tough-minded, independent, and deadly Kyra Stryker is ready to run with the likes of Reacher or Bourne."
—Kirkus Reviews

"Kyra Stryker could reduce James Bond to a sobbing ruin without shedding her clothes."
—Al Topping, Green Valley News & Sun