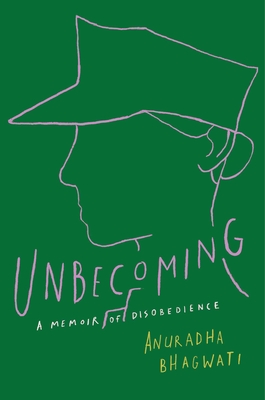 Unbecoming
A Memoir of Disobedience
Hardcover

* Individual store prices may vary.
Other Editions of This Title:
Digital Audiobook (3/25/2019)
Compact Disc (3/26/2019)
Paperback (3/3/2020)
Description
A raw, unflinching memoir by a former US Marine Captain chronicling her journey from dutiful daughter of immigrants to radical activist effecting historic policy reform.

After a lifetime of buckling to the demands of her strict Indian parents, Anuradha Bhagwati abandons grad school in the Ivy League to join the Marines—the fiercest, most violent, most masculine branch of the military—determined to prove herself there in ways she couldn't before.

Yet once training begins, Anuradha's G.I. Jane fantasy is punctured. As a bisexual woman of color in the military, she faces underestimation at every stage, confronting misogyny, racism, sexual violence, and astonishing injustice perpetrated by those in power. Pushing herself beyond her limits, she also wrestles with what drove her to pursue such punishment in the first place.

Once her service concludes in 2004, Anuradha courageously vows to take to task the very leaders and traditions that cast such a dark cloud over her time in the Marines. Her efforts result in historic change, including the lifting of the ban on women from pursuing combat roles in the military.

A tale of heroic resilience grappling with the timely question of what, exactly, America stands for, Unbecoming is about one woman who learned to believe in herself in spite of everything. It is the kind of story that will light a fire beneath you, and inspire the next generation of indomitable female heroes.
Praise For Unbecoming: A Memoir of Disobedience…
"Anuradha Bhagwati chronicles with admirable candor the examination and reconstruction of her identity, a journey taking her to Yale, the Marine Corps, and eventually the halls of Congress. If you want to understand the seismic changes in US military culture over the past decade, read this book." —Elliot Ackerman, author of Green on Blue and Dark at the Crossing

"An insightful story about a daughter of immigrants who tries to find her place in this country, all the while enduring racism, homophobia, and sexism. Anuradha continues to fight for what is right so everyone can achieve the true American Dream: equal rights for all." —Specialist Shoshana Johnson, US Army, ret., author of I'm Still Standing

"In her memoir Unbecoming, Anuradha Bhagwati powerfully depicts the forces that shaped and drove her as an unrelenting advocate for women in the military, fighting to expand opportunities and to reform the military's treatment of sexual violence. It is a testament to the Herculean effort needed for progress to happen, and of the work that is yet to be done." —Phil Klay, National Book Award-winning author of Redeployment

"Anuradha Bhagwati's Unbecoming addresses the proverbial dilemma of confronting traditional expectations as a South Asian daughter. But Bhagwati—who grows up in the heart of the West and comes-of-age in New York City where popular culture holds sway—reckons with bouts of self-hatred, as she comes to terms with the complexities of identity. She renders a vivid examination of sexuality, education at Yale, the brutal rituals of training at Quantico as an officer in the United States Marine Corps, sexual harassment and disrespect coded into the military machine, yoga and meditation, reentry into civilian life while dreaming as a Marine, and psychological struggles in a VA hospital whose staff is ill-trained and unprofessional. Bhagwati delves into gut-level truth, and a reader is wholly engaged. The memoir's narrator is fully initiated, and her one-of-a-kind voice plumbs multiple avenues for social justice. Unbecoming is an act of becoming."— Yusef Komunyakaa, Pulitzer Prize-winning author and poet of Neon Vernacular

"Unbecoming is so much more than your typical military memoir. As an advocate who led the charge on exposing military sexual assault and supporting women's access to ground combat assignments, Anuradha sheds light upon how change actually happens in Washington, especially when resistance is fierce and the stakes are high." —M.J. Hegar, American Air Force Veteran and bestselling author of Shoot Like A Girl

"A raw, fearless, openhearted chronicle of one woman's journey through the center of white male violence and out the other side. In confronting herself as unsparingly as the military powers she took on, Bhagwati has written the rare page-turner that will not only make you want to be a better person but also teach you how." —Jaclyn Friedman, feminist activist and author of Unscrewed: Women, Sex, Power, and How to Stop Letting the System Screw Us All

"Anuradha Bhagwati has written a captivating and vital book, one that seamlessly marries compelling, insightful personal narrative with her astute critique of how the systems that shape our lives are failing us. It's a must-read."— Soraya Chemaly, activist and author of Rage Becomes Her

"First-time author Bhagwati pulls no punches with this uncompromising memoir . . . [Her] candor and razor-sharp writing are in full evidence throughout her gritty and well-paced memoir." —Publishers Weekly

"[An] honest and unflinching memoir…[Anuradha's] candid story pulls back the curtain on a hidden world in which highly capable women who thrive on the challenge of being a soldier are hindered by the men who surround them."— Kirkus Reviews

"Bhagwati's fight is both incensing and inspiring." —Booklist

"Her powerful memoir is about pushing yourself beyond your limits." —PUREWOW

"Remarkable and radical in all the best senses." —Barnes & Noble (BN.com)

"[Anuradha] Bhagwati's book stands out most as a chronicle of overcoming psychological trauma...The book is at its most powerful when she writes about who she became in response to the violence the military trained her to commit." —The New York Times Book Review

"While reading a book to review, it's usually useful to fold over a page's corner to make it easy to come back, to reflect on each noteworthy passage...But then you find yourself folding down the next page, and another, and another, until more than half the book is folded down, rendering the tactic useless as a reference but testimony to the story's potency." —Los Angeles Times

"Unbecoming brims with the ebullient Bhagwati's fierce humanism, seething humor and change-maker righteousness... Anuradha Bhagwati's fiery memoir is about serving her country—both during her Marine Corps days and through her activism afterward." —Shelf Awareness for Readers

"Every person interested in how the military should recruit, train and retain women must read Unbecoming. And every leader in the armed forces should pick up a copy to better understand how misogyny, sexual harassment and sexual assault hurt the all-volunteer force." —MILITARY TIMES
Atria Books, 9781501162541, 336pp.
Publication Date: March 26, 2019
About the Author
Anuradha Bhagwati is a writer, activist, yoga and meditation teacher, and Marine Corps veteran. She founded the Service Women's Action Network (SWAN), which brought national attention to sexual violence in the military and helped overturn the ban on women in com­bat. Anuradha is a regular media commentator on issues related to national security, women's rights, civil rights, and mental health, and is the recipient of numerous awards. Her writing has appeared in The New York Times, The Washington Post, Politico, Foreign Affairs, and The New Republic. She lives in New York City with her service dog, Duke.
or
Not Currently Available for Direct Purchase