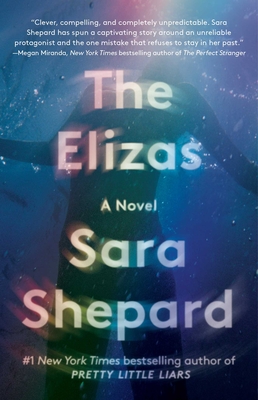 The Elizas
A Novel
Paperback

* Individual store prices may vary.
Other Editions of This Title:
Digital Audiobook (4/16/2018)
Compact Disc (4/17/2018)
Description
Harper's Bazaar | 10 New Books to Add to Your Reading List in 2018
Cosmopolitan | Best April Ever Roundup
Bustle | 35 Most Anticipated Fiction Books of 2018
PopSugar | 10 of the Most Anticipated Books in 2018
BuzzFeed | 5 Best Thrillers of Spring
BookBub | 17 Great New Books Coming in 2018
She Reads | Most Anticipated Books of April 2018
Bookish | April 2018 Book Club Picks
Real Simple | The Best Books of 2018 (So Far)
Town & Country | The Best Books to Read This April

From the New York Times bestselling author of the Pretty Little Liars series comes a thriller "blending Hitchcock, S.J. Watson, and Ruth Ware" (Entertainment Weekly) filled with half-truths, suppressed memories, and ingenious twists.

When Eliza Fontaine is rescued from the bottom of a hotel pool just a few weeks before her first novel is going to be published, her family assumes that it's another failed suicide attempt. But Eliza swears she was pushed. The problem is she remembers little of that night, a result of the large quantity of alcohol she consumed and a worsening struggle with memory loss due to a brain tumor. Feeling ignored and vulnerable, she decides she must find the truth of what actually happened.

As she searches for answers, something very peculiar begins to happen: The people closest to her start to confuse the events in her novel with those in her real life. The dividing line between fact and fiction seems to be dissolving, and even Eliza is becoming uncertain about where her protagonist's story ends and hers begins. She glimpses a shadowy presence hovering nearby, a mirror image of herself…but is it all in her head or is there really someone following her, studying her, wishing to do her harm? Perhaps the answers to all her questions already exist in the pages of her novel, if only she could put the pieces together in the right way.

The Elizas is a heart-pounding, Hitchcockian double narrative composed of secrets, lies, false memories, and an unreliable narrator you'll never forget.
Praise For The Elizas: A Novel…
"Shepard brings her knack for the tightly-wound thriller that earned Pretty Little Liars its runaway success to a whole new demographic. . . Clever and attention-grabbing, this is one book you won't be able to leave sitting on the nightstand for long."
— Harper's BAZAAR

"From a possible murder attempt to amnesia, prepare for tons of juicy plot twists!"
— Cosmopolitan

"A dark and twisty mystery that will keep you guessing until the very end."
— Marie Claire

"This captivating thriller will keep readers rooting for Eliza—and trying to guess what is fact and what is fiction."
— Real Simple

"A twisting, clever thriller with a smart, darkly funny, and totally unreliable narrator at its heart. I was rooting for the troubled, sharp-tongued Eliza, even as Shepard deftly blurred those very thin lines between lies and the truth, fact and fiction. A sizzler!"
— Lisa Unger, New York Times bestselling author of The Red Hunter

"Sara Shepard dazzles with this spine-chilling thriller that blurs the lines of fact and fiction. Electric and smart with a witty protagonist readers won't soon forget."
— Mary Kubica, New York Times bestselling author of THE GOOD GIRL and EVERY LAST LIE

"Clever, compelling, and completely unpredictable, The Elizas kept me guessing until the very last page. Sara Shepard has spun a captivating story around an unreliable protagonist and the one mistake that refuses to stay in her past."
— Megan Miranda, New York Times bestselling author of The Perfect Stranger

"A story blending Hitchcock, S.J. Watson, and Ruth Ware."
— Entertainment Weekly

"A thriller that will keep you guessing until the very last page."
— PopSugar

"Shepard, author of several successful series for young adults, including Pretty Little Liars, makes her adult-fiction [thriller] debut with a brilliant narrative about a confused young woman struggling to separate fact from fiction in her life."
— Booklist (Starred Review)

"Clear your calendar; The Elizas is a clever, creepy mystery you'll want to swallow in one sitting. Five enthusiastic stars!"
— Kimberly Belle, international bestselling author of Little Boy Lost and The Marriage Lie

"The Elizas's unreliable protagonist will haunt you. A twisty psychological thriller that is impossible to put down. Shepard is a true storyteller."
— Colleen Hoover, #1 New York Times bestselling author

"A dark, twisty labyrinth of a psychological thriller with a fascinating, complex protagonist whose growing paranoia kept me in constant suspense."
— A.J. Banner, USA Today bestselling author of The Twilight Wife and The Good Neighbor

"Eliza Fontaine is trying to figure out the truth of her attempted suicide. Or was it a murder? These questions and more will draw you into Sara Shepard's complex and clever new thriller. This twisty-turny tale boasts an unreliable narrator par excellence: get ready to lose sleep and gain a new literary obsession."
— Georgia Clark, author of The Bucket List and The Regulars

"In her first adult thriller, The Elizas, #1 New York Times bestselling author Sara Shepard crafts a clever and unpredictable page-turner that follows a young woman on a desperate search for answers. Thoroughly enjoyable!"
— Wendy Walker, bestselling author of Emma in the Night and All is Not Forgotten

"Who can you trust when you can't even trust yourself? With an unreliable yet compelling heroine, Sara Shepard crafts an eerie tale of manipulation, inception, and betrayal that will leave readers questioning their own memories—and reality."
— Jamie Blynn, Us Weekly

"With a cast of dodgy characters and twists you won't see coming, the New York Times bestselling author of Pretty Little Liars will keep you on your toes until the very last page."
— Redbook

"Buckle up Pretty Little Liars fans, because author Sara Shepard is here with her first adult novel, and it is sizzling."
— Bustle

"[A] twisted adult thriller about finding the fine line between fact and fiction."
— Working Mother

"Provocative… Eliza's voice draws readers in, and her unreliable memory creates tension. Gillian Flynn fans will be satisfied."
— Publishers Weekly

"Bestselling author Sara Shepard, of Pretty Little Liars fame, pays close attention to cinematic details, practically projecting Eliza's descent into personal nightmare, where she cannot be certain of her own memories, onto a silver screen: Scenes are carefully framed, and a soundtrack even bubbles along. A delicious Southern California noir riddled with muddled identities and family secrets."
— Kirkus Reviews

"The dysfunctional, unreliable heroines of Girl on a Train and The Woman in the Window have a new sister-in-arms: Eliza Fontaine, protagonist of this adult novel by the author of the YA juggernaut Pretty Little Liars."
— Newsday

"[A] page-turner… This is spring-break reading at its finest."
— Town & Country

"A solid choice for psychological thriller aficionados."
— Library Journal

"This intriguing story is as disconcerting for readers as it is for Eliza. Shepard weaves a complicated and ultimately chilling tale that will keep readers turning pages."
— RT Book Reviews

"Equal parts fun and disturbing, The Elizas delivers a heavy dose of psychodrama and a punchy, contemporary voice."
— BookPage
Atria Books, 9781501162787, 352pp.
Publication Date: January 15, 2019
About the Author
Sara Shepard is the #1 New York Times bestselling author of the Pretty Little Liars series. She has also written other young adult series and novels, including The Lying Game, The Heiresses, and The Perfectionists. Sara now lives outside of Philadelphia with her husband, sons, and dogs.